Thursday
Today was the day…
The granite arrived. We are jubilant! The risk paid off! We bought it 11 months ago (I wrote about it on 9th November 2019!)  The granite along with the counters for the bathroom vanities arrived on what was a relatively small truck. On board there were also 5 strong men. All of them would be needed to flex their muscles in order to complete today's job.  Thirteen photos tell the story. The granite arrives…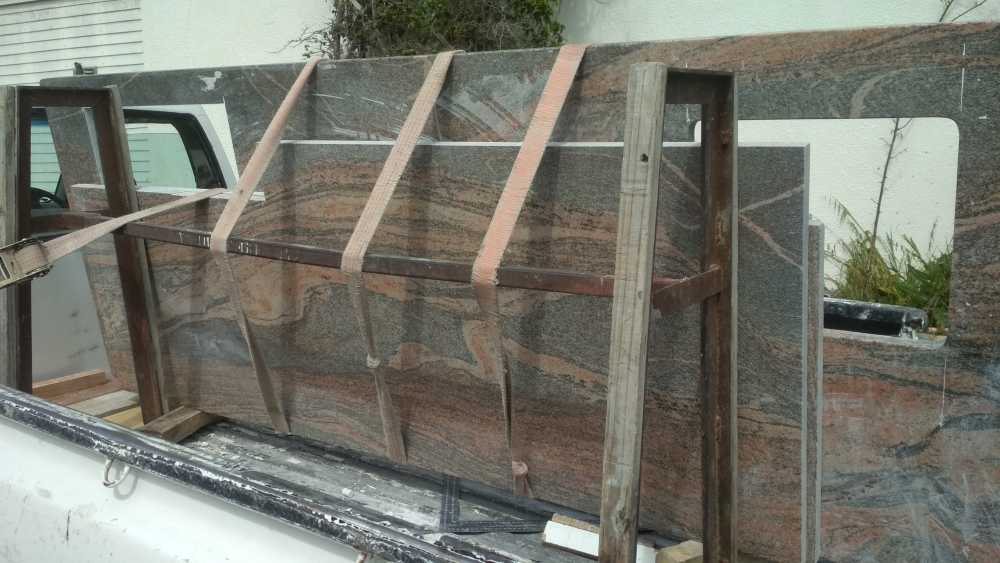 5 strong men get the main piece off…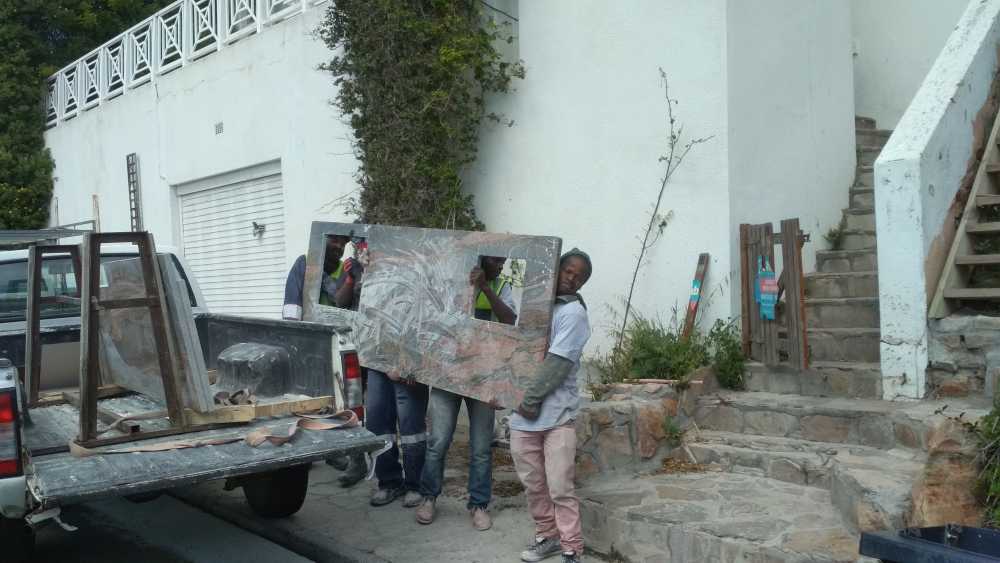 80 steps to go…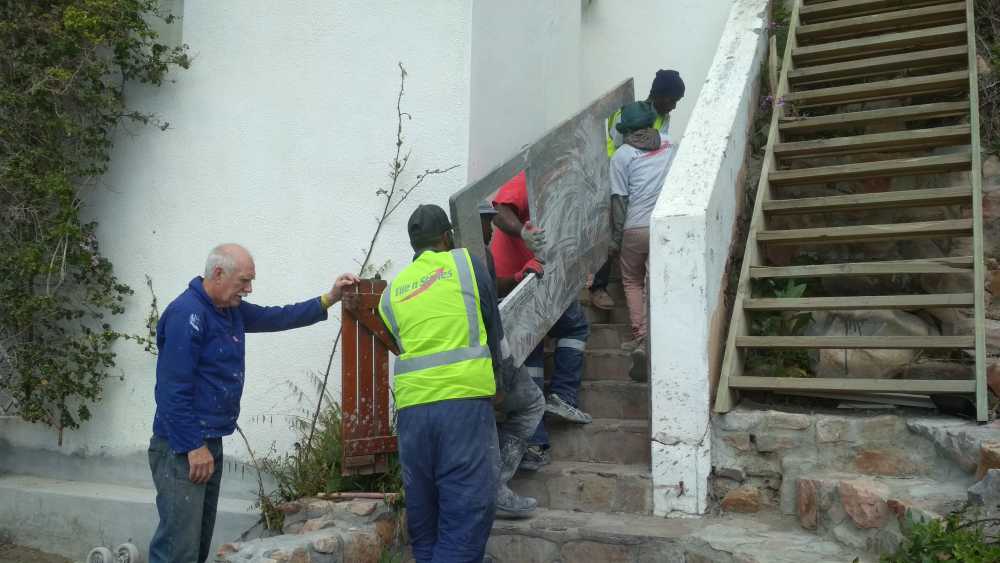 They rest at step 24…they were already sweating and puffing and panting…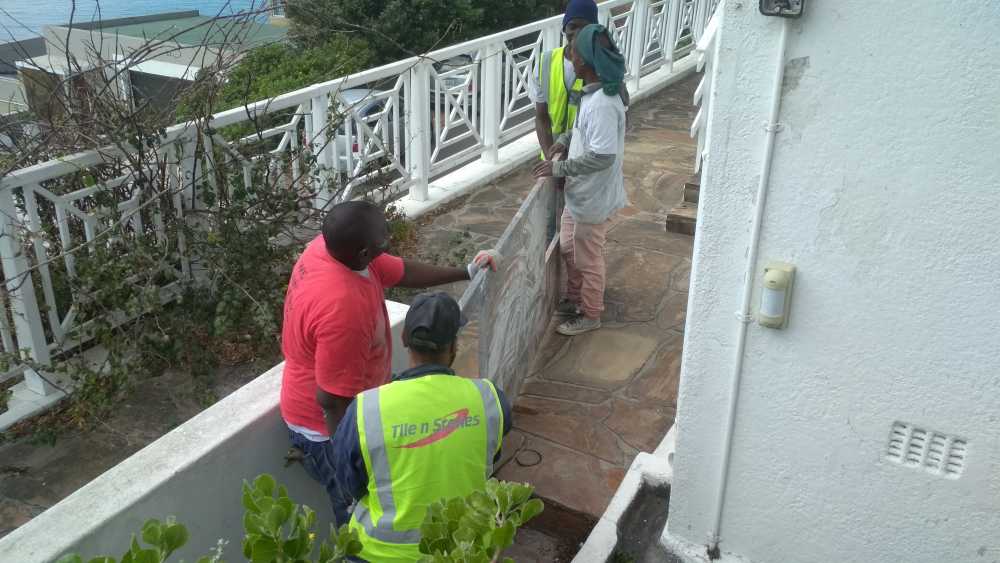 After getting their breath back, they started for the main stairway…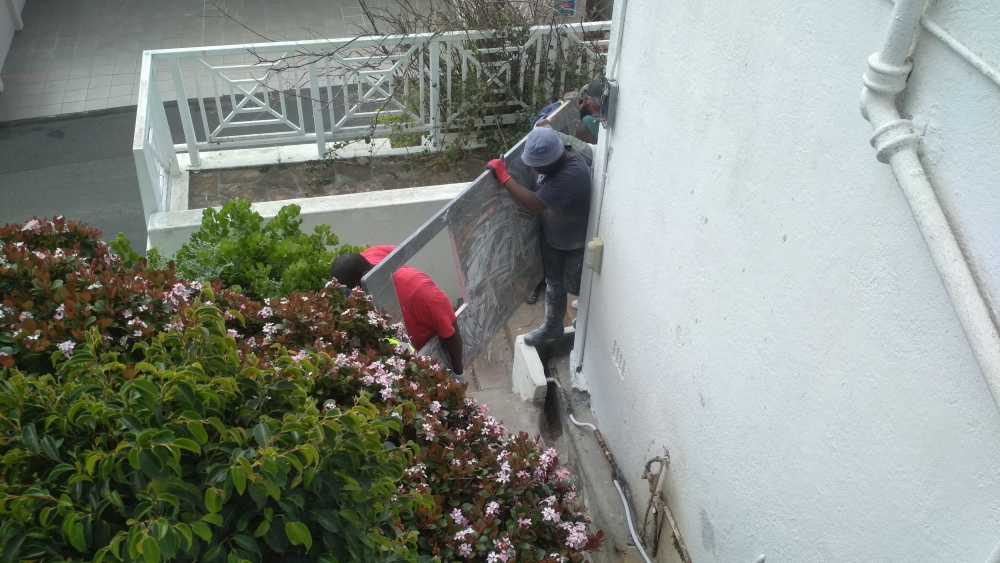 And without stopping headed up the hill. Heave ho…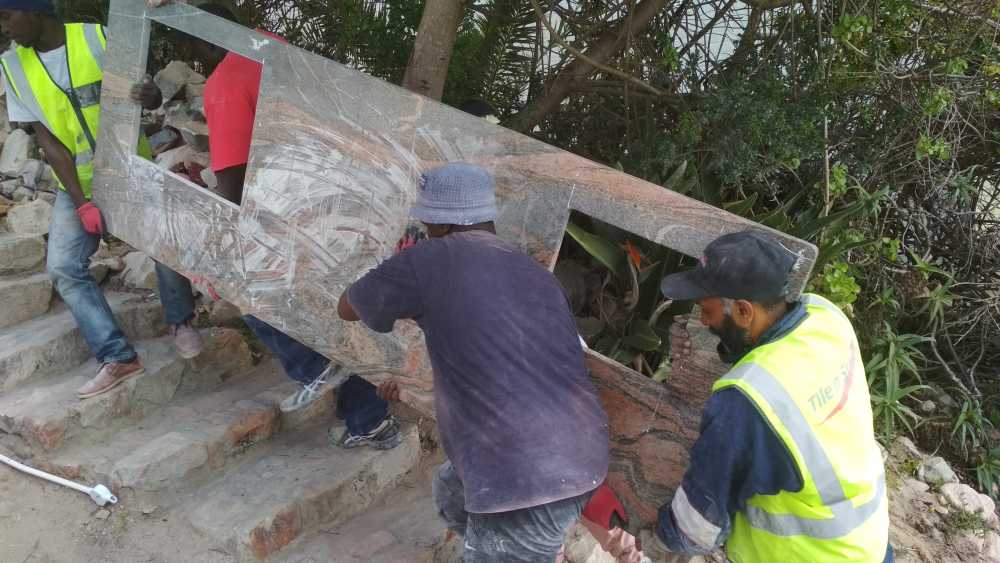 They had a little break here…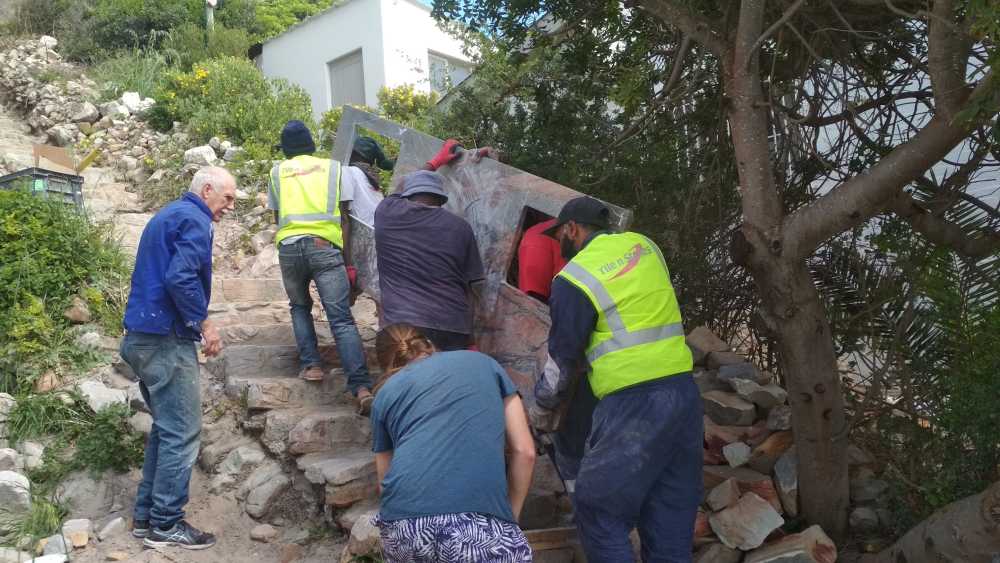 And then pushed on up…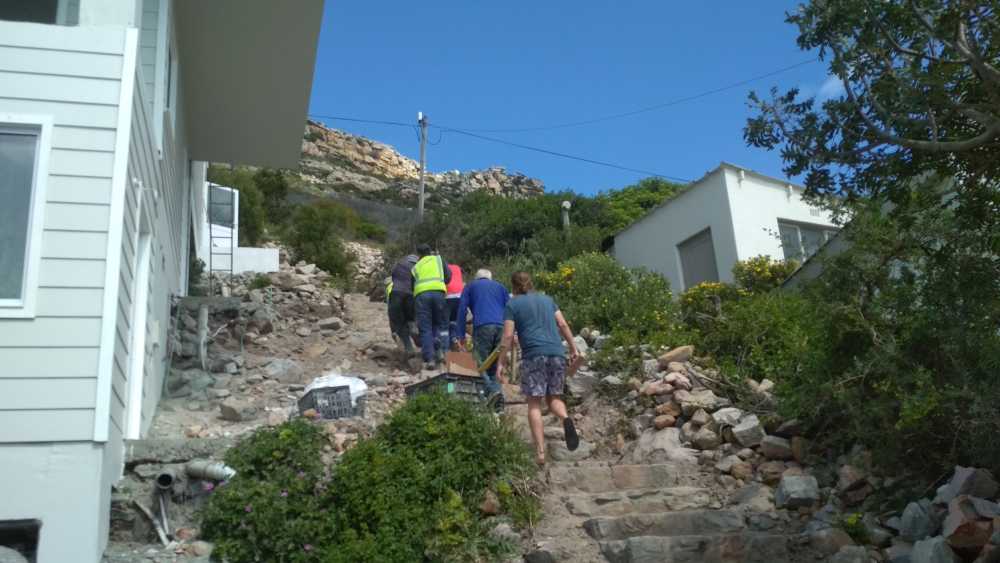 Until 140kg of granite counter top arrived at the front door…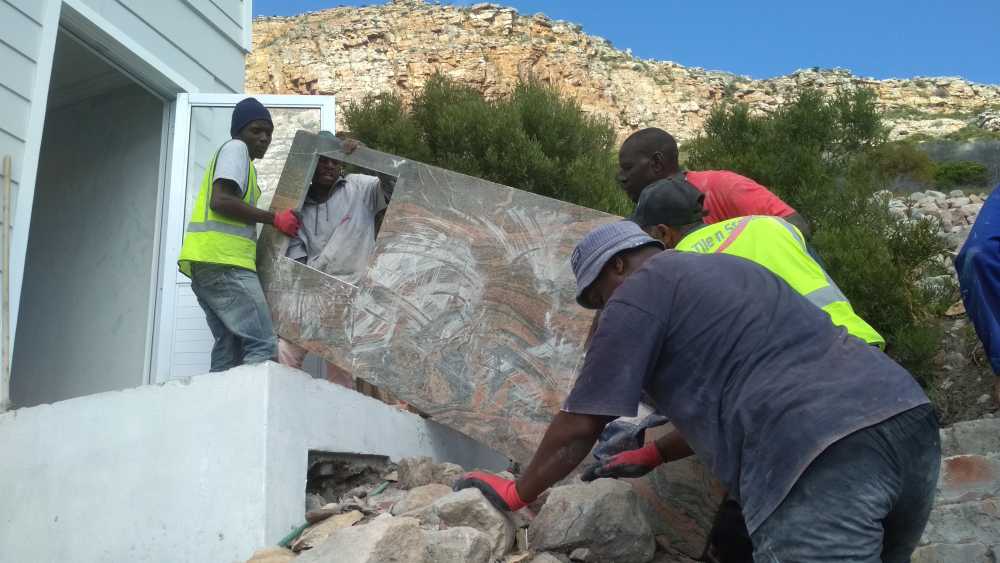 Another rest ensued. After some strategizing, they maneuvered it into the kitchen…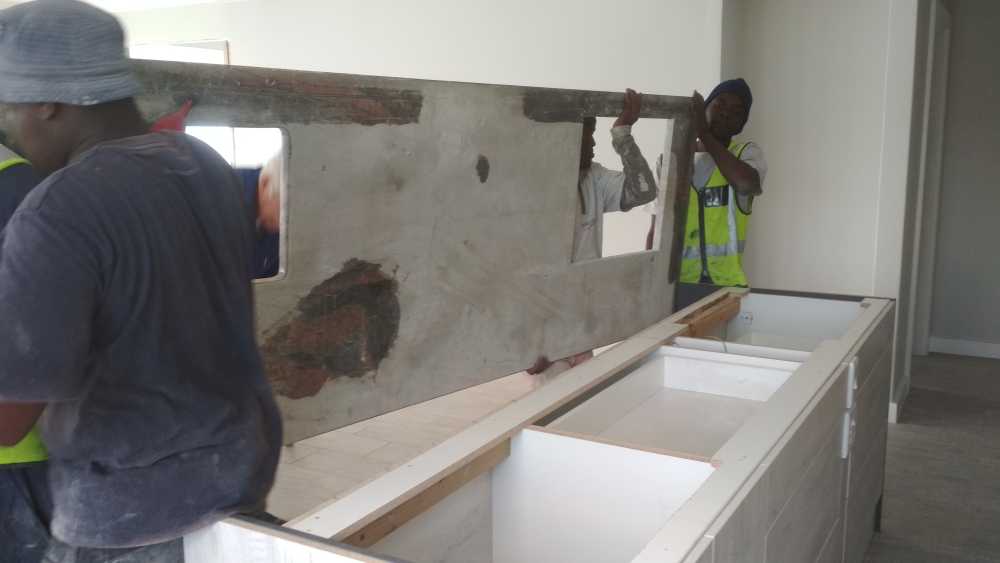 And carefully lowered it into position…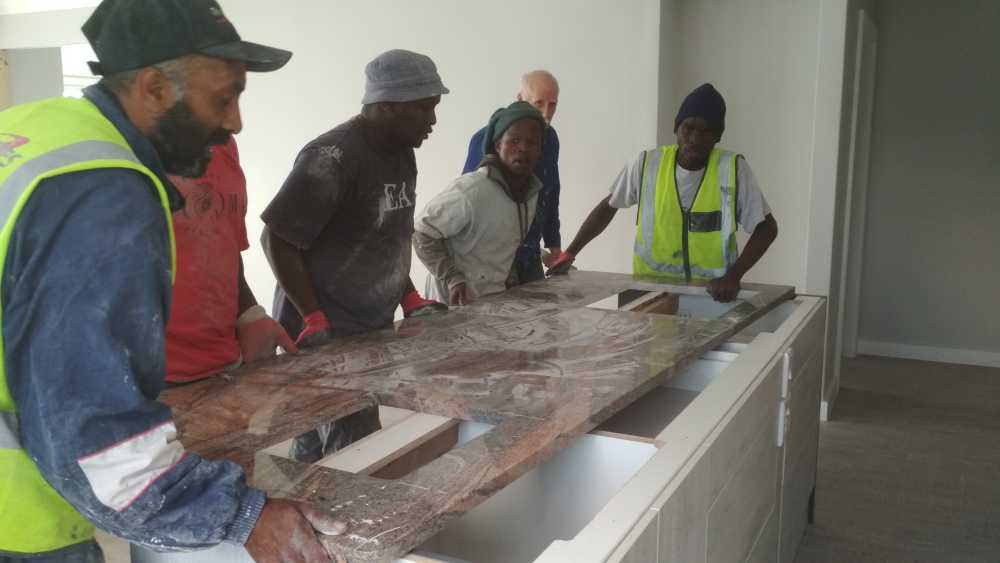 Done!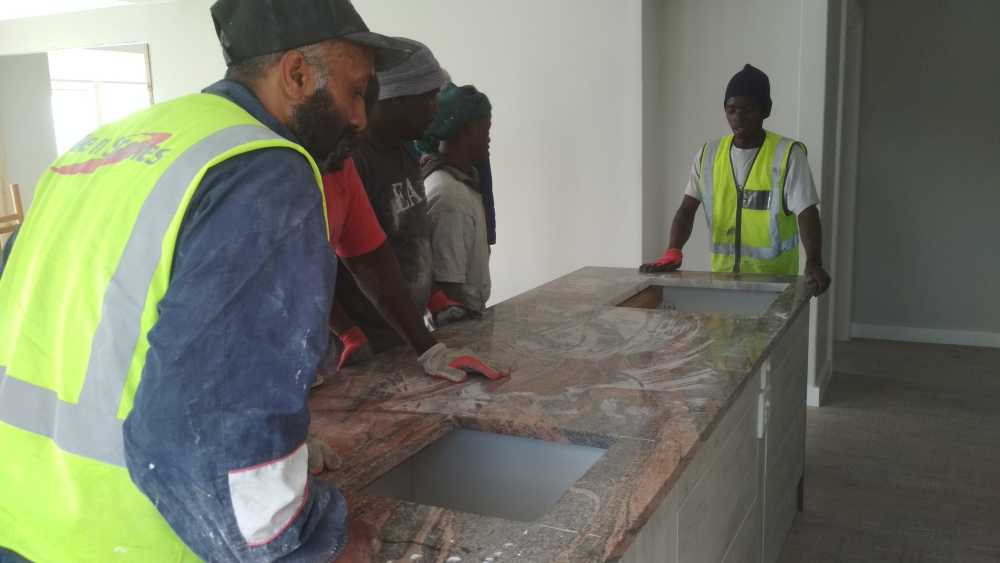 That was the worst over. They still had to carry up two more pieces of granite plus 5 pieces of engineered stone for the bathrooms but the heaviest one was safely done. Eventually all were glued in place with holes for taps drilled. The granite for the kitchens looks amazing…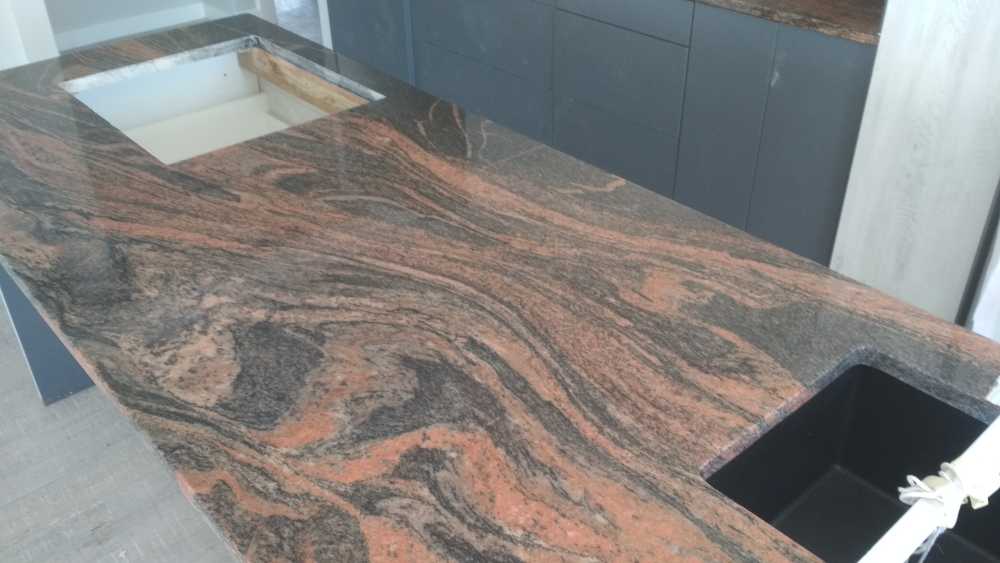 I think the thing that stunned us the most is how well it matches the kitchen cabinets. The grey that Mike chose is almost identical to the grey in the granite. We are not labouring in vain. The Lord is building the house – we didn't even try to colour match the grey of the cupboards with the granite.
I will definitely sleep better tonight.
Covid numbers in the Western Cape –  229 new cases in the last 24 hours. Not a good day for SA – highest number for a while.
Covid 19 stats – South Africa –
Friday 24th July – 13944 new cases (maximum we had in a day)– 250 deaths (245 771 recoveries/169 882 active)
Thur 1 Oct – 1745 new cases – 132 deaths (609584 recoveries/49634 active)
Frid 2 Oct – 1749 new cases – 43 deaths (611044 recoveries/49880 active)
Sat 3 Oct – 1883 new cases – 29 deaths (612763 recoveries/50015 active)
Sun 4 Oct – 1573 new cases – 38 deaths (614781 recoveries/49532 active)
Mon 5 Oct – 926 new cases – 40 deaths (615684 recoveries/49515 active)
Tue 6 Oct – 1027 new cases – 87 deaths (616857 recoveries/49282 active)
Wed 7 Oct – 1913 new cases – 145 deaths (618127 recoveries/49780 active)
Total cases: 685155   Total deaths: 17248
Psalm 148:4-6
Praise Him, you highest heavens, and you waters above the heavens! Let them praise the Name of the Lord! For He commanded and they were created. And He established them forever and ever.
The best is yet to come.
Keep the smile going.
God bless you.
In His Grip,
Helga xx 🙂
Braces:
1 year and 330 days