Friday
Dear Elsie
Today is the day we will cross the Equator! On the day of the Equator crossing, the ship holds a massive gig called Neptune's Party. They dress some unsuspecting soul into an outfit and 'baptise' him. The whole thing is ramped up with very loud music and everyone gathers on the deck. Before the party started, there was a dance class on the deck.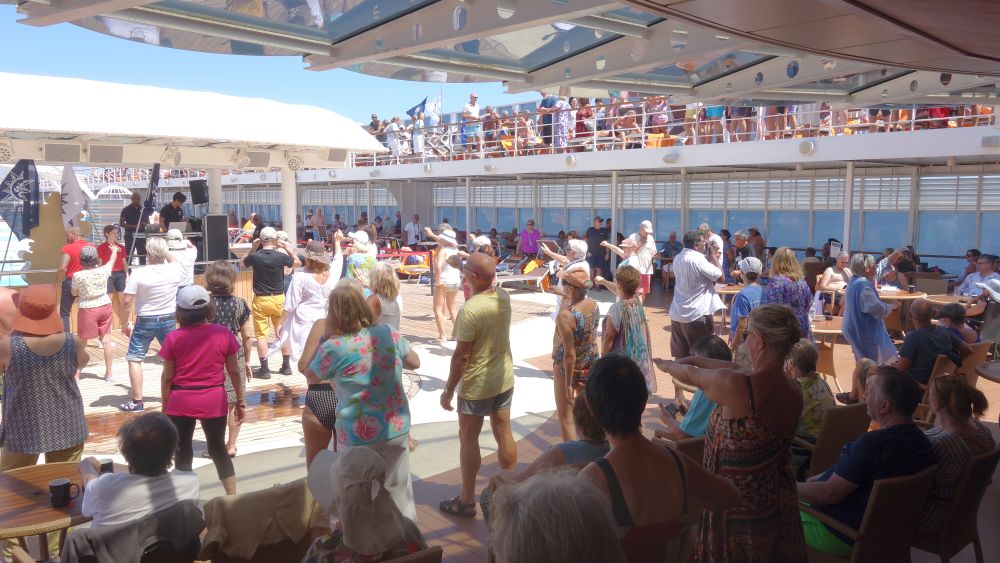 It's quite crazy because it's boiling hot and very humid, yet hundreds of people are hanging around in the sun.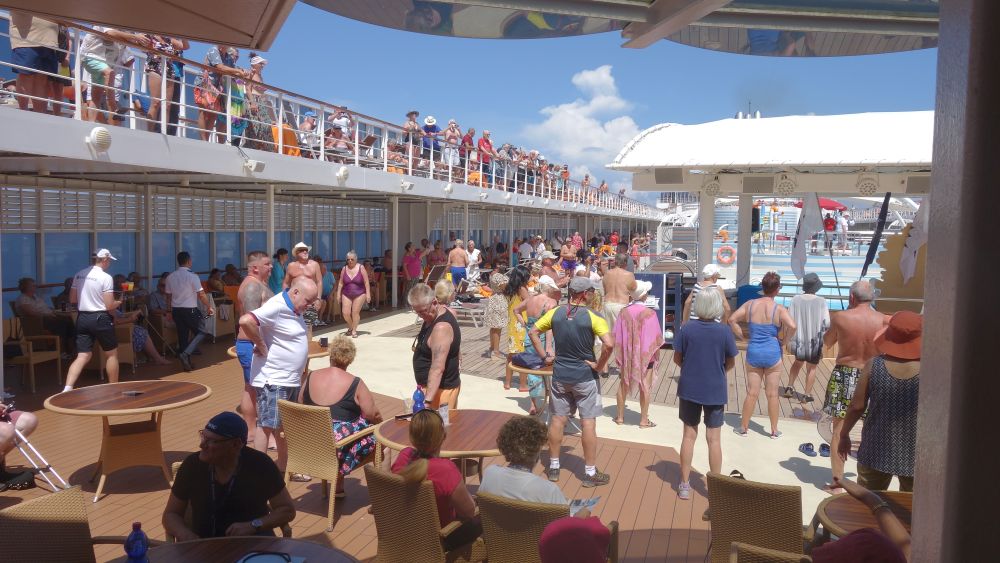 It was a lovely vibe to be sure.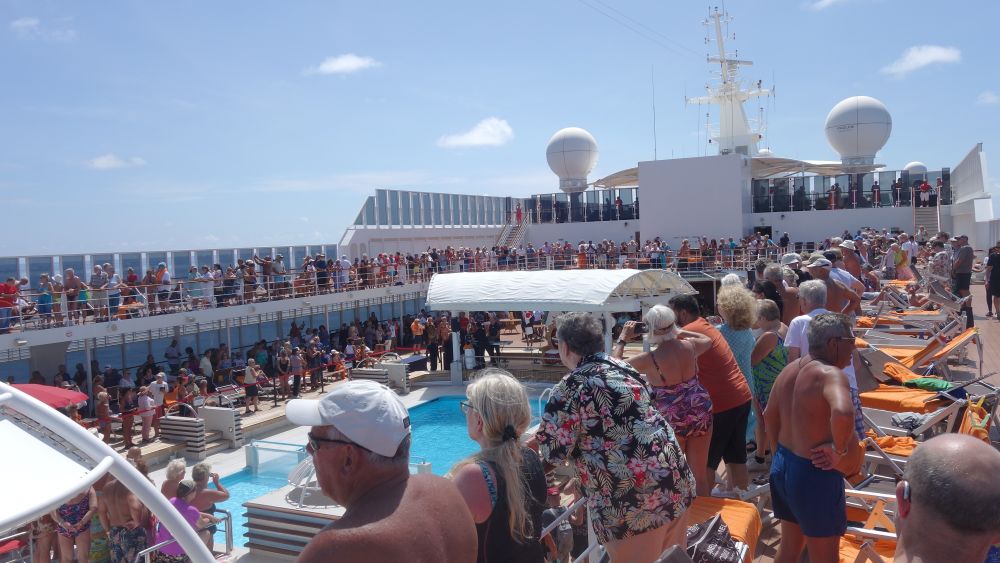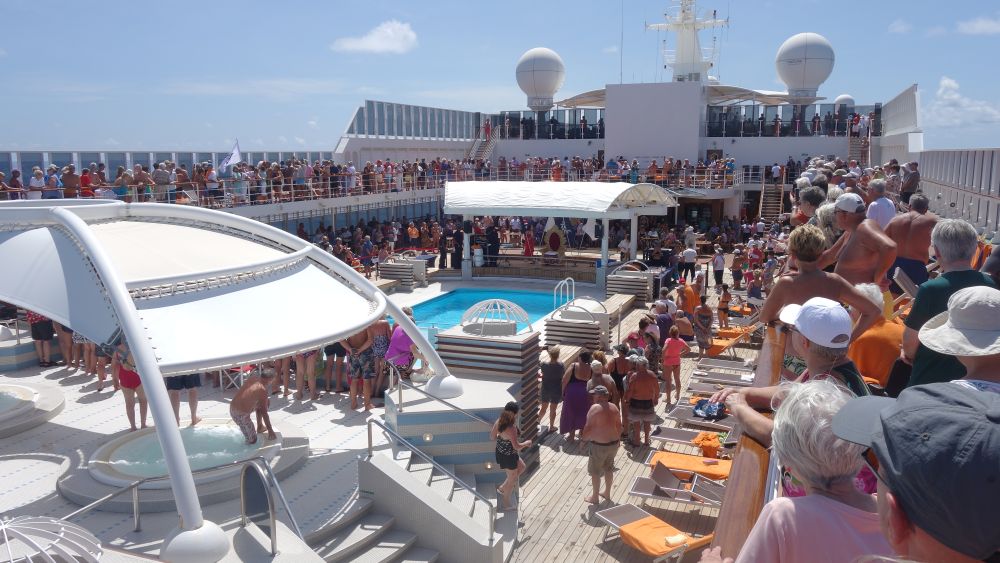 The deck before he arrived.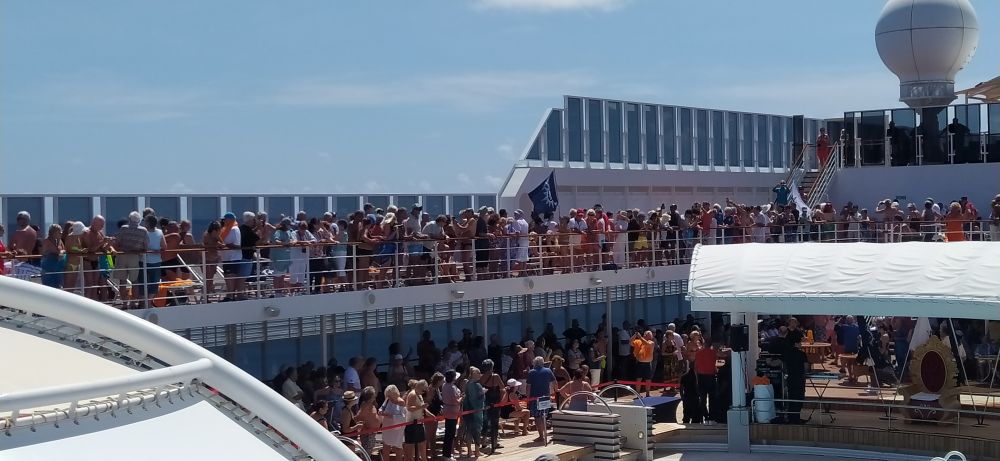 Finally, he arrived – he's the guy with the white beard.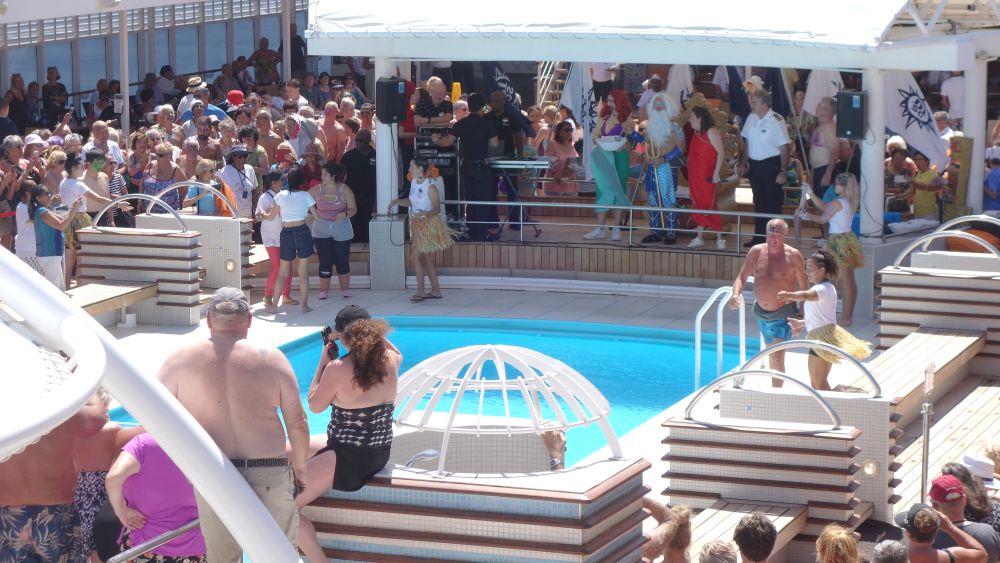 It was fun to watch, but we didn't hang about and headed downstairs to the comfort of our airconditioned cabin.
These waters around the equator are super still. In the doldrums..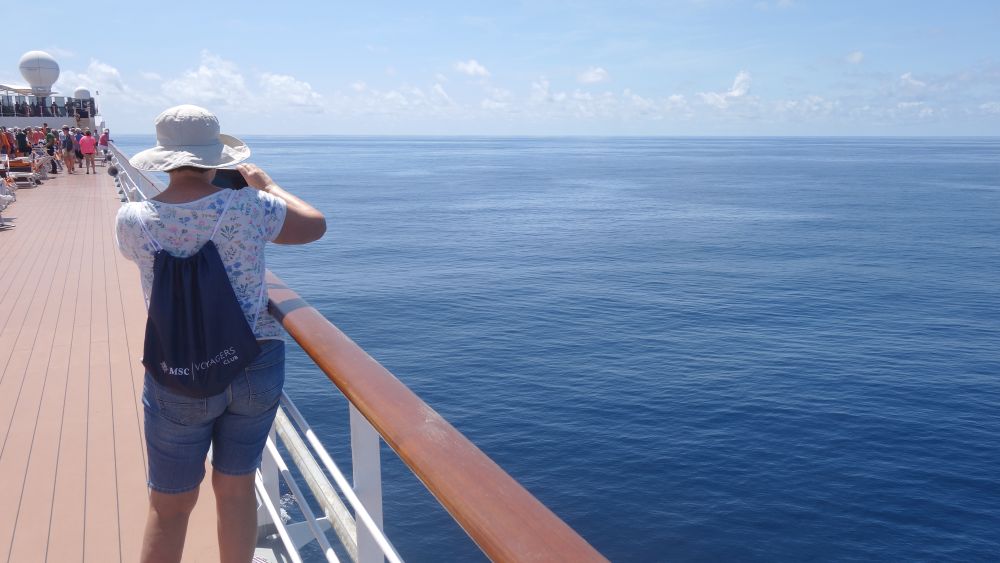 We will only actually cross the equator later.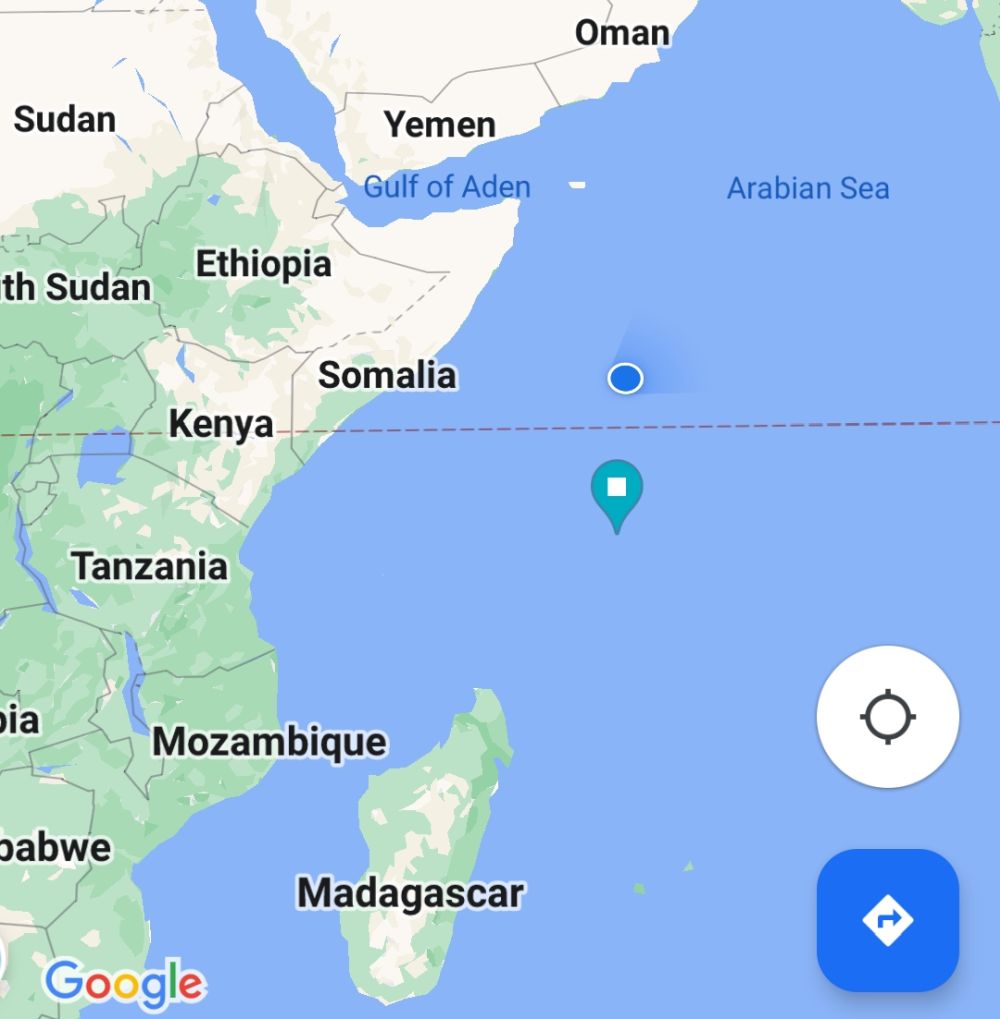 We did do some deck walking, first going up to Deck 12 and taking a photo of the ship's wake…at the bottom of this photo there is a canopy and we wondered what was below it so we went to find out…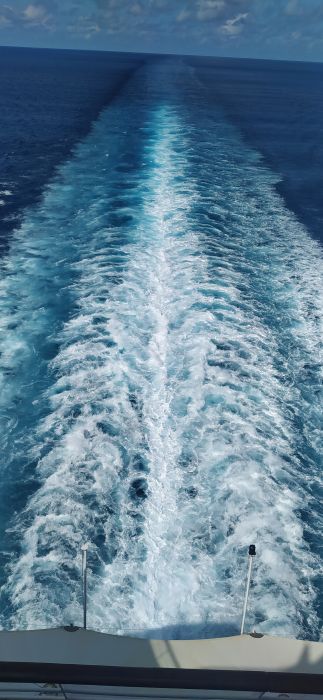 Big open unused deck…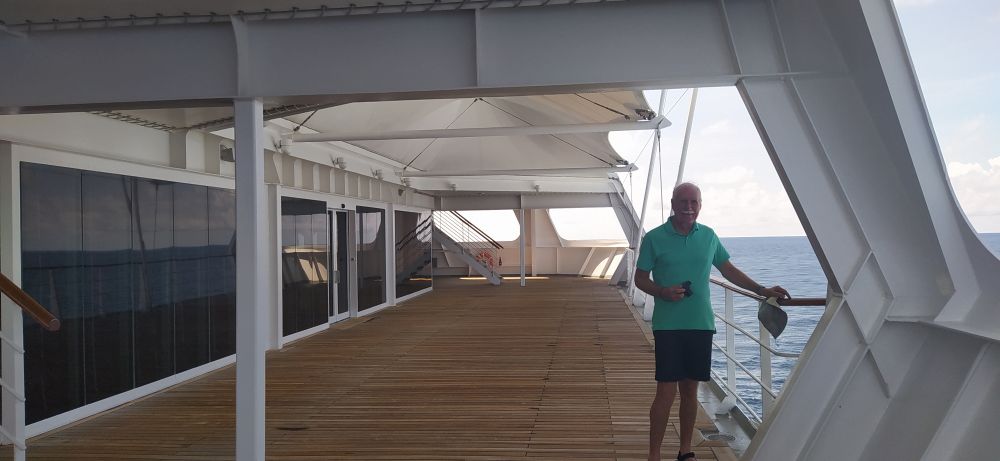 The water is a lot closer…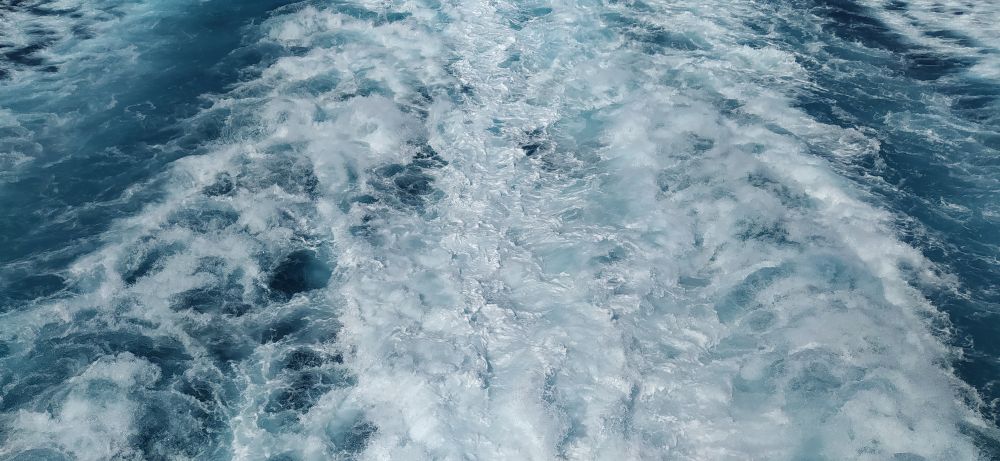 There are no other ships about. I don't think we have seen a single ship pass by today.
At the start of the day, I'd done some work and this was my view. I go to what is the dining room. It's quiet there and I never get disturbed.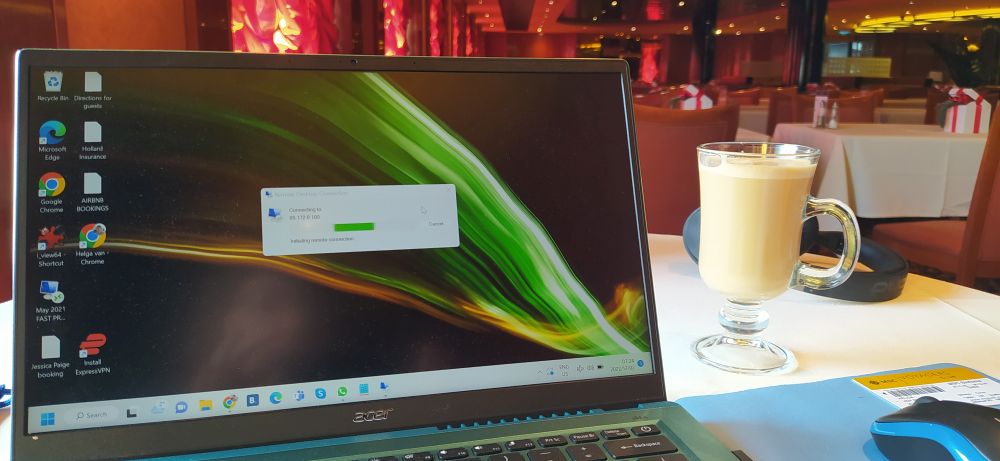 Time is flying by. We are trying to slow it down. These are easy, restful days. God willing, two weeks today, early in the morning, we should cruise into Cape Town harbour. We are half way through our cruise. We are lapping up every moment.
This afternoon, I went upstairs to get tea. It was just after 4pm (we are still 2 hours ahead of South African time) and the buffet was buzzing, but instead of regular food, there was afternoon tea. Cake and biscuits, fruit and all manner of tasty things.  It's possible to eat 4 times a day with extra pizza at midnight. I have to really ask myself how hungry am I? So tempting. Today, we got up super early and so staggered breakfast having muesli and fruit at 8am and egg and bacon at 11am. Nothing since! Our 6pm dinner awaits.
The ship is due to arrive in Seychelles tomorrow. Initially, it was scheduled for 10am, but with the delay in Jeddah, it's now only arriving at 4pm. This has caused some issues for a large wedding party on board. A Welsh family arranged for the bride and groom to celebrate their wedding in the Seychelles, tomorrow at 1pm. The cruise was booked and the arrangements made. Then they discovered the Seychelles was not allowing cruise ships to dock (due to Covid), so they rushed around and changed the venue to Mauritius. Then Seychelles reconsidered and  Seychelles was back on the itinerary, so the venue was changed back again to  1pm tomorrow, only now the ship only docks at 4pm. This poor bridal party are learning how to go with the flow, be flexible and adaptable, but this is not the way to plan a wedding. One way or the other, they will get married though. It's the topic of conversations across the ship!
The best is yet to come – we are only passing through.
Psalm 104:25
There is the sea, great and broad, in which are swarms without number, animals both small and great.
Keep the smile going.
God bless you.
In His Grip,
Gran! xx 🙂