Tuesday
Today was the day…
A lot happened at the building site. To start with the tile got laid…it was the first one Werner put down on the first floor balcony. I think he must have enjoyed laying it.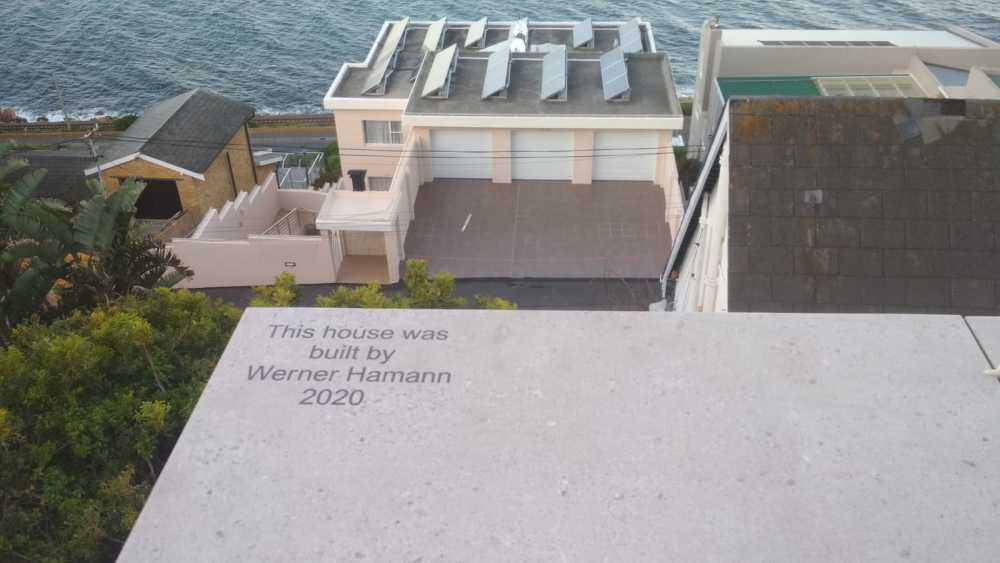 The Granite man came to measure up for the bathroom counter tops as well as the kitchen. He will now go back to his offices, arrange to move our granite, inspect it, measure it to see if he can get out of it what we need and then let us know. We will be waiting for that phone call! We have not had a lot of costly mistakes, but if the granite is cracked and won't work, it will be one.
Leanne came. She is the lady who got our plans through council. Apart from wanting to show her the build, we needed some advice on a couple of little areas that need a third opinion. She was helpful with that.
Today, Courage, started leveling the ground outside Mike's study door so they can start experimenting with gabion baskets. When we went down this evening, we picked up Valerie Gail so she could see the building – here she is looking out of Mike's study door…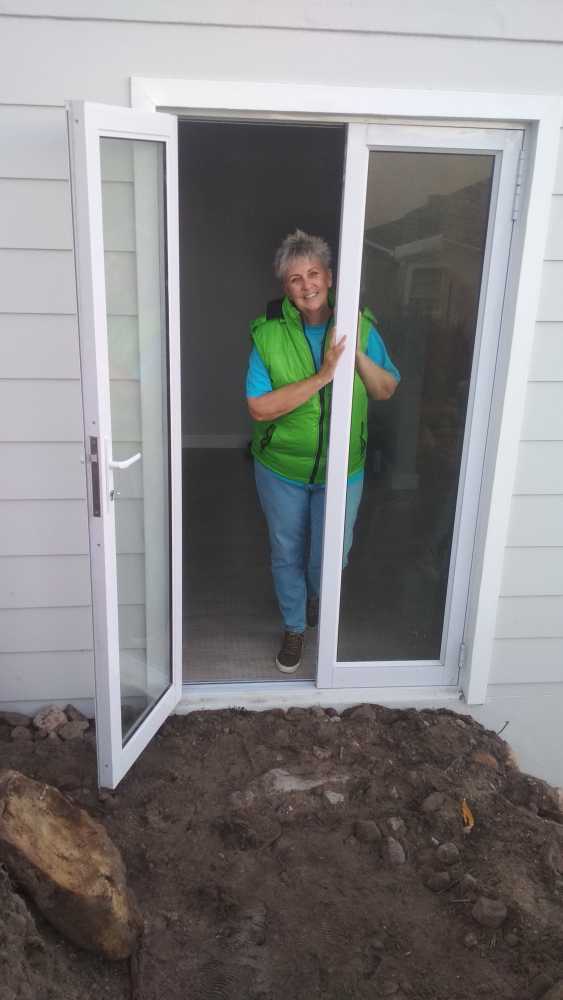 Talking of doors, this is the entrance to the lower ground floor which we often refer to as the basement. It's the first time in its life that it's had no rocks in or around it.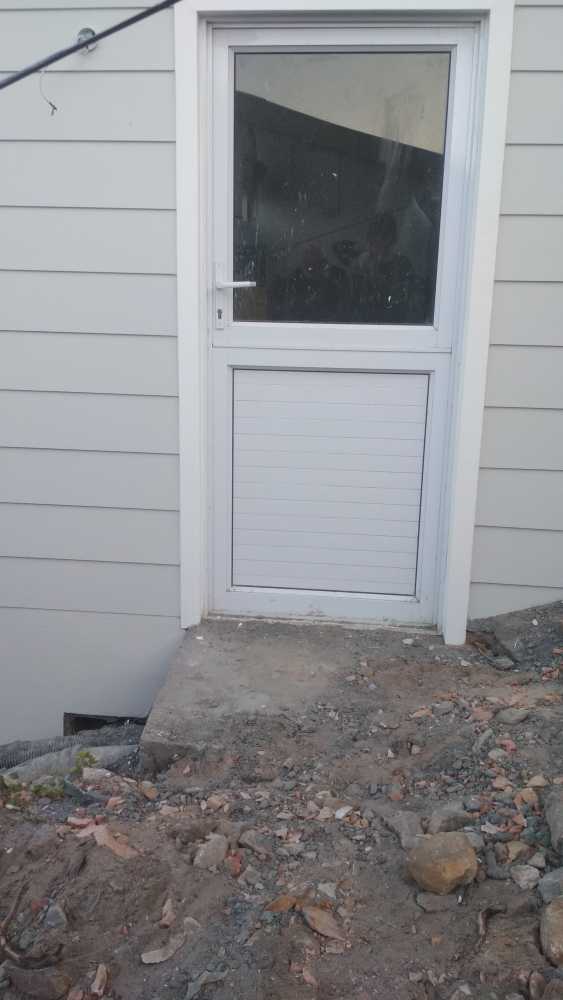 It will soon get a little porch over it and some paving. December 5th 2019, this was the messy entrance to the basement…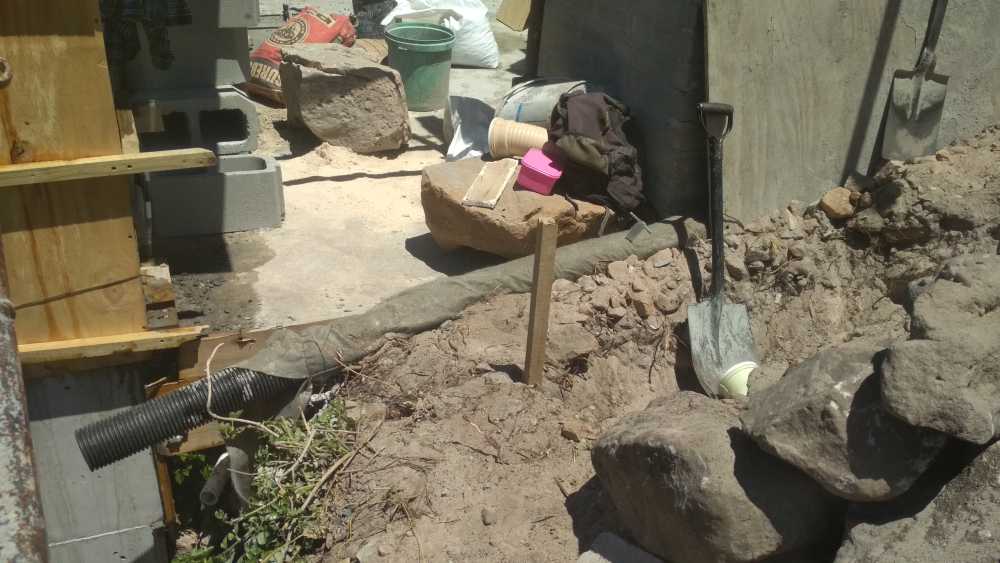 December 14th, a rock was still inside! It was a monster!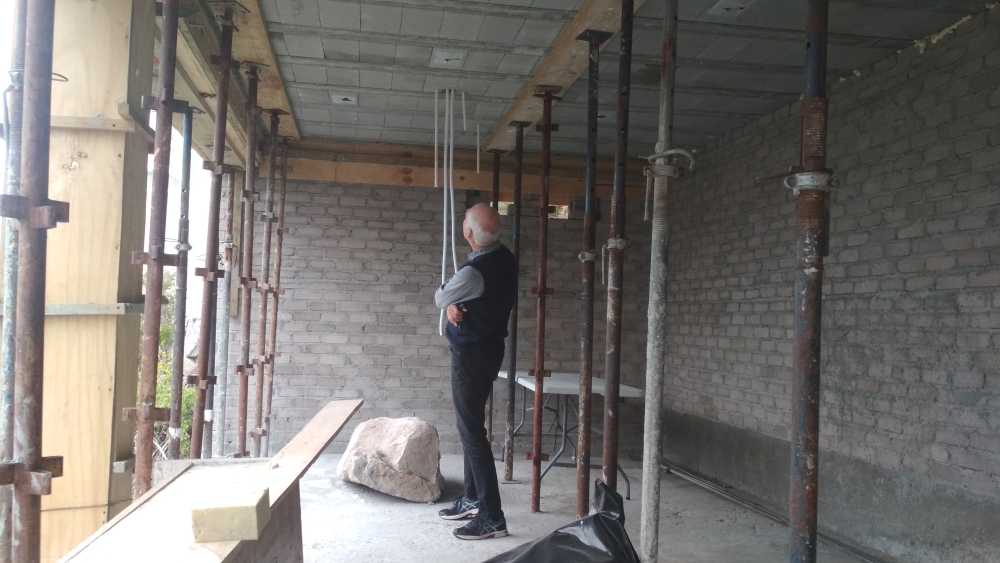 For quite a while, the basement was all we had to admire…it was frequently photographed at every little step. I have to laugh at this next photo taken at the end of October last year. I had circled the level expected to be the basement floor! Even that was exciting. Little did we know what was to come!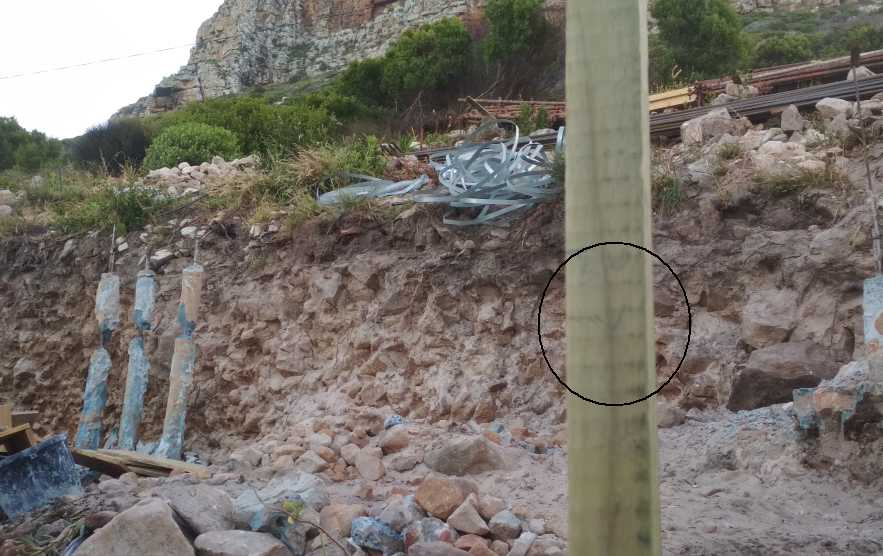 It's hard to believe that we have got so far. What a year it's been.  We are a bit in awe.
Today I got quite a lot of work done. Julian came over for a last coffee before David took him to the airport. I managed to get to gym to swim 50 lengths (4 of them I walked). It was so enjoyable. For most of the time, I had the pool to myself. Water was warm too – 25C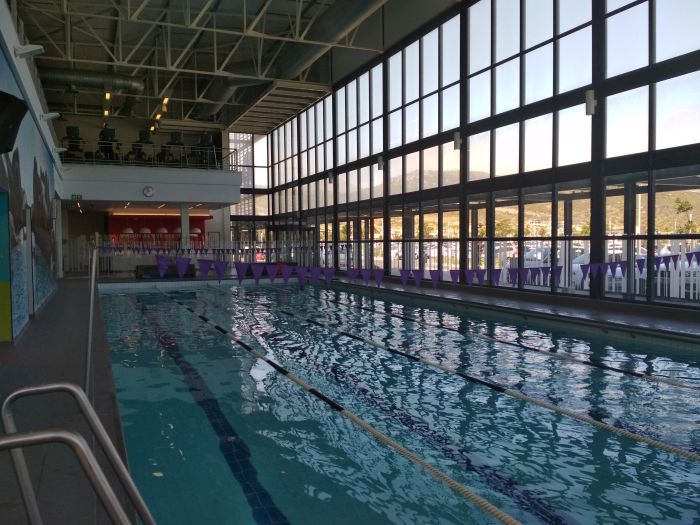 Covid numbers in the Western Cape – 87  new cases in the last 24 hours.
Covid 19 stats – South Africa – country-wide…
Friday 24th July – 13944 new cases (maximum we had in a day)– 250 deaths (245 771 recoveries/169 882 active)
Tues 15 Sept – 772 new cases – 142 deaths (583126 recoveries/52754 active)
Wed 16 Sept – 1923 new cases – 64 deaths (584195 recoveries/53544 active)
Thur 17 Sept – 2128 new cases – 67 deaths (585303 recoveries/54497 active)
Fri 18 Sept – 2055 new cases – 85 deaths (586844 recoveries/54926 active)
Sat 19 Sept – 2029 new cases – 83 deaths (589434 recoveries/ 54282 active)
Sun 20 Sept – 1555 new cases – 13 deaths (590071 recoveries/55187 active)
Mon 21 Sept – 725 new cases – 39 deaths (591208 recoveries/54736 active)
Total cases: 661936  Total deaths: 15992
Psalm 33:18
Behold, the eye of the Lord is on those who fear Him, on those who hope in His steadfast love.
The best is yet to come.
Keep the smile going.
God bless you.
In His Grip,
Helga xx 🙂
Braces:
1 year and 314 days