Soooo, yesterday! When the sun was shining and the sky was blue and I was revelling in being able to throw wide the doors because Mike is home and there's extra security, it backfired! While the doors were open on our upstairs balcony, a nifty scoundrel shimmied up the balcony, entered the bedroom, grabbed Mike's wallet and my handbag and laptop and gapped it.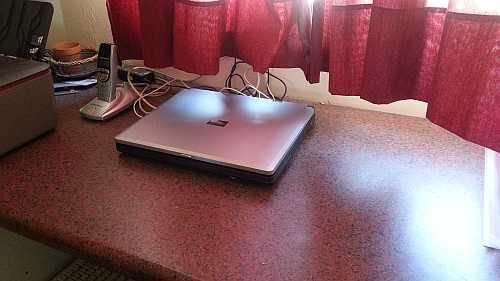 I came upstairs to find my laptop gone. On closer inspection, my handbag was missing and in it my wallet with a few hundred bucks, all my bank cards, my ID and my driver's licence.  I initially went into shock. But having just posted the blog, I had "pause and praise" on my mind, so before we did anything else, we stopped to pray and praise the Lord. Everything we have belongs to Him, right down to our very lives. Even if those are taken, we are safe with Him. Nothing happens without a purpose, with God's presence and His permission and He will work it all out, no matter how uncomfortable it feels.
And uncomfortable it felt.
I had seen a guy on the road with a red shirt – he actually was familiar to us. I think his name is Kevin. I had seen  him and thought he had carried on walking when he saw me, but he must have turned back and while no one was looking climbed up the side of the balcony. After the discovery, Mike and Clifton (who was visiting at the time) went up to a nearby intersection and a youngster said they saw a man with a red shirt and rucksack jump in a taxi and head for Masiphumulele.
I was so grateful that so little was stolen. It became #33 of my 1000 thanks. Very little was stolen. Apart from what was mentioned, there were numerous other items that could have been stolen that were left behind. So often our cell phones are charging nearby, but they were downstairs with us. Other electronic equipment stayed, my passport, jewellery and a watch that David gave me all were safe and sound.
We stopped all our bank cards and changed all our internet passwords. Further inconvenience lies in the replacement of our ID and driver's licences, so we spent an hour at the police station this morning reporting it and getting a case number.
Mike has rigged me up with his laptop until mine can be replaced. It set back my work some but it will all turn out ok in time.
A funny thing did happen. We both woke up in the small hours of this morning. How it came up, I don't know, but Mike decided ice cream would be a good idea. David has often marvelled that a bottle of Amarula which has been in our cupboard for a year or two is just never drunk, so we decided it would go down well with the ice cream.  At 3am, we sat in bed and ate ice cream splashed with Amarula. 😀
Today we are feeling better. I was determined to not let this get the better of me. With gratitude I bought to mind Psalm 34:1 and repeated it over and over.
I will extol the LORD at all times; His praise will always be on my lips.
It made a difference. Just keeping my thoughts directed to God and His hand on our lives, bought a peace that is beyond understanding.
These are the days!
Keep the smile going.
God bless you!
In His Grip,
Helga xx 🙂