Yes! Mike is a genius. He woke up in the middle of the night wondering if we needed some valve to stop the water going backwards.  On writing this, I'm reevaluating the genius of Mike. I think the Lord gets the credit!
After going back to sleep, we woke quite early – had coffee and then at somewhere round 6-30am, I left Mike to doze and I went to gym. I got home about 8am and Mike had just woken up.
He made a few phone calls and we ended up at Mica Hardware where he bought the parts he needed. When we got home, we put on our plumber hats and Mike put on the valve as well as a new tap and piece of copper pipe. I learned a few things as I was his assistant! Here he is tightening the 'olive!'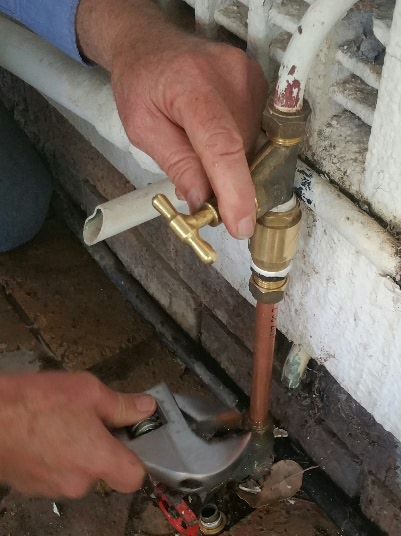 So after all of this, the meter turned a little – about half as much as before. So we are making progress. He did another experiment and turned off the hot water from the solar cylinder on the roof and that stopped the meter turning altogether.
We are on the right track.
#502 of my 1000 thanks is for this progress. You have no idea of how happy we are to know that we are finding the problem.
I'm cutting this short as we are off to see a movie! When was the last time we went to see a movie? We really can't remember!
Psalm 128:1
 "How happy are those who fear the LORD– all who follow His ways!"
These are the days!
Keep the smile going.
God bless you!
In His Grip,
Helga xx 🙂