I was thinking about this, this morning. Marriage is a complex arrangement! What are the most important things to know about being married? What does it mean to be married? If someone had to ask me how to be married, what would I say. What are the rules? There are guidelines for so many things – how to drive a car, how to bake a cake, how to plant a garden, how to use this software or that app. What's the basic 'how to' of marriage?
How To Be Married 101.
Compromise!
Compromise!
Compromise!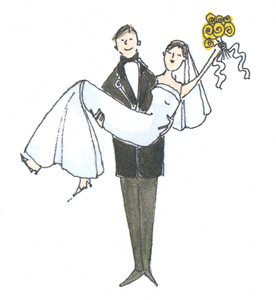 Mike and I are so vastly different, even after 30 years of sharing the same bed, the same bathroom, the same kitchen and pretty much the same life, we are so very different. Apart from God's grace, the one thing that has assisted in our success is to COMPROMISE.
Sometimes we do things my way – other times we do things his way. A good recent example is our Tuesday morning breakfast routine. We go out for breakfast every Tuesday morning and it usually is to Foodlovers Market. There they have the newspaper and a special breakfast offer which allows me to toss the chips and toast in favour of avocado pear. It comes with coffee & tea which suits us.
BUT.
And this is a BIG BUT!
Their plate warmer is broken.
Mike can't stand fried eggs being served on a cold plate.
Of course, I'm the opposite and don't really mind as long as the eggs are hot when they arrive.
Mike got so peeved with constantly getting his fried eggs on a cold plate.
Eventually one Tuesday he announced we would not be going to Foodlovers, we would be going to the Spur right next door where we could ask for our breakfast on a hot skillet. It comes smokin' with the eggs still cooking. In fact I ask for sunny side up and flip them to get easy over the plate is so hot. You can burn yourself on that plate. The food is literally sizzling.
So that Tuesday morning we went to the Spur (where there is no newspaper). Coffee does come with the breakfast special and Mike enjoyed having his breakfast on a dangerously hot skillet. I burned my tongue. They bought me avo on the side, so both of us were relatively happy – except for the lack of newspaper. I told Mike he could go and buy one if he wanted the relaxing breakfast vibe. He didn't go.
While I don't mind the Spur, the problem I have with it is that it is quite dark and of course, it's 'Spur-ish'.  We are not big Spur people (even though we have a taste for life ;). We raised our children with many outings to the Spur and while we go every now and again, it's a few times a year.
I prefer Foodlovers.
So the next week we were back at Foodlovers and that has since become our routine Tuesday morning breakfast venue.
Mike compromised.
He now has scrambled eggs, instead of fried. He doesn't mind scrambled eggs on a cold plate.
And we sit and have a leisurely breakfast, read the paper and drink coffee or tea.
It's very comfortable.
But it involved compromise.
And that's what marriage is all about.
Next time you see a marriage storm brewing, compromise – you will be better for it.
#115 of 1000 thanks is for 1st December – a bright beautiful day in Cape Town and the start of the Christmas month. 🙂 Work is less. Mike will play 9 holes this afternoon and I get to caddie! 🙂 Instead of looking at the sunshine, we're going to play in it!
1 John 3:1
"How great is the love the Father has lavished on us, that we should be called children of God!"
These are the days.
Keep the smile going!
God bless you!
In His Grip,
Helga xx 🙂