Wednesday
Today was the day…
The solar panels arrived AND we went to see our granite! There it was out in the bright sunlight looking just as it was when we bought it in November 2019. Little did we know it would take almost a year before we saw its face again!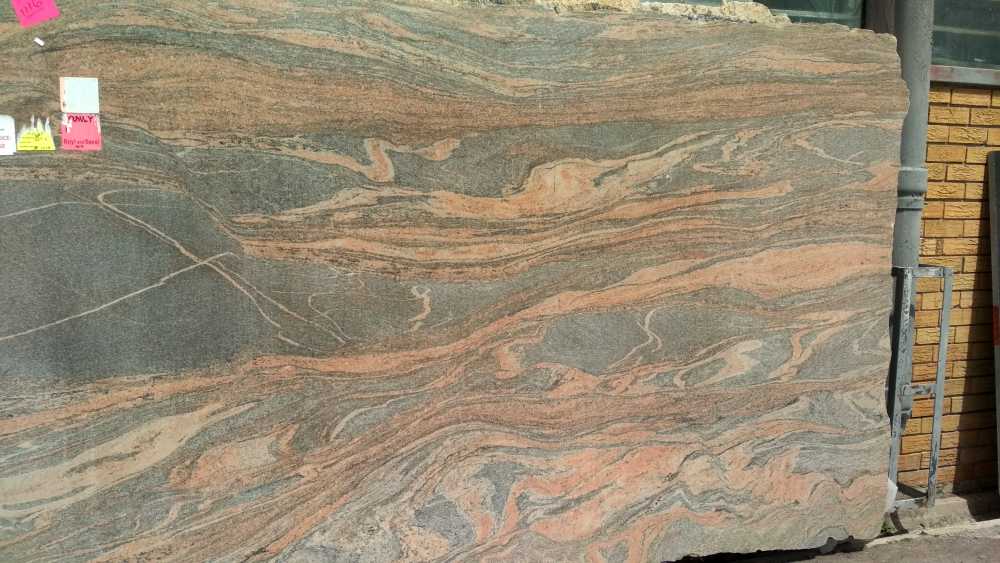 The granite man said it was sun damaged, but we  still like it. They will do the fabrication and installation and said delivery should be next week on Wednesday or Thursday, so the next time we see it, it will be very different to this!
Meantime, yesterday Werner said we need one more box of the tiles for the bathroom walls. I called the tile supplier and they had none and, they said, neither did the Paarden Eiland branch. I phoned the branch in Paarden Eiland and a really helpful guy answered and said he would take a look and see if he had any tiles in the sample room. He would phone me back. I have to admit that seldom do I get called back after people tell me they will. But lo, while we were on the way to the granite place, my cell phone rang and it was Tile Africa in Paarden Eiland. He had found TWO tiles. I was so happy! I had looked at Julian's bathroom and seen a space for two tiles. There were several half tiles left, but that space could not be filled with half tiles. So those two tiles would be perfect. We don't need any more! So grateful! After seeing the granite we went to Tile Africa and picked up those two tiles.
When we arrived back at Echo we found the solar panels had been delivered and were being taken up the builder's stairs…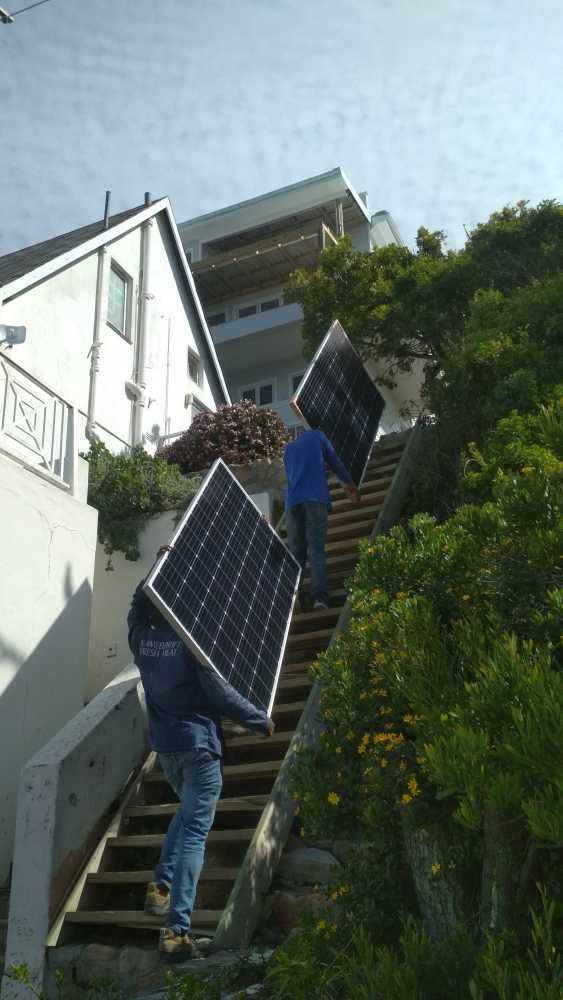 There are 27 of them. They took them all up the stairs…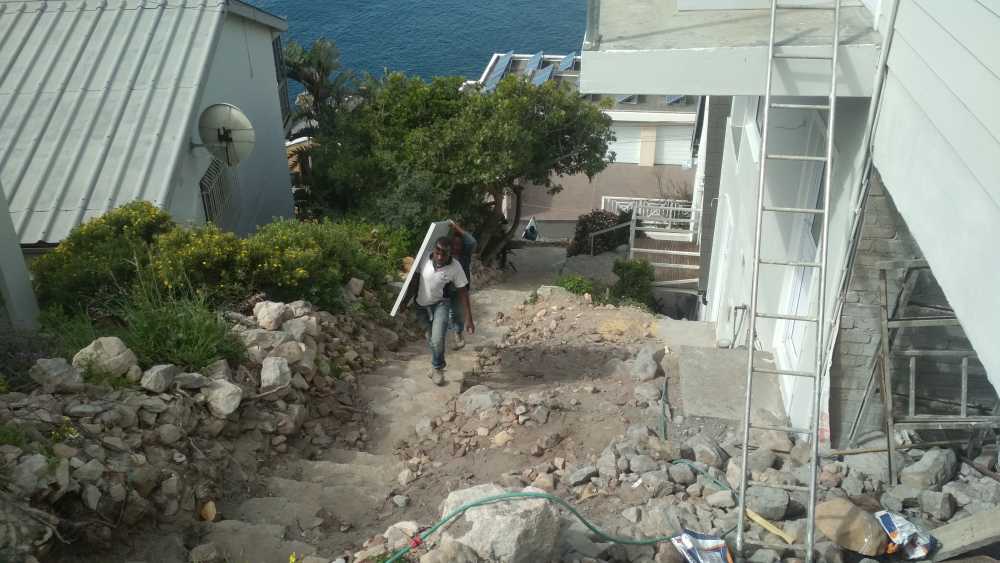 All but one. Mike and I tried that one. The guys make it look very easy! Clearly my technique was all wrong! Puff! puff!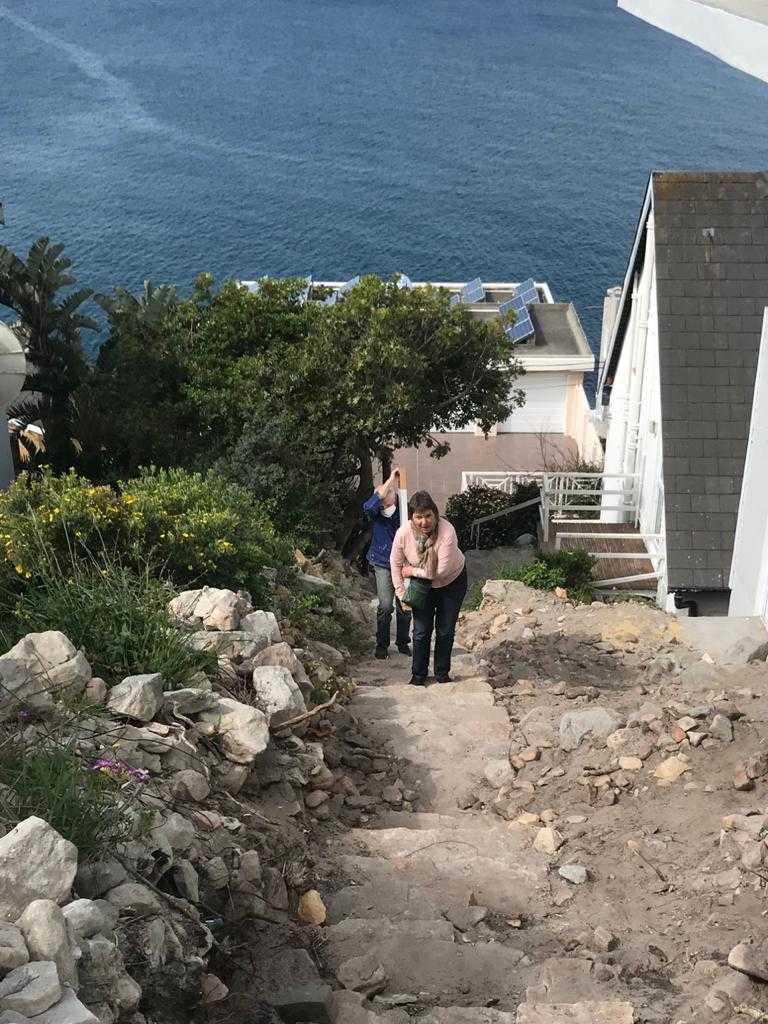 Part of the building team – Joseph, Qaba, Courage and William (I think!)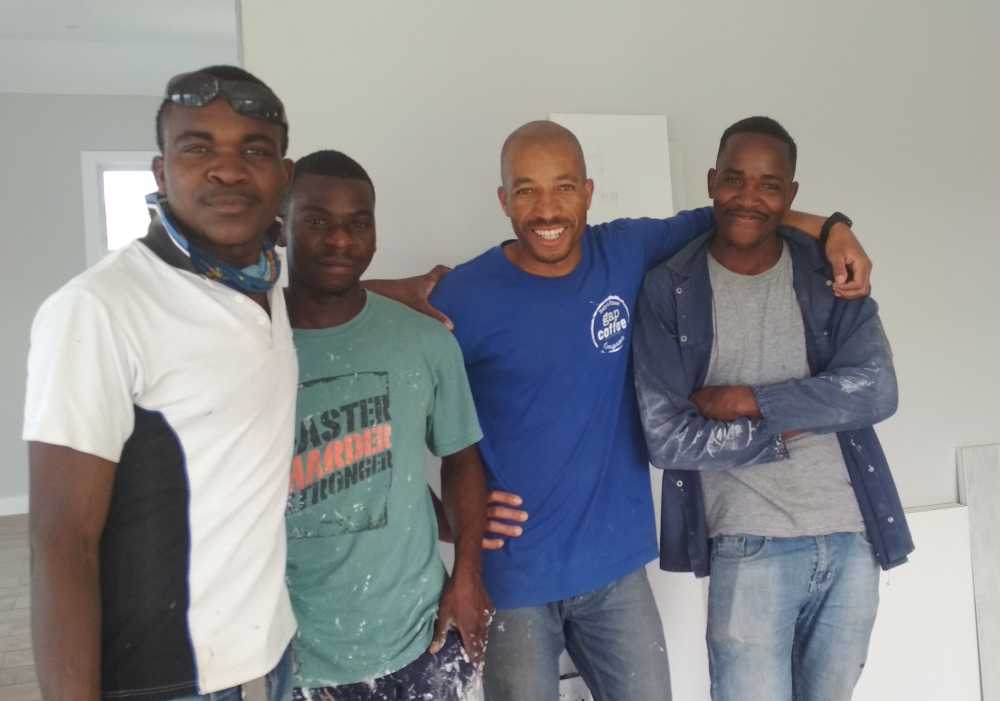 These men are STRONG!
The building inspector came today as well. He is satisfied with most of the build – the list of requirements for us to get an occupational certificate was surprisingly short. Just three things:
We need to put a safety bar up on opening windows that are lower than a metre and that don't overlook a balcony. I think there are three of them.
We need gutters on the porch roof.
We need a vent in the ground floor bathroom.
I am amazed! Building inspector is definitely constructive and not obstructive. He's just recovered from Covid. Thank you Lord.
I also had a good work day today.
Last day of September. I wonder where I will be when I write the blog for the end of October?
Covid numbers in the Western Cape – A bit of a spike: 193 new cases in the last 24 hours.
Covid 19 stats – South Africa –
Friday 24th July – 13944 new cases (maximum we had in a day)– 250 deaths (245 771 recoveries/169 882 active)
Wed 23 Sept – 1906 new cases – 88 deaths (594229 recoveries/54753 active)
Thu 24 Sept – 1861 new cases – 77 deaths (595916 recoveries/54850 active)
Fri 25 Sept – 1480 new cases – 29 deaths (599149 recoveries/53068 active)
Sat 26 Sept – 969 new cases – 64 deaths (601818 recoveries/ 51304 active)
Sun 27 Sept – 1268 new cases – 22 deaths (603721 recoveries/50647 active)
Mon 28 Sept – 903 new cases – 188 deaths (604478 recoveries/50605 active)
Tues 29 Sept – Also 903 new cases – 81 deaths (606520 recoveries/49385 active)
Total cases: 672572  Total deaths: 16667
Psalm 10:17
Lord, You know the hopes of the helpless. Surely You will hear their cries and comfort them.
The best is yet to come.
Keep the smile going.
God bless you.
In His Grip,
Helga xx 🙂
Braces:
1 year and 322 days