Tuesday
Today was the day…
I felt I was coming back to life. I was in my pajamas sitting at my computer working when I suddenly heard the truck coming to pick up the trash, only I hadn't yet put it out. It must have been around 10am (yes, I was still in my pajamas). I jumped up, looked out the window to see where it was and then raced into my bathroom, to my study and to the kitchen gathering all the rubbish. I flew out the garage door in my socks and no mask and dashed across the road in time for the bemused trash man to put out his gloved hand and taken my humble bag. I thanked him, turned and scuttled inside. Yeah! I got the rubbish out in time!
Mike came home from Echo and we had breakfast together and coffee on the balcony. As I sat on the balcony and commented to Mike it was the last day of June 2020, I decided to take a photo.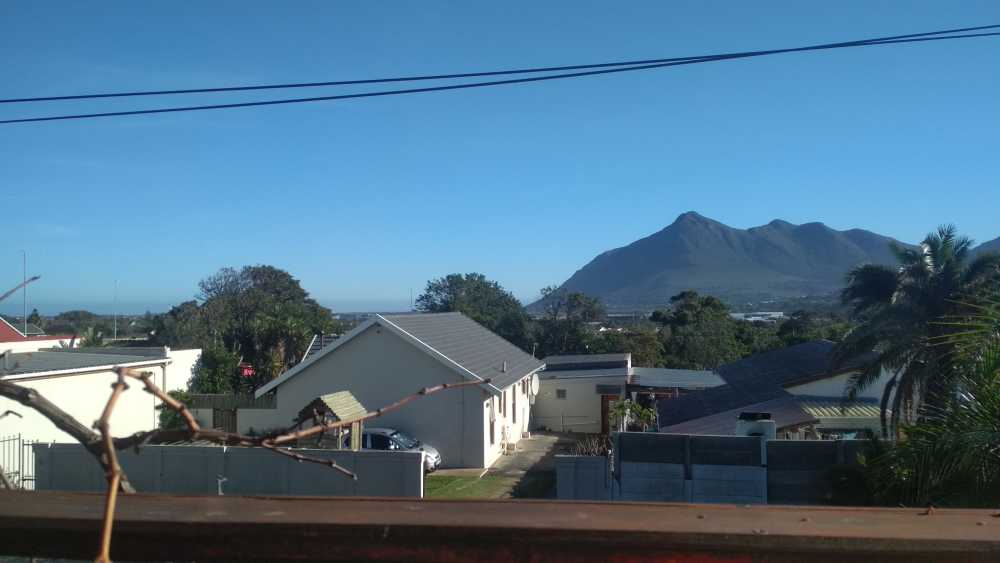 I wondered what our view will be 3 months from now – on 30th September.
Later I shopped and in the afternoon stopped by Echo to see progress. They are screeding Julian's floor. We couldn't get up there to have a look so will have to do that another time. We took a look at how we will lay out the flooring for our level. Excited about that. I mentioned to Werner I wonder if this will be our view by 30th September. He is convinced that this build will be part of his past by the time 30th September rolls around. He wants to be in Spain! The roof sheets arrive on Friday. Next inclement weather is Tuesday. He says the team will work on Saturday to put the roof on.
One of the highlights today was a chicken mayo salad that I bought from the grocery store. Oh my word, it tasted so good. It was finely shredded chicken and I was able to slurp it down. I also tried a naartjie but I'm still not at biting stage and so that was too difficult to eat. Tonight I'm having a child-friendly  cottage pie. It think that will be 'slurpable'. Being full makes all the difference! The serious sunburn feeling on my lip is better.
A month ago, I closed the door on May feeling somewhat subdued and uncertain. A month later, closing the door on June, I'm ecstatic. On 31st May there was so much uncertainty. Today, the op is over and the build is well under way again. We just need to be very careful regarding Corona. Masks, hand sanitiser and pretty much staying away from too many people should keep us safe. One day at a time. We pray 'give us this day our daily bread.' There is enough for today. Tomorrow, there will be more.
Corona stats – June 2020
Monday 22nd – 4288 new cases – 61 deaths (53444 recoveries/46155 active)
Tuesday 23rd – 4518 new cases – 111 deaths (55045 recoveries/48961 active)
Wednesday 24th – 5688 new cases – 103 deaths (56874 recoveries/ 52717 active)
Thursday 25th –  6579 new cases – 87 deaths (59974 recoveries/ 56109 active)
Friday 26th – 6215 new cases – 48 deaths (64111 recoveries/ 58139 active)
Saturday 27th – 7210 new cases – 73 deaths (67094 recoveries /62293 active)
Sunday 28th – 6334 new cases – 43 deaths (68925 recoveries/66753 active)
Monday 29th – 6130 new cases – 73 deaths (70614 recoveries /71121 active – Active overtakes recoveries.
Total cases: 144264. Total deaths: 2529
Hebrews 12:15
See to it that no one fails to obtain the grace of God; that no 'root of bitterness' springs up and causes trouble.
What wise advice.
The best is yet to come.
Keep the smile going.
God bless you.
In His Grip,
Helga xx 🙂
Braces:
1 year 230 days