Monday
Today was the day…
I really struggled with what feels like serious sunburn on my lip. It's the sensation after the operation that will pass, but it woke me up a couple of times in the night. The only remedy is lashings of vaseline which I don't particularly want to put on in the middle of the night because I don't want it on my pillow. Que sera sera. It will pass and if that's all I've got to worry about, I have gotten off super lightly!
Mike and I went across to Montague Gardens to buy cable for the internet system at Echo. It was good to get out on this rainy day an do the trip together. He appreciated the company and I appreciated the outing.
I did a few hours work.
I sent a photo to the surgeon comparing last Monday to today. Certainly an improvement from last Monday when I looked and felt quite monstrous! Today, a little less swollen and bruised.  The Professor was very happy. The elastics are really important little additions to my orthodontics as they keep my bite to where it's meant to be. When I read up on them, I understood the seriousness of keeping them in for at least 23 hours of the day. This is when Corona works for me…masks are wonderful!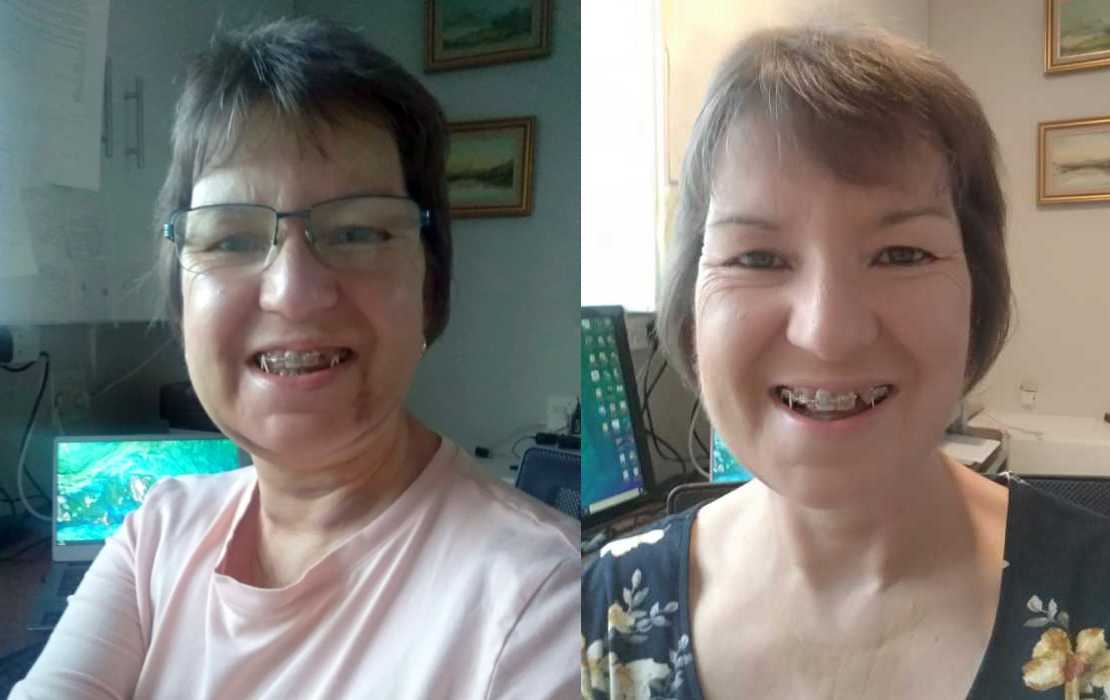 It's been a drizzly day in Cape Town. A quiet Monday for us, although Mike got quite a bit of work done. It started a bit bumpy with a broken garage door at Echo. With all the rain, the wood had swollen and it wouldn't open. Mike took his sander down and it was fixed in no time. He also got a great contact for our Solar system so will be working on getting that design finished so he can get an accurate quote and our order in.
I called the Medical Aid. They have paid R13000 of the surgeon's R35000 bill. They paid all of the Assistant surgeon's R8000 bill because he is contracted to them. The anaethetist's R13000 bill, I paid and then submitted and they paid nothing. I emailed them querying it and all they did in response was send me a copy of the revised authorisation. Today when I called, the person I spoke to admitted there should be some payment and asked for three business days after which he will phone me. I'll be waiting. It's absolutely not possible for them to decline any anaesthetic payment when it was a full in-hospital procedure and I have unlimited funds for in-hospital treatment (except for advanced dentistry to contracted-out surgeons!)
So grateful it's over. I remember sitting at the end of May wondering what the end of June would look like for me. Now I know. It's all done and I am on the mend!🤸‍♀️🙏
Corona Stats – June 2020 –
Saturday 20th – 4966 new cases  – 46 deaths (50326 recoveries/40478 active)
Sunday 21st – 4621 new cases – 53 deaths (51608 recoveries/43764 active)
Monday 22nd – 4288 new cases – 61 deaths (53444 recoveries/46155 active)
Tuesday 23rd – 4518 new cases – 111 deaths (55045 recoveries/48961 active)
Wednesday 24th – 5688 new cases – 103 deaths (56874 recoveries/ 52717 active)
Thursday 25th –  6579 new cases – 87 deaths (59974 recoveries/ 56109 active)
Friday 26th – 6215 new cases – 48 deaths (64111 recoveries/ 58139 active)
Saturday 27th – 7210 new cases – 73 deaths (67094 recoveries /62293 active)
Sunday 28th – 6334 new cases – 43 deaths (68925 recoveries/66753 active)
Total cases: 138134. Total deaths: 2456
We hope for the best.
2 Peter 3:18
Grow in the grace and knowledge of our Lord and Saviour Jesus Christ. To Him be the glory both now and forever.
The best is yet to come.
Keep the smile going.
God bless you.
In His Grip,
Helga xx 🙂
Braces:
1 year 229 days