We woke up this morning and enjoyed a relaxing hour or two before going home to feed the cat. Truffles met us, looking, I must say, rather unhappy that we had spent the night away.   My routine was completely out of sync and with a delivery expected and two Skype calls, I fed Truffles and settled down to work. I worked all morning and in the afternoon had a nap and went shopping. Just one or two more things to get.
Then Mike and I came back to Echo Cottage. It is so seldom empty. David lives in the loft and he is away until tomorrow. Jess and Gerrie also arrive tomorrow. They go to the airport with Julian. They part company, flying to Cape Town while Julian  flies to the US for ten days.
Mike and I went for a walk up Echo Road where there are a couple of houses being built. We had a look at one of them. Amazing master bedroom with a spectacular view. Here's Mike climbing out the window, which was how we got in.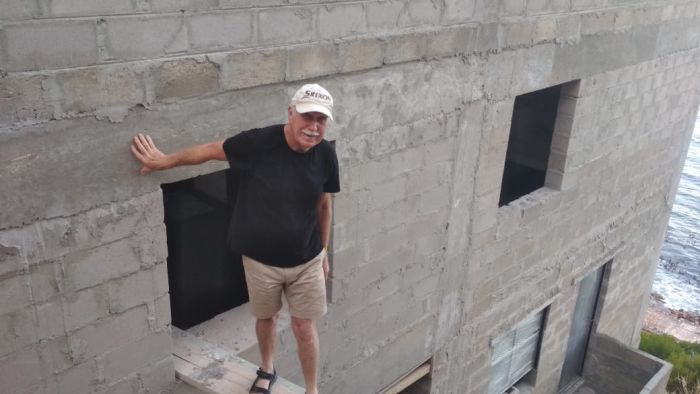 One day it will be our turn. We don't for a moment think it's going to be straightforward. Small steps achieve great things.
We walked a bit further before returning for leftovers. Dinner for two…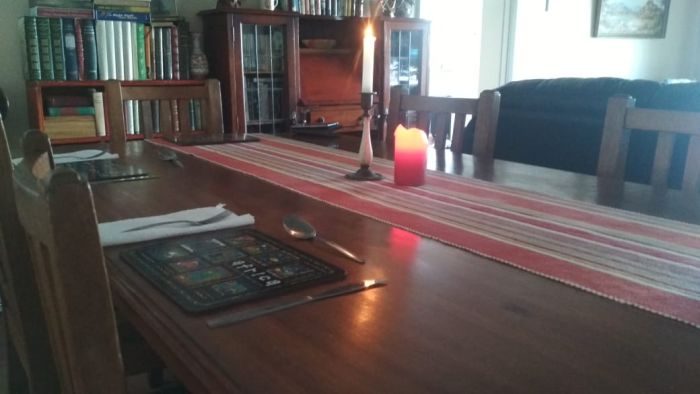 #990 of my 1000 thanks….the dining room table above – is a pear-wood table. We – well, Julian, really bought it second-hand from a store in Fish Hoek  almost 4 years ago. We love it.
Then we watched the Andy Stanley Undeservable I wrote about the other day. I had listened to it at gym. This time we watched it on YouTube. Mike agreed he's excellent.  Mike is watching TV. I've done the dishes and am in bed.
Tomorrow is my last work day until 2nd January. Looking forward to the little break.
Romans 15:33
The God of peace be with you.
These are the days.
God bless you.
In His Grip,
Helga xx 🙂
Gym:
Rest day.
Braces:
Day 37.