2-56
Those of you who read my blog, generally know I end with 'In His Grip'. We are in God's grip, but there's more! I am just SO loving reading Isaiah at the moment. It is with some excitement that I open my Bible in the morning to find out what I'm going to read today. I have not been disappointed. In fact, I am spoilt for choice as to what you write on. This morning I chose a favourite passage: Isaiah 49:15-16 "Can a mother forget the baby at her breast and have no compassion on the chld she has borne? Though she may forget, I will not forget you! See, I have engraved you on the palms of my hands; your walls are ever before me."
The first thing I do after deciding which verse to write on, is look it up in the Amplified Version which sits with the NIV I'm using this year. My brother knows I read through the Bible every year, so when he saw this 2nd hand Bible, he got it for me…I love it!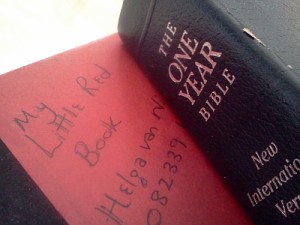 When I read these two verses from the Amplified Version, I was  bowled over at the love God has for us! The phrase, "See, I have engraved you on the palms of my hands," is explained, "I have indelibly imprinted (tattooed) a picture of you on the palm of each of My hands."
It made me all warm and fuzzy! When Jesus died on the cross, it was intensely personal. He died for EACH one of us. He wants a personal relationship with us. We are so important to Him that He has us tattooed!!!  To Him we are unique individuals.  He sees us, not a mass of ants, crawling across a landscape.  He sees each detail of our lives. He knows each hair on our heads. He captures each tear we cry. He  observes each thought we think. He holds us close to His heart. That is God's love for us!
You are loved! NEVER forget it!
The day has been overcast and cool today with the expectation of rain tonight…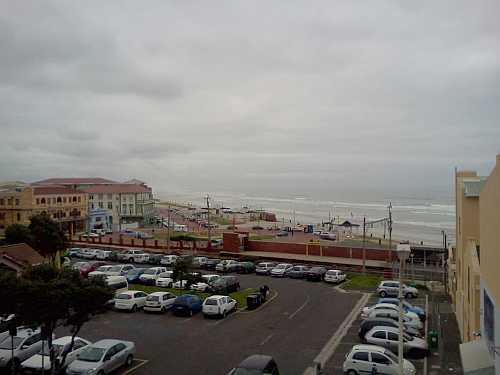 This was tea/lunch break at CCFm…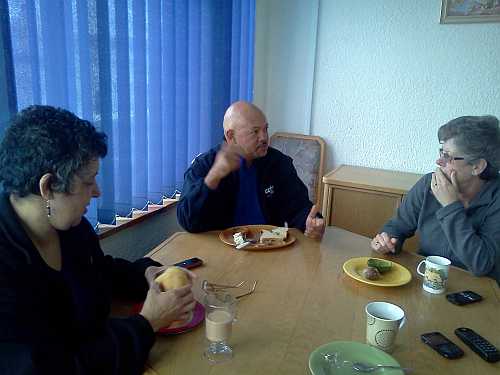 Hanniki and Anthony sharing a joke…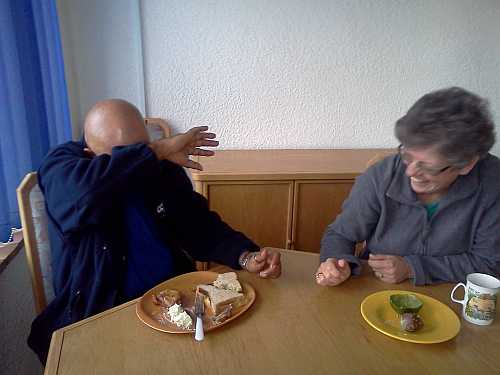 So that's that then…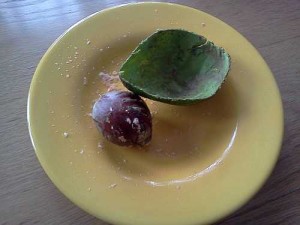 Stacey and Adrian status: settling in Kuala Lumpur – both working. Both happy. 🙂 Happy Family = Happy MoM! 🙂
God bless you LOADS!
In His Grip, Indelibly Imprinted on Both Palms of His Hands…
Love Helga x 🙂