There's this old saying that goes something like this, "it's like the dog chasing the bus, but what he is going to do when he catches it?"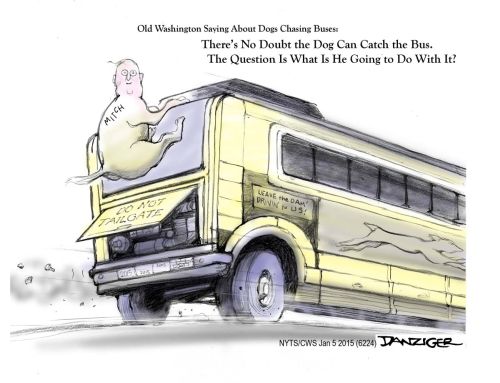 Danziger the cartoonist, aptly illustrates it…. For me that phrase or illustration has come up a few times lately. You may work for something so big for so long and finally it almost unexpectedly comes to pass. What now?
Of political cartooning, I sort of feel it is like Donald Trump winning the election. He's the dog that's caught the bus, now what is he going to do with it?  The world is watching, that's for sure.
But I also think of it in terms of my job right now. I'm busy (very busy) with mountains of application paperwork of South African teachers who want to go and teach in Abu Dhabi. The jobs are impressive, pay well and certainly have got a lot of South Africans out of financial trouble, but it's also like they are the dog chasing the bus and now they have caught it, what are they going to do with it?
There are many things I  have observed in the work that I have done.
The people who have been the most successful have had the best attitude.
I can almost tell when someone will be successful because they have such a nice way about them. They don't take offence, they don't complain, they are appreciative – all in all, they have a great attitude stay positive and appreciate the opportunity. If that's how they are when they apply, it's how they will be when they get to Abu Dhabi. When they are homesick, frustrated and overwhelmed, they will stay positive, understand things will improve and they will appreciate the opportunity. The best applicants go willing to learn, not to take over, they go with a degree of humility and understanding that they are visitors in Abu Dhabi.
2.  These well paying, amazing jobs are not the only jobs out there.
With the right teaching qualifications, South African teachers can teach across the world. We had one lady who was so very sweet. She interviewed and was not recommended. Naturally, she was disappointed, but she persevered and within a month, she was placed in a super paying job in China. Last we heard she was so enjoying it. This South African arrived in China and said she felt 'right at home.'
If you shoot for the stars, you may catch the moon – far brighter and not difficult to miss.  As I go to the interviews over the next few weeks and I interact with the applicants, I'm going to be interested to see if my observations are right…if the good attitudes get the jobs.
But right now, it's back to work. It looks like we will end up with about 80 teachers. I've rapped up the profiles of 44 of them, so let me go and tackle the next batch.
Philippians 2:14
Do everything without complaining and arguing…
#100 of my 1000 thanks – I'm so grateful to be making progress. I've worked 53 hours so far this week, I'm climbing this mountain one document at a time. It won't be for much longer. I can expect normalcy to return early in December. 🙂
These are the days!
Keep the smile going!
God bless you!
In His Grip,
Helga xx 🙂