Friday
Today was the day…
We went to the beach. It was a perfect, still day with the promise of sunshine. On such a day I need to wear my turquoise hat. This hat Mike bought from a cheap Chinese store about a year ago. The plan was to wear it on our balcony when the morning sun was a bit too bright. The other windless day I wore it to the beach and did the same today. Only today, I had people wave and greet and it really grabbed the attention of the regular ladies at the beach, "Helga, we love your hat!" "Where did you get that hat?" "That's a lovely hat!"
The hat is actually made of paper!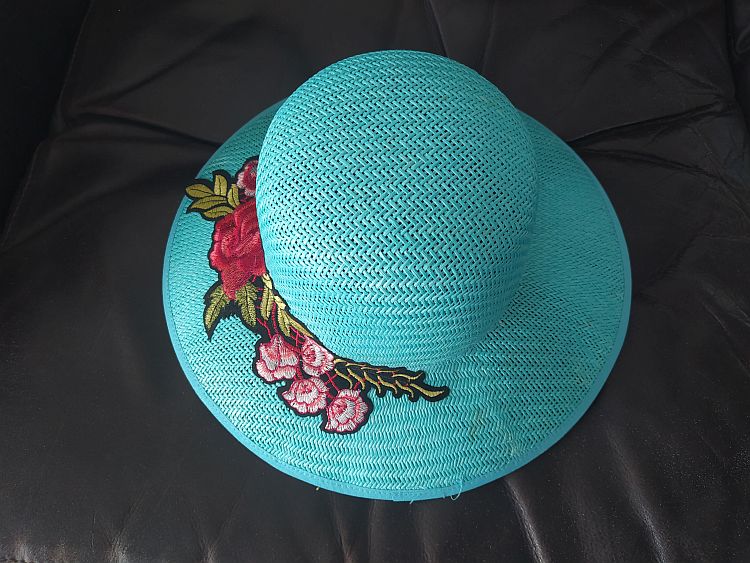 The hat on my head!
And so the hat is such a hit that maybe I should be taking it on holiday when we go overseas. We'll see.
The sea water is certainly warming up. It must have been about 16C today. I swam 2km with quite a lot more confidence. Last night I ready this story 🙁See here). Part of it said this:

White sharks have disappeared from Cape Town and Gansbaai. 
That is quite a definitive statement. I took it to heart, shook off my caution and swam with confidence to the barrel and back. I swam most of the way to the lighthouse before hearing a bit of a commotion. On stopping, I saw the trek fishermen running with their boat towards the cat walk side of the beach. When they saw me, they stopped and launched their boat into the sea before me, so I wouldn't encounter their net on my swim back to the restaurant side. It was fun to watch them rowing like crazy to the place the spotter had said there were fish. It was actually quite close to the barrel. They didn't stay long. Perhaps the fish had dispersed. It was much later on in the morning that I saw them dragging their nets onto the beach. Perhaps they had got a catch after all.
Time is certainly flying by. Today was a good day. I only did two hours of work. The last day of the month – while last month I clocked 200 hours, this month I've only logged 140, but it has still been a good one – maybe better than last as it was less stressful.
And now it's weekend.
Philippians 2:14
Do everything without complaining or arguing.
The best is yet to come – we are only passing through.
Keep the smile going.
God bless you.
In His Grip,
Helga xx 🙂