Wednesday
Today was the day…
I swam breast-stroke to the lighthouse and back. I've never done that before, being a bit of an impatient swimmer. Doing breast-stroke when you can do crawl is like walking when  you can run. But today the tide was high and there were waves for the body-boarders. It meant that the last breaker was out of depth so swimming between the waves was safe. I swam in the shallow end of the sea, always very close to the ocean floor and as a result I was constantly diving under the breakers. Crawl was pretty much out of the question. I mean I could have, but I would have been constantly dunked. It was best to stay above the pond to keep an eye on each rolling wave, allowing me to gently duck under them.  The water was lovely and warm. Probably about 19C.
We came home to shower and have breakfast. About 7 hours of work followed.
Ruth came and cleaned the top floor, the Little Lookout and the cottage, so that was helpful. We blocked the calendar for the Little Lookout for last night and tonight because the bathroom door had got a little bit of an issue. Guests are showering with it open, which is fine, but it has caused a bit of water damage. Yesterday, Courage took the door off (after Greg the amazing guest checked out) and did the repair. Courage also did some painting today. By the end of the day, it was booked again. As soon as the booking came through, I recognised the name. I've seen this name on the internet before. She arrives tomorrow for two nights.
It's been a super late summer's day. The weather is turning, slowly but surely. The sun is rising later and setting earlier. This was taken on our way home this morning from the Sunny Cove bridge…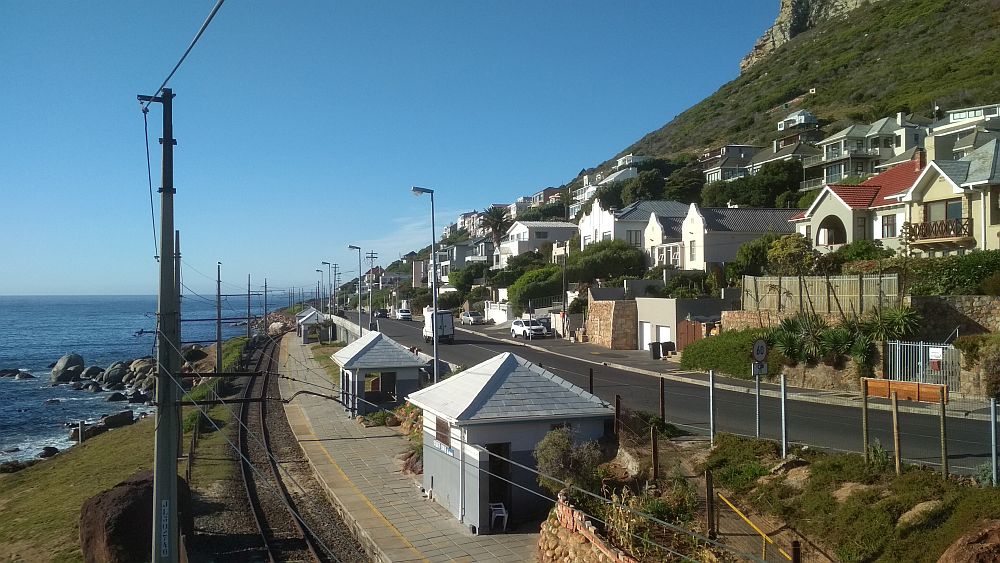 Mike and I walked to the end of the road early evening, and encountered the builder who is building one of the houses on the street. His name is Sten. He said there had been some issues with the site, but the owners were very sweet and understanding.  He told us how much it had cost for the shell, excluding the electrics, plumbing and finishes : R1.4m for about 140m2. He did say he quoted for piles for foundations, but due to cost constraints they selected pads. We will continue to watch with interest.
And so the 9th March has ended. We enjoyed today.
Isaiah 63:16
For You are our Father, though Abraham does not know us, and Israel does not acknowledge us; You, O Lord, are our Father, our Redeemer from of old is Your name.
The best is yet to come – we are only passing through.
Keep the smile going.
God bless you.
In His Grip,
Helga xx 🙂