I had these when I visited my friend Mary. She has a clinical dietitian friend named Sonja who made a number of low carb snacks, including these delicious sesame crackers. Seed crackers are well known today. This is a great alternative and are so easy to make. I'd like to say I know for sure where the recipe originates, but that's hard to tell. When you Google it, it comes up all over the place with no one definitive author, although I have a feeling that it comes from Elana's Pantry.
Sesame Crackers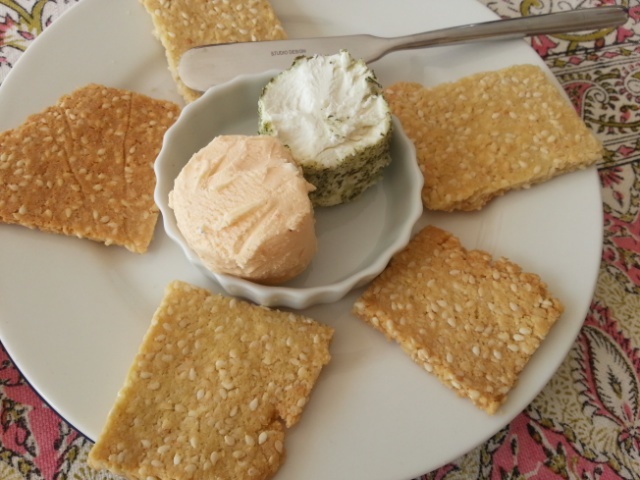 They are amazing…very biscuit-like and perfect with cream cheese.
Ingredients
3 cups almond flour.

1 ½ teaspoons salt.

1 cup sesame seeds
2 eggs, whisked until frothy

2 tablespoons grapeseed or olive oil

.
Method
In a large bowl, stir almond flour, salt, sesame seeds, eggs and oil until well blended
Separate dough into two halves

Line two large (12 x 16) stainless steel baking sheets with wax paper

Place one half of the dough in the center of each lined sheet
Cut another piece of wax paper and place it over one of the balls of dough
Roll dough out between the two pieces of  paper, until it is ⅛ inch thick and covers the entire baking sheet; remove top paper and repeat process with the other piece of dough
Cut the dough with a knife or pizza cutter into 2 inch squares
Bake at 350° for 10-12 minutes, until golden brown
Cool and serve
Makes 96 crackers
That will keep you going for a while! 🙂
Genesis 1:29
And God said, "Behold, I have given you every plant yielding seed that is on the face of all the earth, and every tree with seed in its fruit. You shall have them for food.
And so we do. All we eat is provision from God.
Keep the smile going.
God bless you.
In His Grip,
Helga x