Sunday
Today was the day…
Mike and I figured the house will not be completely ready for us to move in permanently on Friday. We will speak to the builder tomorrow about some of the details and see what he says. Meantime, we thought it would still be a good idea to move in on Friday and try the house the out, even if it's just for the weekend.  We can stay on if we are able, but if there is work that still needs to be done inside, we can move between houses. I think it is a case of lowering my expectations regarding moving completely over and not having workers still crawling all over the place.
Mike has  made extensive lists and taken all the measurements for various projects to try to complete this week. The two primary ones are for the internet and security.
The other fly in the ointment is that my computer, on which my fingers are currently flying across the keyboard, has on several occasions today, frozen! Mike is very worried about it. He feels I need a new one as soon as possible. I'm hoping it will keep on going for a while longer. We'll see how it goes tonight and re-evaluate tomorrow.
We had a relaxing day today, watched most of the men's French open final between Nadal and Djokovic which was surprisingly one sided and was won by Nadal who has now tied with Roger Federer in winning 20 major titles. He played brilliantly.
The other joy from today was chatting to Adrian, Stacey and Elsie in Swellendam. It's always a pleasure to see them and catch up. I also had a second chat with Stacey later this afternoon on a whatsapp call from Echo.
Back at our house on the balcony, the birds are coming in droves again to enjoy the seed ball and bird nectar. I'm looking forward to seeing new birds when I put the feeders up at Echo.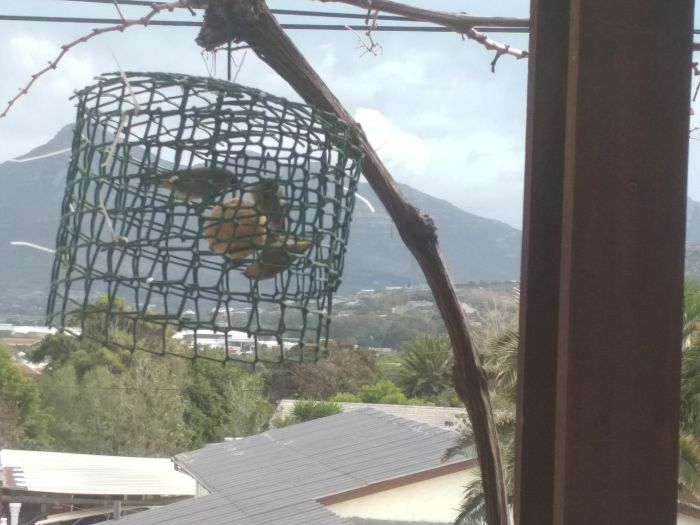 Let's hope they are as enthusiastic!
So I've just had to reboot my laptop. It suddenly froze again. What I've done now is removed all the peripheral hardware, like my mouse, keyboard and large monitor and I'll see if that helps.
End of the weekend. Big week lies ahead. Let's see how Covid is doing in South Africa…
Covid numbers in the Western Cape –  110 new cases in the last 24 hours – certainly better than yesterday.
Covid 19 stats – South Africa –I see France has overtaken us.
Friday 24th July – 13944 new cases (maximum we had in a day)– 250 deaths (245 771 recoveries/169 882 active)
Sun 4 Oct – 1573 new cases – 38 deaths (614781 recoveries/49532 active)
Mon 5 Oct – 926 new cases – 40 deaths (615684 recoveries/49515 active)
Tue 6 Oct – 1027 new cases – 87 deaths (616857 recoveries/49282 active)
Wed 7 Oct – 1913 new cases – 145 deaths (618127 recoveries/49780 active)
Thur 8 Oct – 1736 new cases – 160 deaths (618771 recoveries/50712 active)
Fri 9 Oct – 1461 new cases – 139 deaths (620081 recoveries/50724 active)
Sat 10 Oct – 2544 new cases (ouch) – 126 deaths (622153 recoveries/51070 active)
Total cases: 690896   Total deaths: 17673
Psalm 69:30
I will praise the Name of God with a song; I will magnify Him with thanksgiving.
The best is yet to come.
Keep the smile going.
God bless you.
In His Grip,
Helga xx 🙂
Braces:
1 year and 333 days