Now that work has slowed down a bit, I have more time to do some catching up with cleaning out. One of the things that has been getting on my nerves is a couple of bags of papers that need to be shredded. What exactly was in these bags I wasn't sure as Mike cleared the stuff out of files and put it all in the black bags in the first place. My job was to take it out the bag, sort, shred and recycle.
It's been very cathartic getting to this mundane chore.
The first bag got done and the second got opened. The first thing I took out was this… a box of cheques dating back to 1989.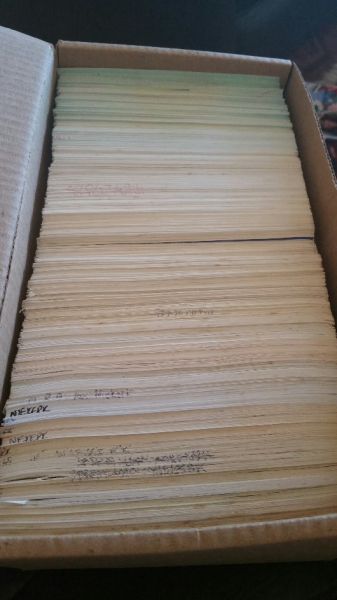 Some of the highlights include this one…..dated the day before my 25th birthday. We went to the Spur!

And this one, which is dated on our 4th wedding anniversary. We went to the Kaapzicht Restaurant in Strand which is the restaurant we went to the night we were married. We were retracing the steps on our wedding day and most probably went from Strand to Betty's Bay for a few days. 🙂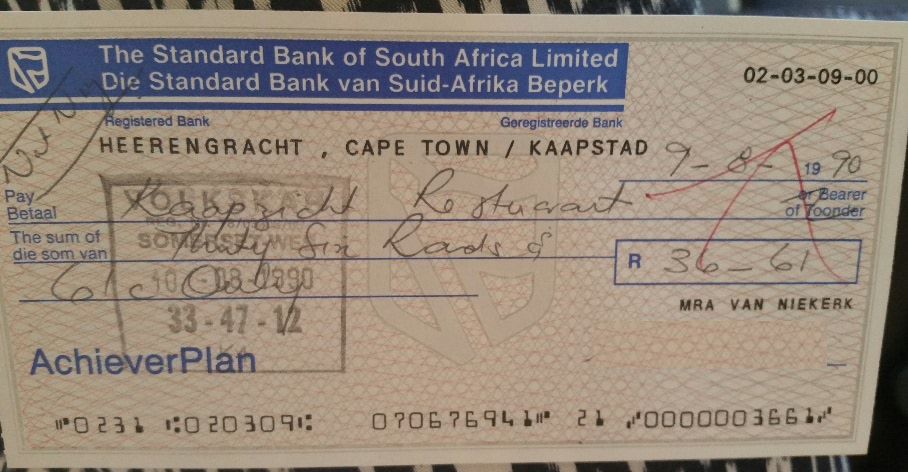 As I went through the cheques, it certainly reminded me of lots of events and people who made up our life…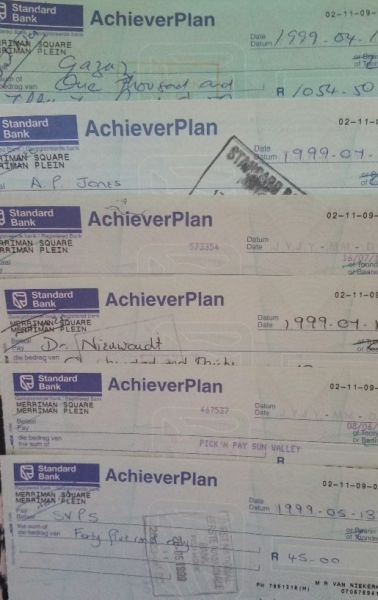 There were lots of cheques made out to the children's schools. I have kept some of the sentimental ones that take me back, but most got shredded.
As I shredded them, three at a time, I was warmed by this paper trail that we had left behind. Cheques are so not in now. I still have a cheque book that I never use. Credit card slips were what I shredded from the first bag. They dictate our life now. Cheques remain a historic record of who we paid. Dr. Niewoudt for example, is still our dentist. We've been going to him since 1989. It's a record of what we were doing and when.
It reminded me of God's provision in our lives.
Philippians 4:19
And my God will supply every need of yours according to His riches in glory in Christ Jesus.
I told Mike how impressed I am with him. He left school, did his mandatory army service, then went to university for 4 years. After that he moved to Cape Town and after doing his articles and working for a few years, he went to Bible Institute of Kalk Bay for three years. He was there 1977 to 1979. Then he moved into the YMCA on Queen Victoria Street and became a 'home missionary' providing a roof, meals and ministry for hundreds of young guys who visited from foreign countries and who made the Y their home. He was at the Y for 7 years. By then we had married and to better provide for his family, he resigned from the Y and went back into Land Surveying, first working for a firm in Paarl, for two years, 1987 and 1988. In January 1989, he got a more secure job with the City of Cape Town and there he stayed until the end of February 2016, when he retired. In May 1989, we moved to our home in Sun Valley.
In September 1993, he got involved with Radio CCFm (first it was Radio Fish Hoek) and he is still doing a technology programme on Saturday mornings at 9-30am.
When you add all that together, he spent 10 years in ministry up to the end of 1986 and has been involved in CCFm for 23 years. His life has been and continues to be, a life of service.
What a great guy! And the Lord saw fit to bless me with him. If I knew then, what I know now, I would have bolted down the aisle saying, 'where do I sign, where do I sign?'
I am grateful for an amazing 30 years where we have lacked for nothing. God has supplied every need of ours and we are humbled by it.
As I look back on 2016, it will be with a warm heart. They have been golden, untroubled days. Mike has retired and I am working from home. God has worked it out very, very well. When I handed in my resignation and left CCFm, (a wonderful position as morning drive show presenter), all around me queried a strange and uncertain decision.  I had no idea that God would lay before me a job I could enjoy with equal measure of pleasure. That just blows my mind.
I do not deserve it and I am still in wonder at it.
#129 of 1000 thanks – What God has done and continues to do in our lives
To God be the glory.
These are the days.
Keep the smile going.
God bless you!
In His Grip,
Helga xx 🙂