With Christmas around the corner, it is easy to fall off the Banting wagon (I already have a number of times!) It's always going to be a constant discipline to look for the healthier options when it comes to treats. A few years ago, I met Sonja, who is a Clinical Dietitian. She experimented with some of Sally-Anne Creed's snack recipes and guess what? I was the ecstatic recipient. Imagine me arriving hungry and enthusiastically being served this…
Guilt-Free Chocolate Almond (or Macadamia) Butter Balls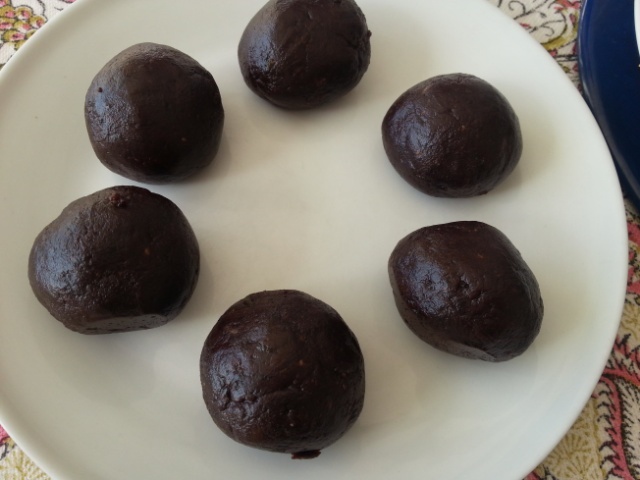 All Banting. And today, you get the recipes! Win!
Ingredients
4 Tablespoons Creeds Almond Butter OR Creeds Organic Macadamia Nut Butter
2 Tablespoons Creeds Organic Honey (that's very little over 12-15 balls) you could use xylitol though!
Zest of a good organic orange
Squeeze about a tablespoon of orange juice out of the orange after zesting
Instructions
Mix all the above into a bowl and mix well using a fork.
Now roll them into little balls (should make around 12-15 depending on size)
Gently roll into the extra cacao powder and enjoy these with impunity
Keep in the fridge
Notes
Gluten-Free, Dairy-Free, Low Carb, Guilt-free!
By Sally-Ann Creed
They were simply delicious. So were these…
Sesame Crackers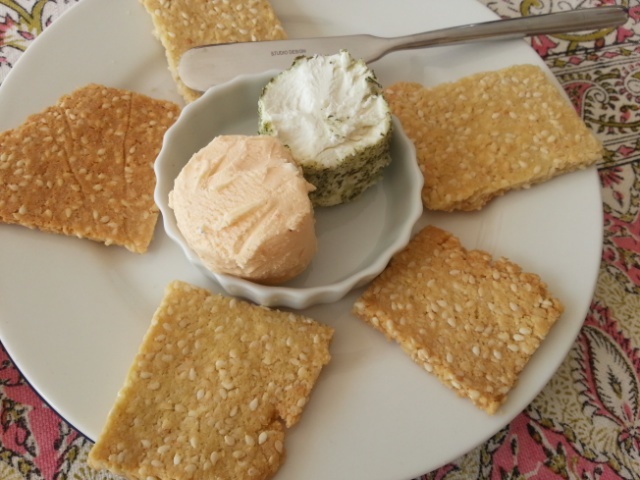 These were amazing…very biscuit-like and perfect with cream cheese.
In a large bowl, stir almond flour, salt, sesame seeds, eggs and oil until well blended
Separate dough into two halves
Line two large (12 x 16) stainless steel baking sheets with parchment paper
Place one half of the dough in the center of each lined sheet
Cut another piece of parchment paper and place it over one of the balls of dough
Roll dough out between the two pieces of parchment paper, until it is ⅛ inch thick and covers the entire baking sheet; remove top paper and repeat process with the other piece of dough
Cut the dough with a knife or pizza cutter into 2 inch squares
Bake at 350° for 10-12 minutes, until golden brown
Cool and serve
Makes 96 crackers
Sonja has also made these, which look soooo good…
Gluten-Free, Dairy-Free Superfood Breakfast Ball Ron Gabriel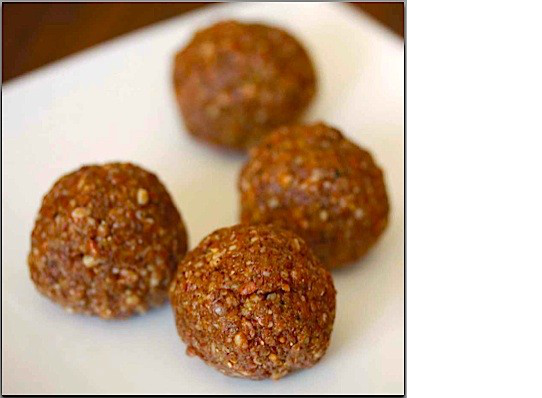 Ingredients:
1/2 cup almonds
1/3 cup pepitas (pumpkin seeds)
1/4 cup black sesame seeds
1/3 cup chia seeds
1/4 cup almond butter
1/2 cup tahini
1/4 cup coconut palm sugar
2 tablespoons of your favorite super green powder (optional)
Directions:
Combine all of the ingredients in a food processor.
If the mixture is not moist enough to make balls out of, add 2-3 tablespoons of water and continue mixing.
Scoop out mixture with tablespoon and mold into balls. Eat right away, or refrigerate. Lasts several days in the refrigerator.
Tip: Keep some in the refrigerator for days when you don't have time to make breakfast. You'll have a fast, nutritious breakfast that will keep you going.
So there you go…3 Banting recipes. Sonja's website is www.restore2health.co.za
Eating God's way is good.
Every moving thing that lives shall be food for you. And as I gave you the green plants, I give you everything.
#128 of 1000 thanks is for Dustin and Carolyn – who get married today! Dustin lived in our cottage for 2 years and has gone back to the US to marry Carolyn. They will return to Cape Town as missionaries next year. So excited for them. God bless them!
These are the days!
Keep the smile going!
God Bless you!
In His Grip,
Helga xx