Saturday
Today was the day…
That rain was forecast, but it dawned with glorious sunshine and blue skies. We had a lazy start but by 11am, we were at the start of a special place we have never been to before. This is definitely a place for Julian and I to visit. It is amazing! Apart from being very picturesque and easy walking, it also is spectacularly clean. There was no litter, no rubbish bins even and no signs of anything untoward – just lots and lots of folks enjoying the trail – walkers, runners, dogs, families, babies in prams, horses and us!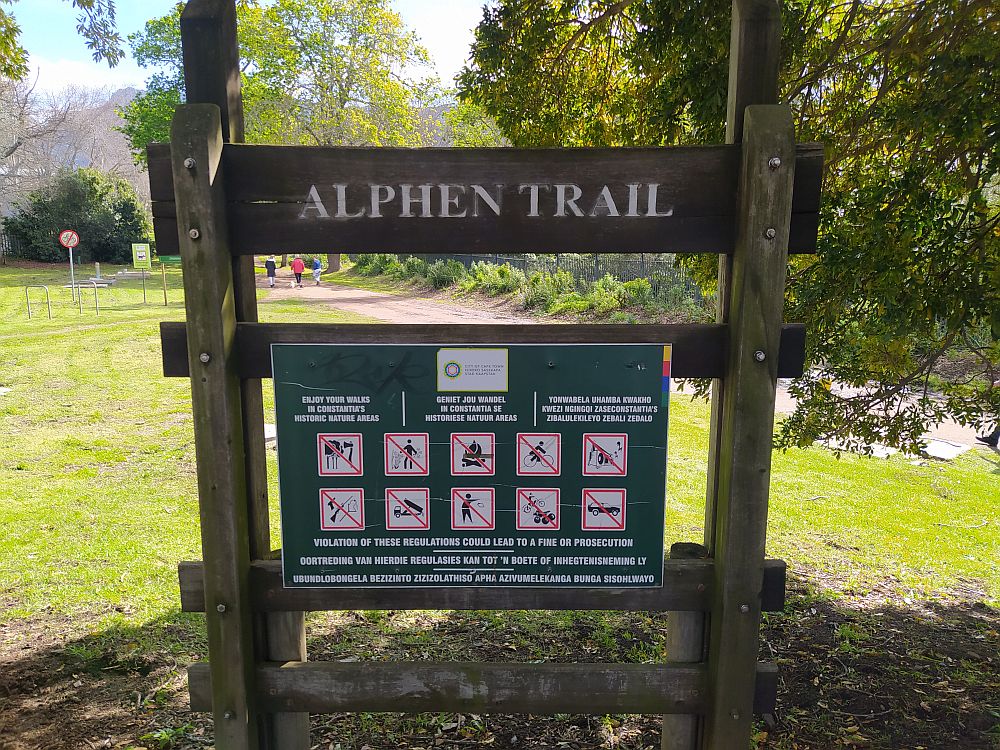 I found it online and in doing so I downloaded the most amazing app.  It's called All Trails. To get their free map, I had to sign up – which was free – for the first week. If I don't cancel in a week, R299 will be deducted every year until I do decide I don't want it any longer. The great thing is that it is international so I can already look up trails in the Lake Como area.  I signed up and off we went. Well we didn't follow the map initially, to our detriment. It all looked straight forward.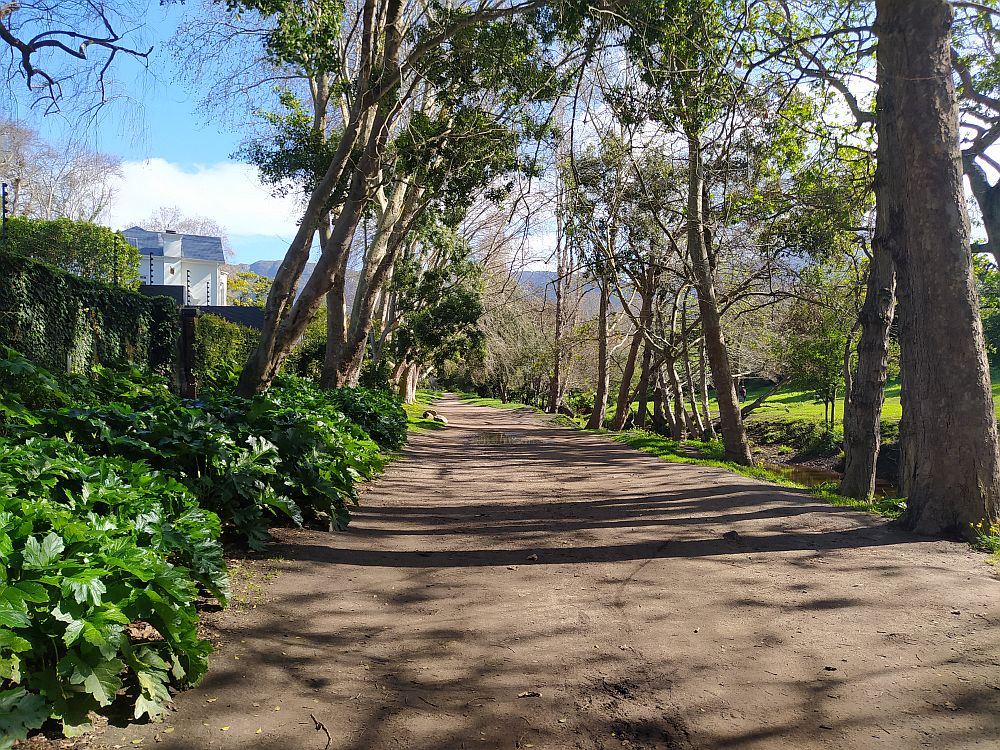 But we ended up crossing to the other side of the river, where there was more elevation. We were passing people and enjoying the walk when the path began to narrow and there were no more walkers. I wonder why. We were soon to find out. The path eventually  arrived at a very steep embankment down a muddy slope to the river. There was only one way and that was down. This was where I had  my muddy mishap. I went down side ways and got to the last little bit. Mike said, 'take my hand.' I turned to face him and took his hand. It was at that point, facing Mike, my feet slipped from under me and I fell flat on my stomach with my legs in the middle of river. Mike was mortified. I was completely fine and more amused. The only thing I worried about was my cell phone but that was still firmly in my back pocket and as I was on my tummy, it was fine. There was nothing to be done but for me to stand up in the middle of the river and carefully step on a branch and cross to the other side. Albeit with shoes filled with water, I found myself safe and sound. Now Mike had to try get over without following my method. The red circle displays the Helga-shaped tummy slip!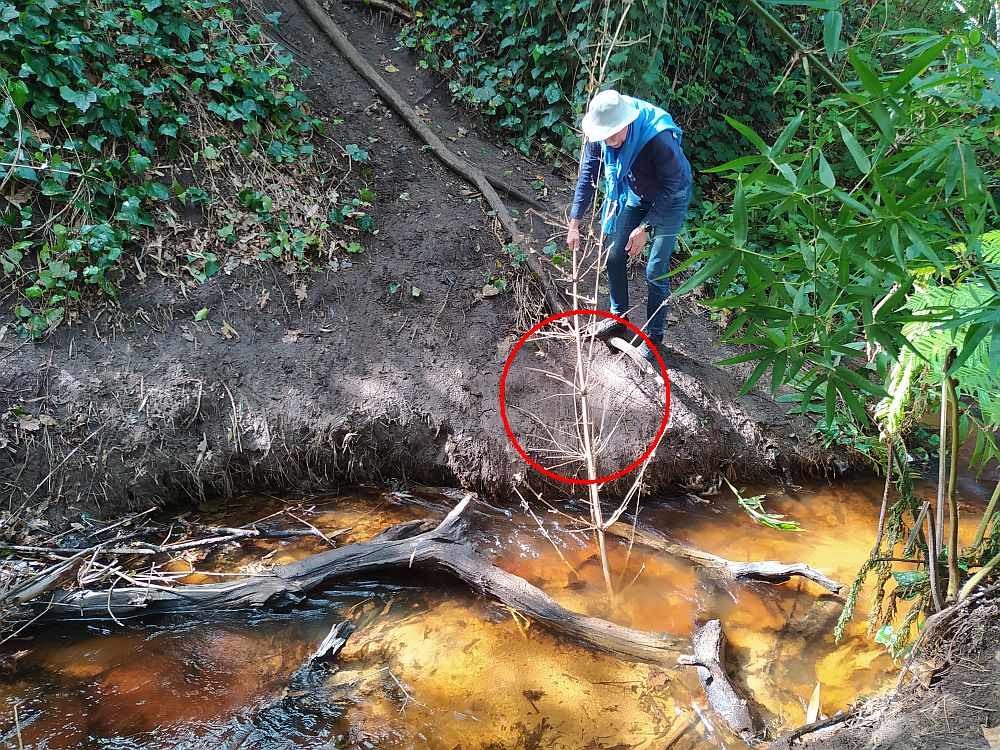 He figured that spot was too risky so he went a little further on and scrambled across…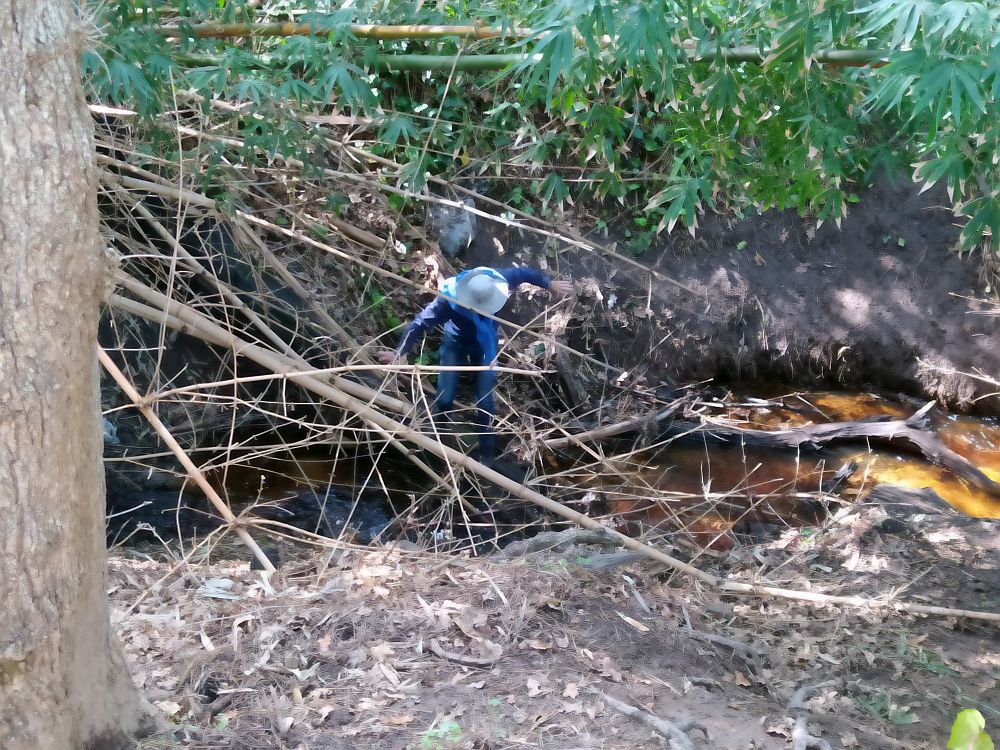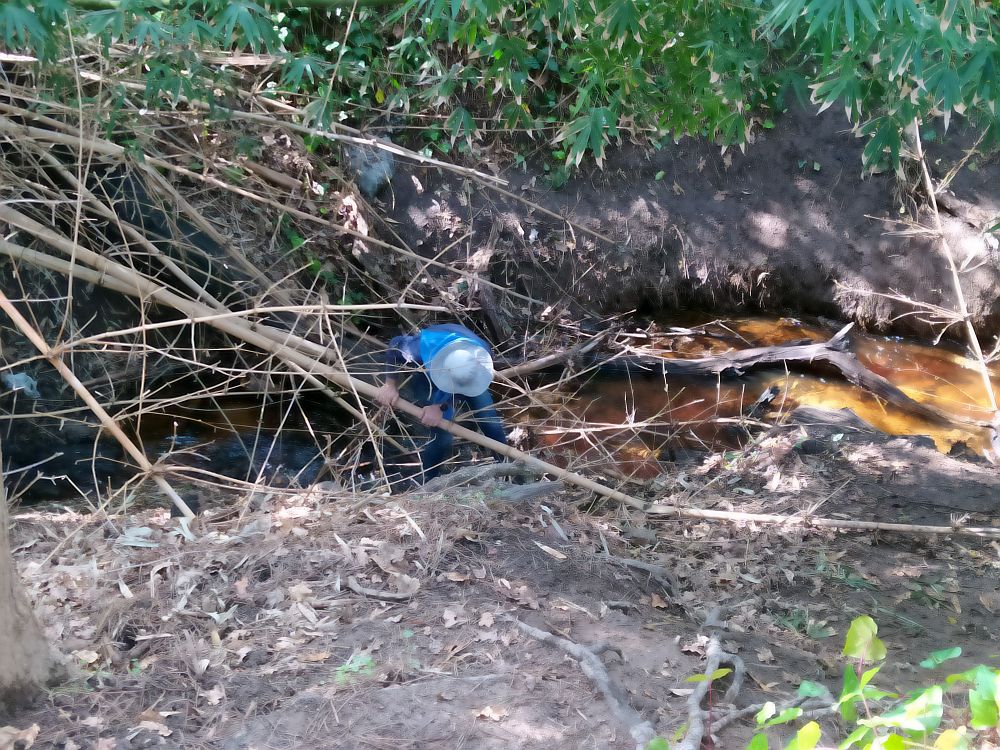 Still pretty messy but he got out dry. I meantime, found a log and sat down. I took my shoes off and squeezed out my socks, then put them on again. "How far have we come?" I asked Mike. "About 2km". "7km in wet shoes to go," I thought. Check my jeans! My shirt must have been pushed up because when I got home and showered, I found mud on my stomach.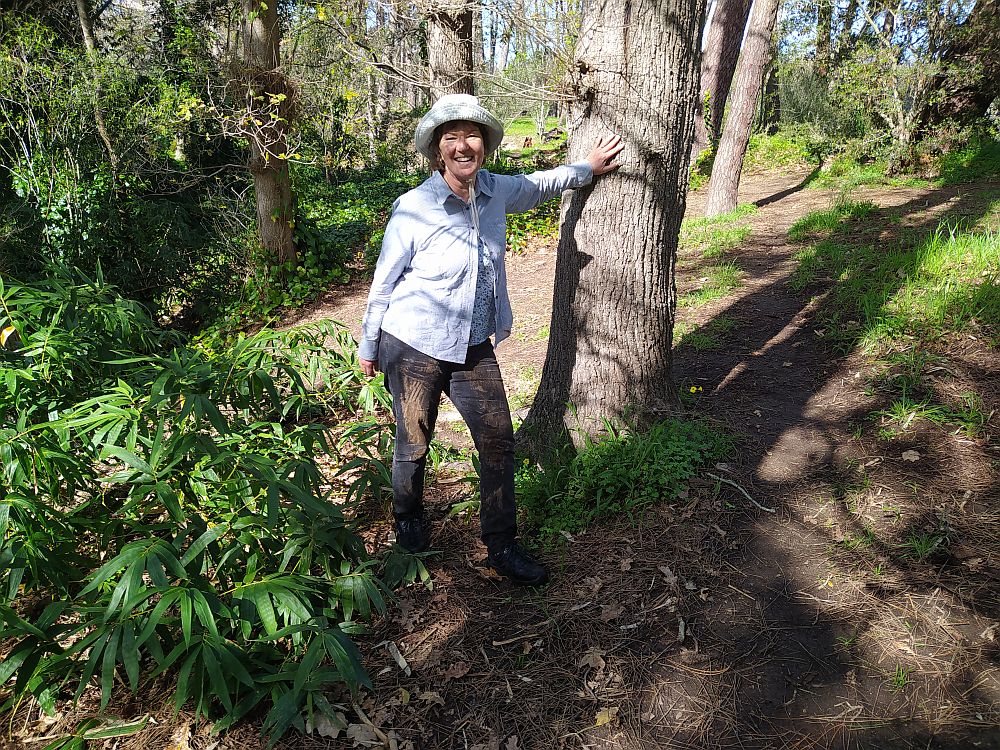 On we went, this time following the map. It took us onto a road, where we passed the Spanish embassy, which is called Mandalay.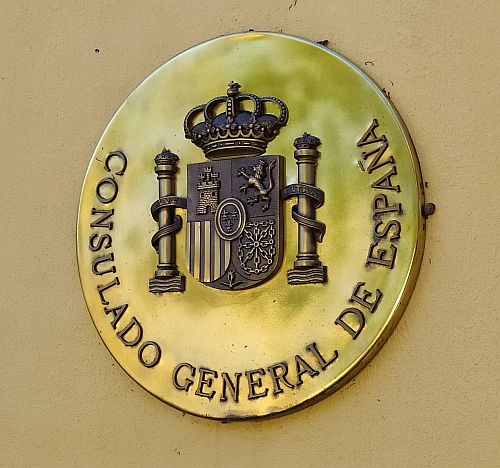 Back on the trail, then onto the road again & past Cecelia forest…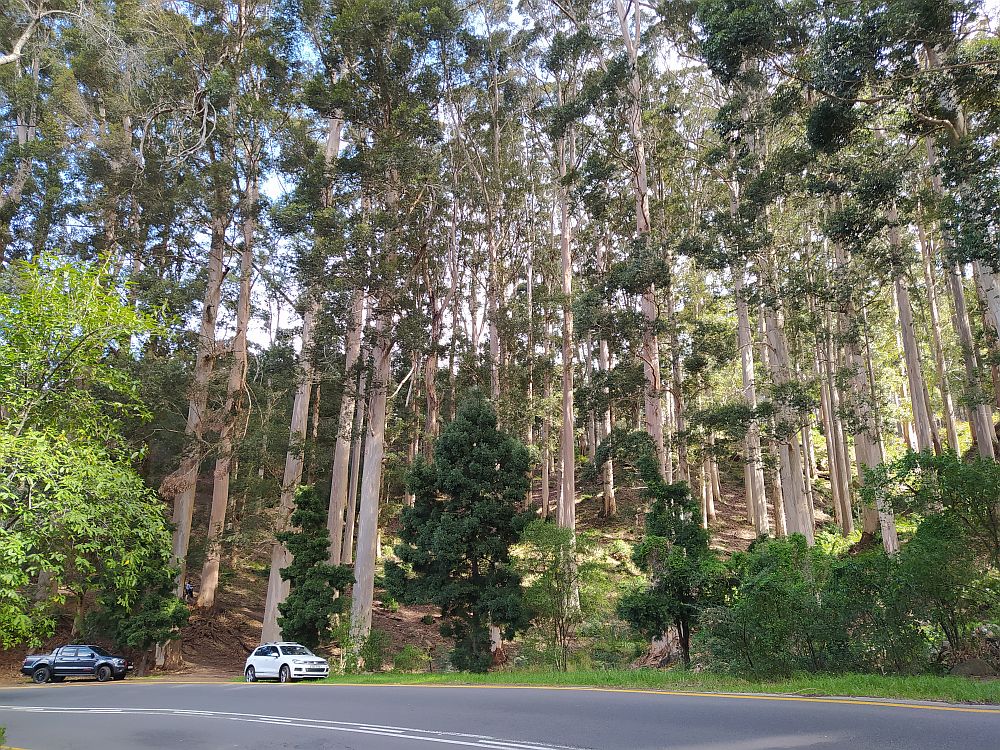 Back to the trail and over a bridge to the main section.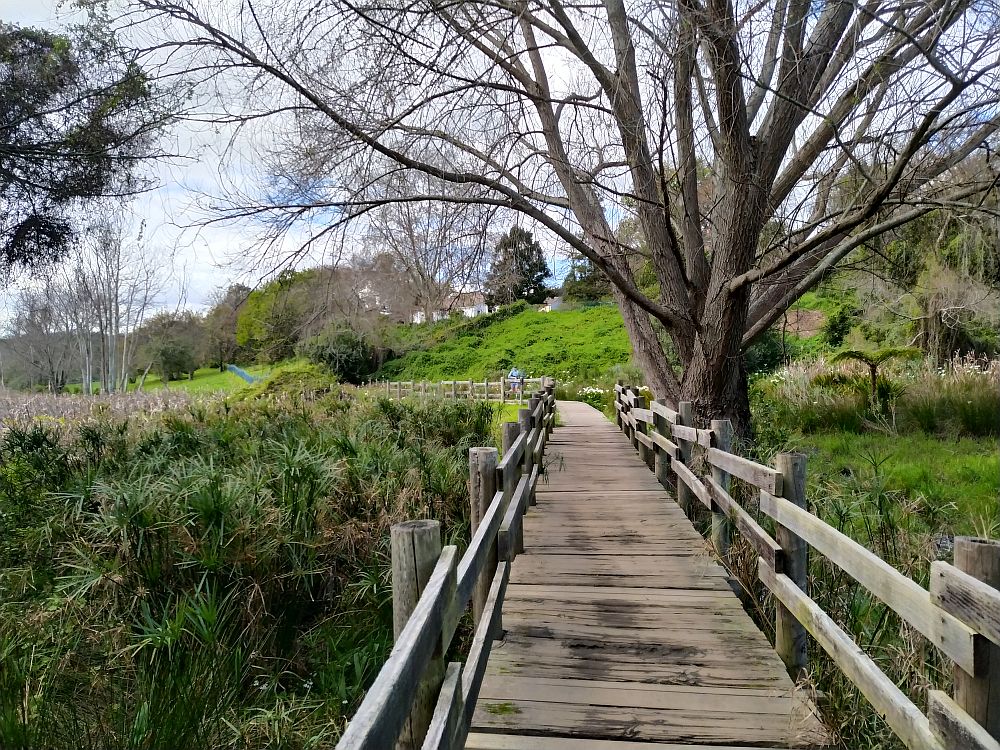 We took the longest option, but there is a 4km easy alternative which is most likely the one we'd do next time. And we'll know which path to avoid. It is a beautiful walk to know about.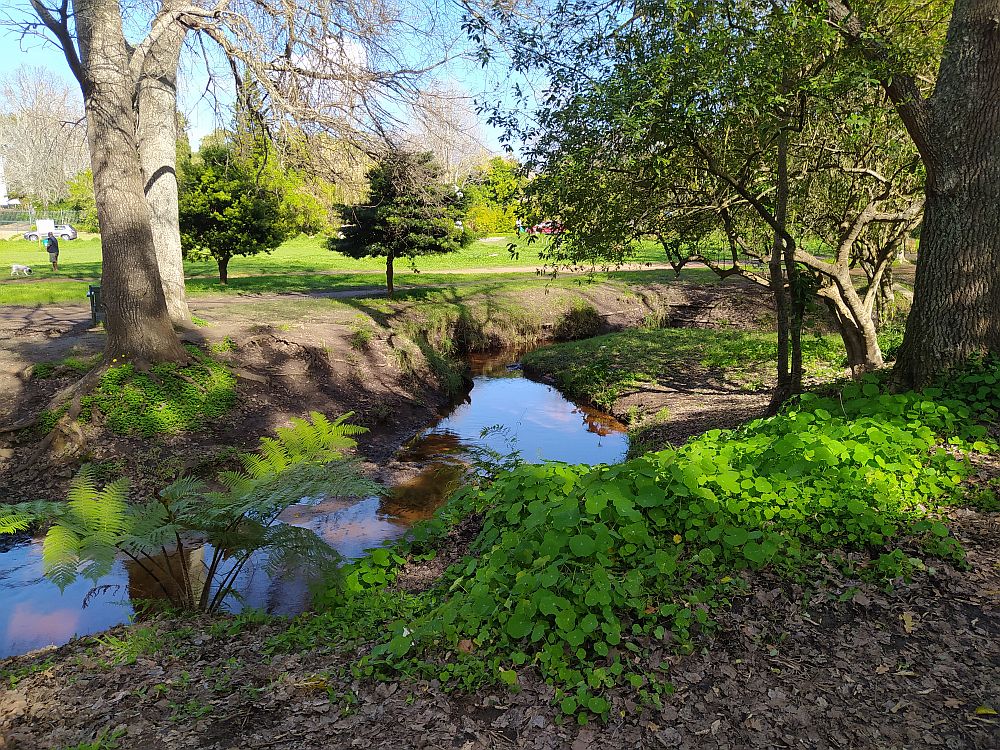 We came home via the shops and no one noticed or cared about my less formal attire! Home, shower, hair wash, pajamas on and all is well.
I had a nice call with Stacey and now the rain has come and the soup has come out. A lovely day.
Matthew 5:9
Blessed are the peacemakers, for they shall be called sons of God.
The best is yet to come – we are only passing through.
Keep the smile going.
God bless you.
In His Grip,
Helga xx 🙂