3-27pm
"Okay, you can stop now", I said.  "I'm not finished yet," he replied. "I have to complete that." He was talking about the final job on his job card for today! So many things have been going wrong at home that the list was growing by the day. I kept telling him that the people across the road do home maintenance and I can ask them to come over, but, 'no,' he says, he will do it. I have to say I have a very handy, handyman for a husband!
Job 1 – Unblock the kitchen drain. Description: a really unpleasant, smelly job. Requirements: an insensitive nose, a strong stomach and the ability to not mind putting your whole arm into some sludge.  Best to get the worst over with first…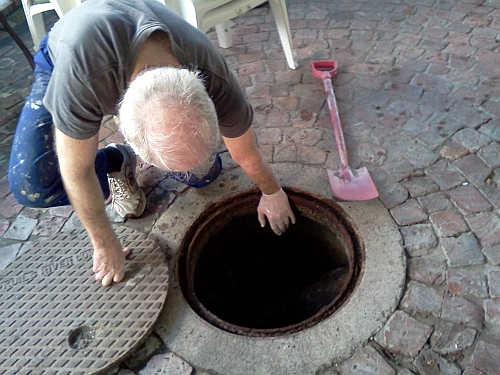 I actually got the wrong photo…what would have been much more impressive was the one with his whole arm down the drain and not looking under the manhole to see if his unblocking had worked. It was nothing sinister, just some gunky stuff that came out!
Job 2. Prune the vine. Description: – use pruning secateurs, cut the straggly growth right back. Requirements: Not be afraid of heights. This is easy and quick and is best done when Boswell (the gardener) is around to pick up the pieces.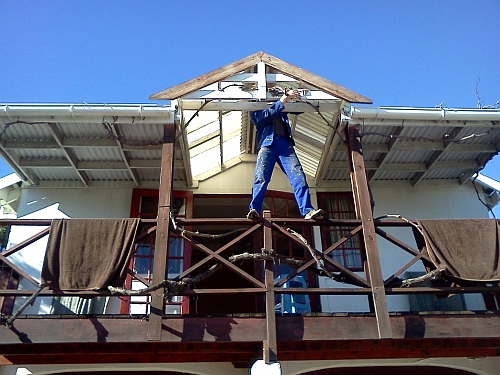 Job 3. Fix Granny's plug point. Description: Some knowledge of electrics. The switch had suddenly started arcing & tripping. Requirements: Ability to remove a plug point and put in a new one.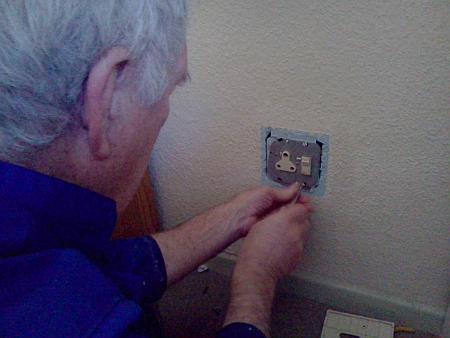 Job 4. Fix a wheelchair footrest. Description: This is Riana's wheelchair, she uses for her dad. It is on loan to us. There is due process to be followed when you borrow something and then it breaks. The responsibility for the repair then becomes yours and is not the owner's problem! Yesterday when I took Granny out in the wheelchair, she sat down on it and I put the footrests down for her to put her feet on them. She innocently put her foot on the left footrest when there was a crack. Half the collar securing the footrest to the bar broke off. It was still useable but would not be for long, unless something was done. Requirements: For a temporary fix while we are looking for a replacement, some innovation is required. Mike is a genius at this! He took it off, glued the broken piece back in and cable-tied it tight. Now it's probably stronger than the other side!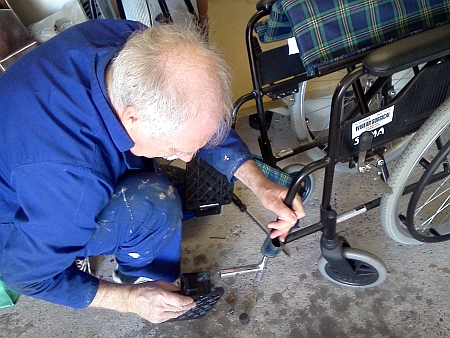 Thank-you Riana for being so kind when I told you we had broken your wheelchair! 🙂
Finally,
Job 5. Finish puttying the bedroom window and fit it. Description: The window broke off the window frame about a month ago and has been in the workshop since! The broken glass had been replaced but not all the putty had been put in. Then it had to be fitted. Requirements: A smooth hand at puttying windows into frames! An extra pair of hands to hold the window in place while the screws are being put in. A bit of patience in fitting the window as the new hinges are thicker  than the old and the window doesn't close properly. The need to figure out how to adjust the hinges to make the window fit….as I write, he's still working on it! 🙂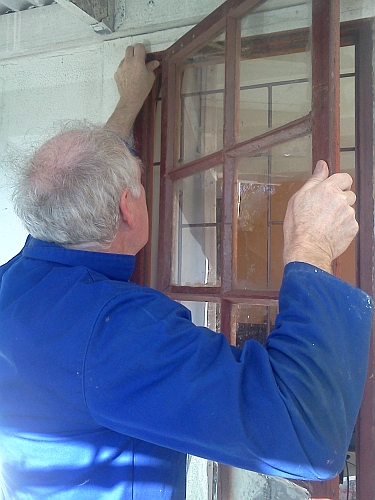 Pretty good husband, hey?!
1 Peter 3:7 Likewise, husbands, live with your wives in an understanding way, showing honor to the woman as the weaker vessel, since they are heirs with you of the grace of life, so that your prayers may not be hindered.
Mike gets an A+
Adrian and Stacey took us out for breakfast this morning, which was very nice. I had coffee with Julian just after lunch and tonight we are going out for our regular red meat meal!
It's been a productive day! 🙂
Last night, by the way, the Hiding Place was excellent. An enormous amount of thought and hard work went into it. It was a memorable production and a real faith-builder!  The last performance is on at 7pm this evening at Fish Hoek High school. Worth every cent of the R65 ticket!
God bless you loads!
In His Grip,
Helga xx 🙂
(Wife of the Best Husband in the World!)