Have you ever seen someone have a barney in public? After 32 years of marriage, I sort of like let rip at Mike in a public place. Granted there were not many people around – only one in fact, but it was one too many I tell you!
What happened was such a typical misunderstanding. We were on the way to the airport to pick up Julian so had a tight timeline. We needed milk and had like 5 minutes to stop and pick some up. As we arrived at the Mall, Mike said he would nip in. He had his wallet. I said, I would park down the other side of the Mall and he must come out those doors. I'd wait for him (and I thought I said 'in the car'). I drove and reverse parked ready to go. Then I waited…and I waited….and I waited…and eventually I got out the car and walked towards the doors….and waited some more. I thought maybe he was looking for me at the other entrance, so I walked quickly down there, checking behind me in case he had come out.
Ping!
Julian had landed early!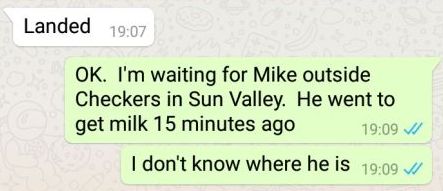 With that I went into the Mall and started looking for him. Our eyes immediately met across the front of the store and he was looking as black as thunder.
He thought I would meet him inside the Mall at the entrance to Checkers. I thought he would meet me outside the Mall back at the car. We had a fuming five minutes. We bickered out loud to each other as we stormed outside to the car.  The single witness (apart from the Lord) to our spat must have wondered what on earth was going on. It always looks so ugly to an outsider. I was furious because Mike was blaming me for the misunderstanding. Mike was furious because he said I hadn't been clear enough in my intention – he couldn't read my mind.
Julian meanwhile had sent another note…

As I got to the car, I replied.

I knew that Julian had landed, but I didn't tell Mike immediately.
By the time we were over Ou Kaapse Weg, the barney was over and all was forgotten! We talked it out and finally both agreed it was a misunderstanding – no one was to blame –  these things just happen.
I was driving, so half way to the airport, Mike picked up my phone to see if Julian had landed. It was then that I told him he had….while I was waiting outside in the car park! And we laughed at our childishness.
Later Julian said he had wondered whether there would be a bit of an 'atmosphere' when we picked him up, but there hadn't been.
It was a good lesson to learn. Never again, if I can help it, will I have an argument with Mike in public. It only had to happen once.
This is marriage.
It's not made up of 365 days a year of hearts and red roses. It gets ugly sometimes, but it doesn't mean it's over. It just means it get ugly sometimes.
I'm entitled to get mad at Mike and he is fully entitled to get mad at me. As long as we sort it out and try to do better next time.
Another little nugget of real life!
1 John 4:10
This is love: not that we loved God, but that He loved us and sent His Son as an atoning sacrifice for our sins.
These are the days!
Keep the smile going.
God bless you.
In His Grip,
Helga xx 🙂
Gym:
51 minute morning walk with Mike
1 hour lunchtime Pilates class, which was hard work.
Braces:
Day 147