Saturday
Today was the day…
I slept late! I had gone to bed much later than usual (see guest story below), then had woken in the middle of the night before falling asleep again;  I woke up around 5:30am, but went back to sleep only to wake up to the sound of the coffee machine! It was after 7am! How nice was that?!  Mike was so funny. When we were coming home from the beach, he said, "you know what was so strange about this morning?" "No what?" I asked. "I woke up to no sound of your voice! It was so strange to see you sleeping in.'  It is rare for me to wake up after Mike.
The sea was really warm but underwater visibility was poor (that's polite for 'murky')  and there was a lot of seaweed and other debris in the water. I swam to the barrel and back and then moved about for 30 minutes before getting out. Tomorrow, we hope, will be clear.
The house got a good clean. It was overdue. I spend more time cleaning the rental units than my house, so today I changed that and spent a good two hours cleaning. It was most satisfying.
I also took advantage of a Black Friday special and bought a new pair of trainers. Because my left ankle is not 100% better, I need a decent pair and the ones I'm wearing are more than 2 years old. It was time. I Googled "Best orthopaedic walking shoes for women" and came across the Independent.co.uk survey that gave this shoe 10/10 as top overall. I found a Black Friday special and went ahead and bought them. New Balance Fresh Foam 880 V11. I don't think I'm getting this colour. I think I'm getting green and white. I got R500 off the usual price. I've already received a message saying they have been sent to the courier. That's really quick!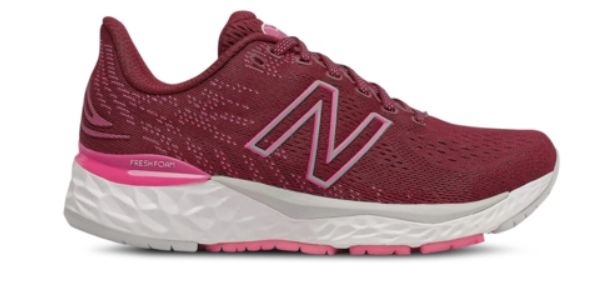 The other fun thing that happened today was I won a prize in a raffle! This message arrived late morning…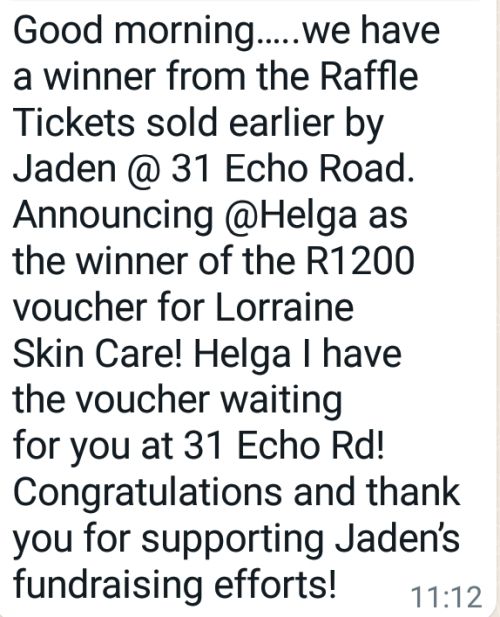 I remember Jaden trying to sell his raffle tickets. One Sunday afternoon months and months ago, his Mom put a message on the Street Whatsapp group to look out for him. She said he would be going to houses on the street trying to sell raffle tickets in aid of his school, so when I saw a young man knocking on doors, I knew it was him. I also saw he was knocking on the doors of empty houses. He wasn't having much success. He also didn't come to our house because of all our  steps. As I watched him knock on the 5th house with no response, I went outside and hollered down to him, telling him to come up.  I took a few raffle tickets off his hands.  This message was the outcome, so I will be contacting Lorraine to schedule a facial or something. With my face being exposed to the salt and sunshine 3 or 4 times a week,  my skin will thank me.
I had a super duper chat with Elsie and Stacey. Elsie is in a show and tell phase, wanting to show me all sorts of things – from her collection of hangers to her chair to her lego. She's adorable!
My Polish guest and his Swiss mother arrived after 11pm last night. They were delayed because of the weather. It was a rare stormy evening with a majestic display of lightening, great claps of thunder accompanied by downpours which took the levels of our tanks from one quarter to three quarters full overnight. We had waited for the guests at the cottage for an hour before getting a message saying they had delayed their departure from Sea Point until the rain had abated and they were about to leave! Funny story: We were standing at the door of the cottage and had been there for at least half an hour waiting. There was hardly any traffic, so when a car came by, I went to look over the balcony (umbrella in hand) to see if it was them. A couple of cars passed before finally one drove very slowly up the road and came to a stop outside our house. Yay! I was so excited. At last they had come and we could go home! I rushed down the stairs and onto the road. Then I noticed a driver in the front seat and no one next to him. In the darkness, with rain falling and me peering under my umbrella,  I  noticed one person in the back seat. What?! The person in the back was David! He had gone out with friends and ubered back. He hung out with us until we got the message saying the guests were leaving Sea Point and we all rushed upstairs to get out of the rain. The rain had died down by the time the guests arrived. They were happy to have arrived. They are due to stay until Tuesday, but my Tuesday guests are Danish so they have had to cancel. Current guests are saying they will probably stay on. I've told them very clearly next guests are a week tomorrow. It seems that will work for them.
So it's been quite a productive day. A swim in murky water, clean house, new sports shoes & facial to look for to. After a black Friday, that's a good Saturday.
Job 11:18
Having hope will give you courage. You will be protected and will rest in safety.
The best is yet to come – we are only passing through.
Keep the smile going.
God bless you.
In His Grip,
Helga xx 🙂