Sunday
Today was the day…
…after there were 2am fun & games.  We have double glazing on our bedroom windows so if  a bunch of holiday makers at the neighbouring house start making a ruckus, it usually is unobtrusive. When we do hear them, their behaviour must be extremely loud and obnoxious. They woke me with their high volume shouting at 2am.  While our bedroom window has double glazing the loft window,  which is in line with the neighbour's balcony, does not. My Swiss guest and her friend were trying to sleep right next to the noise!  I got up and opened our bedroom balcony door. David was on his balcony looking over and up at their house. "Wow! They are so loud!" he said. I told him we had guest in the loft. David used to occupy the loft so he knows the problem. He said, "I'm going to go and tell them to be quiet". And off he went. The problem with the neighbour's house is that you cannot alert them by ringing a doorbell. There is no doorbell. The only way to attract their attention is to shout louder than them. David banged on their garage door. That got their attention and the organiser immediately tried to quieten them down. I was standing watching this lot. It was then that I realised the bunch of noisy ones were all in the pool…naked.
What followed was quite comical actually.
If I were in a holiday house that had a swimming pool and I wanted to skinny dip in the middle of the night, I may just do so, but it would be very quietly. I would slip noiselessly into the water and in the event of my skinny dipping with anyone more than Mike (okay that wouldn't happen….ever), I would really make sure we were super quiet for fear of being seen.
The skinny dipping crowd had been caught naked in the pool & now they had to get out. There was much scrambling and bending and crouching and calling for towels!
The organiser came to the wall and signaled an apology to me and gesticulated they would all be going to bed.
15 minutes later, peace and calm returned to the night.
The neighbour's house from our balcony…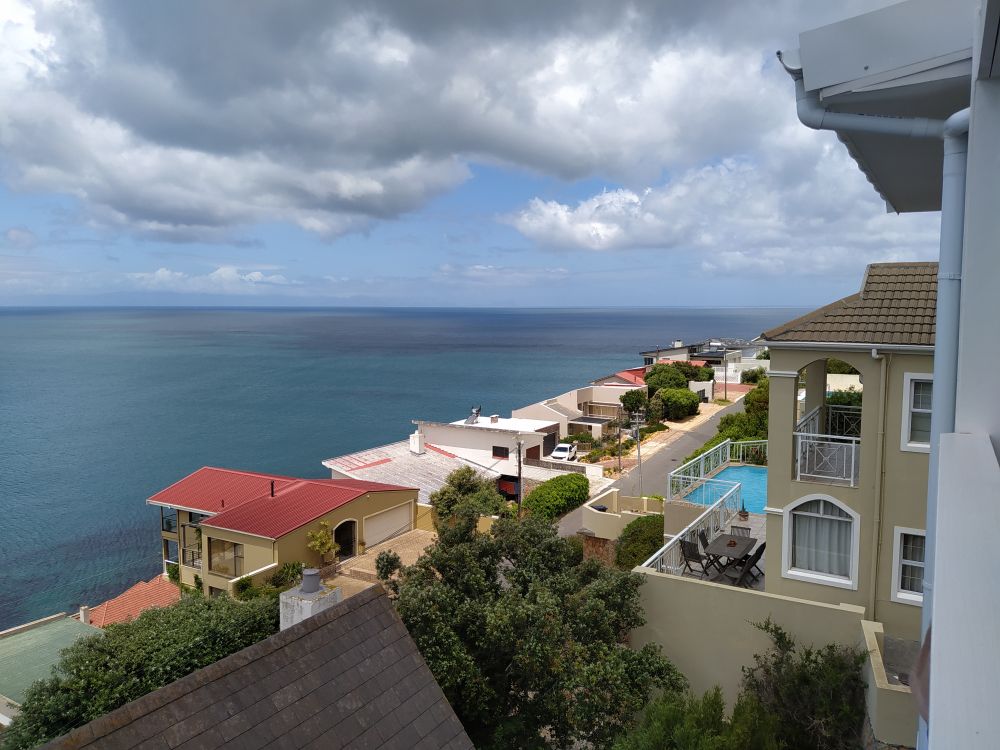 That's the pool where the 2am swim took place! Fun & Games!
Apart from that, today has been a quiet day. We went for an early morning swim. The sea was much cleaner than yesterday, but it was REALLY cold! It was back to winter. Mike got in and got out. It was that cold. I swam for half an hour. The air temperature was very pleasant and although I was cold, I've been worse. A hot shower made it all better.
The President speaks tonight – rumour has it, he will leave things as they are which is good news if it means information he is being fed is more positive regarding the variant than the world's media makes out. We'll wait and see.
1 Peter 1:3
In His great mercy He has given us new birth into a living hope through the resurrection of Jesus Christ from the dead.
Lewis Pugh writes an interesting thing in his book: the hope we have for the future gives us power in the present.
We have a Living Hope – looking ahead to a better time and place. That gives us power in the present.
The best is yet to come – we are only passing through.
Keep the smile going.
God bless you.
In His Grip,
Helga xx 🙂