Today we arrived home just after lunchtime. All was well back at the house and David arrived about 5 minutes after we did. We had a surprise for him, because we had a surprise at the hot springs! First here's my hand written entry on Tuesday 13th June…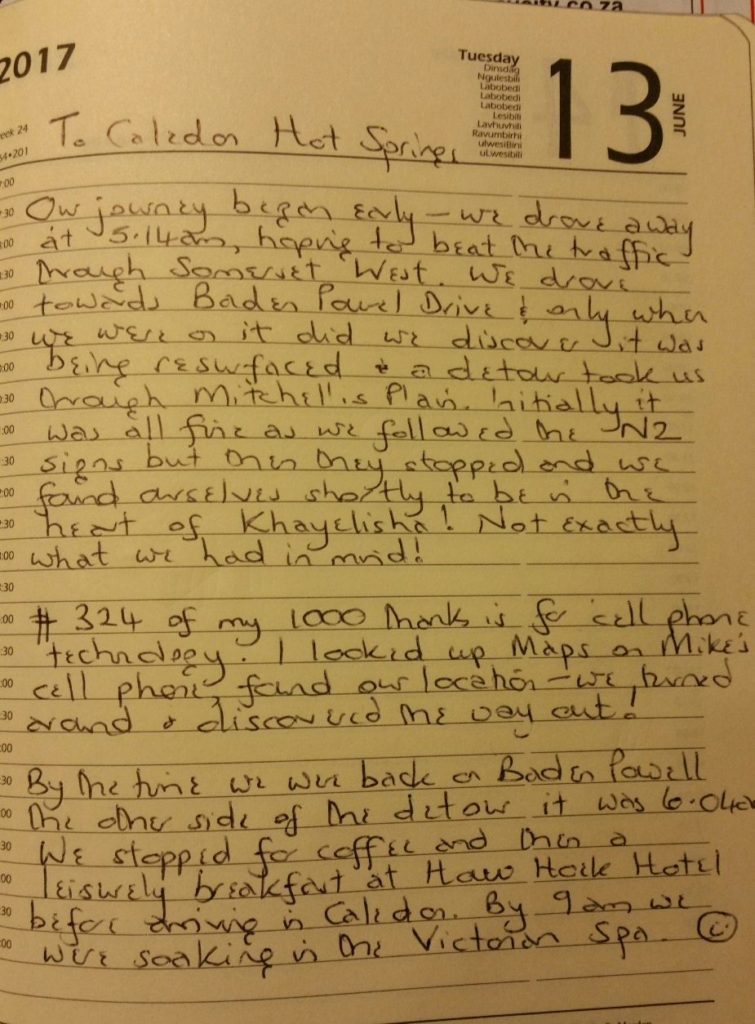 Not long after this was written, Mike glanced out of the window and said, "that looks just like Stacey!" "Where?!" I replied. "They just walked down the path – it looked just like Adrian and Stacey." I jumped off the bed. "Run!" Mike said. I rushed out the door and sure enough there walked Stacey and Adrian. They had decided to surprise us and join us for the two nights! And what a wonderful welcome surprise it was! They had bought with them David's skateboard which he had left behind at Easter when we all visited them in Swellendam!
David was happy to be reunited.
So we had a wonderful few days at the hot springs, soaking in the water and enjoying each others company. Good memories! 🙂
So #325 of my 1000 thanks has to be for Stacey and Adrian surprising us and
#326 is for safe arrival home.
Back to normal now.
Mike and I took a walk down to the Sun Valley pond to see what impact the Cape Town rain had had on it….LOOK!  More water!
While we were out walking, we encountered some friendly Mormon missionaries. They waved at us and we waved back. We didn't engage with them, but it did lead to a conversation about what Mike would say and what I would do. My plan would be to invite them into our home and give them the best coffee in Sun Valley. There is one condition! They need to leave politics and religion at the door. Yes. That would be my strategy. I don't want to discuss the things that divide us. I want to talk about them and the things that unite us. They don't want to hear about my relationship with Jesus and I don't want to hear that I need to believe the book of Mormon to be saved. You see, it's a stalemate. The only way forward is for us to befriend them and leave religion and politics at the door. That way, we can become friends and show them love.
If they ever come knocking, I think that's what I will do.
1 John 3:18
Dear children, let's not merely say that we love each other; let us show the truth by our actions.

These are the days!
Keep the smile going!
God bless you!
In His Grip,
Helga xx 🙂