Mike & I have been discussing this and seeing amazing results when employed.  If you find yourself in an argument with someone about an issue that has driven you crazy or raised your blood pressure, be it a spouse or one of your children, this is definitely the answer.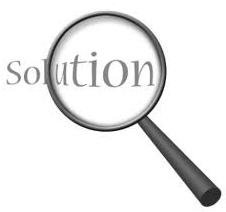 All you do is
FOCUS ON THE PROBLEM & NOT THE PERSON.
Eliminate all sentences beginning with or containing "you"
eg.  "the problem with you is…." or "you always do…."
It's so accusational. The answer is to focus on the problem and not on the person.
It's far more gentle, not personal and non-threatening. It also leaves the person with the hope of being able to alter the problem and not take a dent to their self esteem.
Right now I am working very hard (hence the late blog) on recruiting teachers to go and work in Abu Dhabi. There are 100s of them and we are needing to turn many away as they have unsuitable qualifications or experience.
And that's the deal. They are not unsuitable. They are lovely people and no doubt are committed, brilliant teachers, but their qualifications don't match the requirements for the company for whom we are recruiting.
It's a kind way of turning them down –
"Unfortunately, the qualifications and  experience I am seeing on your CV don't match our requirements."
"Your CV has not been shortlisted."
Kinder ways of saying they don't qualify.
It's been a learning curve and one that has kept me busy but hugely satisfied.
When Mike arrived home a short while ago, I said to him, "I don't have time to have a birthday!" He was shocked! He'd never heard that before.  But I don't think I will work all day. I think this evening I'll give it a good push and write to my big boss and tell her tomorrow I won't be working as many hours because I'm turning her age. 1964 was such a good  year!
I'm sure she will agree!
Meantime, I will go back and attack the 125, no, 128 now emails in the inbox.
I'm hoping to get it below 100. 🙂
2 Corinthians 9:8
And God is able to bless you abundantly, so that in all things at all times, having all that you need, you will abound in every good work.
Keep the smile going.
God bless you!
In His Grip,
Helga xx 😉