Saturday
Today was the day…
We went to Swellendam for the day! It's such a good idea to get out of town. We left early (4:40am) and took a leisurely drive. On the way there were a couple of sights to be seen. On the Main rd through St James an old blue bakkie had hit a wall head on and was still there. Then on the N2 just before High Rising (which is between Grabouw and Houw Hoek), we rounded a bend to find an articulated truck and trailer had lost its load of bricks. It must have happened minutes before because there were no emergency vehicles on site and the driver was busy trying to get the bricks out of the way of the traffic. The trailer had flipped over and was completely obstructing the road, so traffic coming towards us had to inch past within the yellow line on that side, while we had to slowly drive over the bricks on the left side. I asked the guy who was kicking the bricks out the way if anyone was injured and he said no, so we drove on, flashing our lights at oncoming vehicles, the first two that passed was a tow-truck (naturally) and a police car.
We had a leisurely coffee at Caledon after which we encountered three stop and go points between Caledon and Riviersonderend. They'll get to the end of those road works eventually.
We had a wonderful day with the family. Elsie is so ridiculously cute. She is 2 and a half today. She is so flexible and was lying on her back touching her face with her feet so I asked her if she was doing Pilates. She couldn't say the Pilates but she did try something like Milates! I lay on the floor and she got down next to me. I said, "put both legs flat" so she did. I said, "lift one leg up" so she did. "Bend your knee" so she did. "Put both hands behind your knee" so she did!!! I was so impressed. That's quite an advanced set of instructions for her to follow.
One of the funniest things for me to record is her use of the word 'technique'. Elsie would be climbing off the couch and to do so would roll onto her stomach and go down face first. Stacey called it her nose technique. Sometimes, she would get off by sliding off on her backside and it would be the 'sitting technique'. After Adrian badly injured his Achilles tendon, he was going down stairs on his backside. Elsie exclaimed "Papa sitting technique!" To hear such a big word from such a little person is so amusing. Love her to bits. Happy half birthday Elsie!

We drove home in the afternoon stopping for about 15 minutes at one of the roadworks. An uneventful trip except look who appeared to keep us company at the stop & go – 200+ sheep. Mike said, 'you're counting sheep, you'll fall asleep!'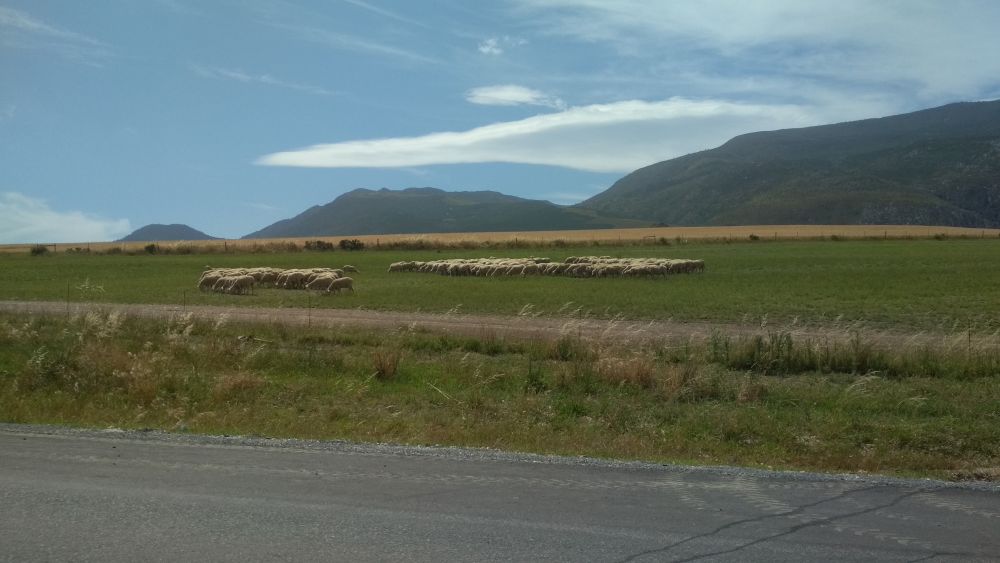 We got home safe and sound, had dinner on the balcony and washed some windows.
Covid numbers in the Western Cape –668 new cases over the last 24 hours
Covid 19 stats – South Africa –
Friday 24th July – 13944 new cases (maximum we had in a day)– 250 deaths (245 771 recoveries/169 882 active)
Sat 14 Nov- 2237 new cases – 53 deaths (693261 recoveries/ 35715 active)
Sun 15 Nov – 1842 new cases – 35 deaths (693467 recoveries/37316 active)
Mon 16 Nov – 1245 new cases – 73 deaths (695496 recoveries/36459 active)
Tue 17 Nov – 1987 new cases – 118 deaths (696820 recoveries/37004 active)
Wed 18 Nov – 2888 new cases – 124 deaths (701534 recoveries/35054 active)
Thur 19 Nov – 2514 new cases – 115 deaths (702544 recoveries/36443 active)
Fri 20 Nov – 3105 new cases – 88 deaths (707040 recoveries/34964 active)
Total cases: 762763  Total deaths: 20759
1 Chronicles 29:11
Yours, O Lord is the greatness, the power and the glory, the victory and the majesty; for all that is in heaven and in earth is Yours; Yours is the kingdom, O Lord, and  You are exalted over all.
Amen!
The best is yet to come.
Keep the smile going.
God bless you.
In His Grip,
Helga xx 🙂
Braces:
2 years and 8 days