Friday
Today was the day…
We woke up at 3am to what sounded like a single gunshot! Mike and I both woke up at the same time with 'what was that?' Mike got up and looked out our balcony doors but could not see anything. There was load shedding so all the lights of Fish Hoek were off. While Mike went to the bathroom, I went to the doors and in the darkness, I could see a security vehicle at the (empty) house across the road. At the house next door to that, I saw a light go on (they have solar), so I gathered they had heard it too. I checked my cell phone and there was a message from the house below us on Simon's Town road saying they had just heard a gun shot go and tried phoning the security company but there was no reply. When that resident looked up behind her house, she saw a torchlight. That was the security guy walking around the house. Probably, the vacant house's alarm had sent a silent message to the alarm company – ours used to do that in the middle of load shedding when the battery was getting low. It still didn't account for the gun shot sound and it is a mystery that will remain because no one else said anything about it on the security group and now it is forgot. Maybe it was a super duper large car back firing. With no way to rewind the sound, as one would rewind a TV show, we can't listen to it again. It's gone forever!
Meantime, I've been doing today's blog on the balcony. There is the gentlest of wind blowing. The sun has set, but when I started it hadn't…
Our disturbed night resulted in us oversleeping and we went to the beach a little later than usual. This was 7:50am when we arrived…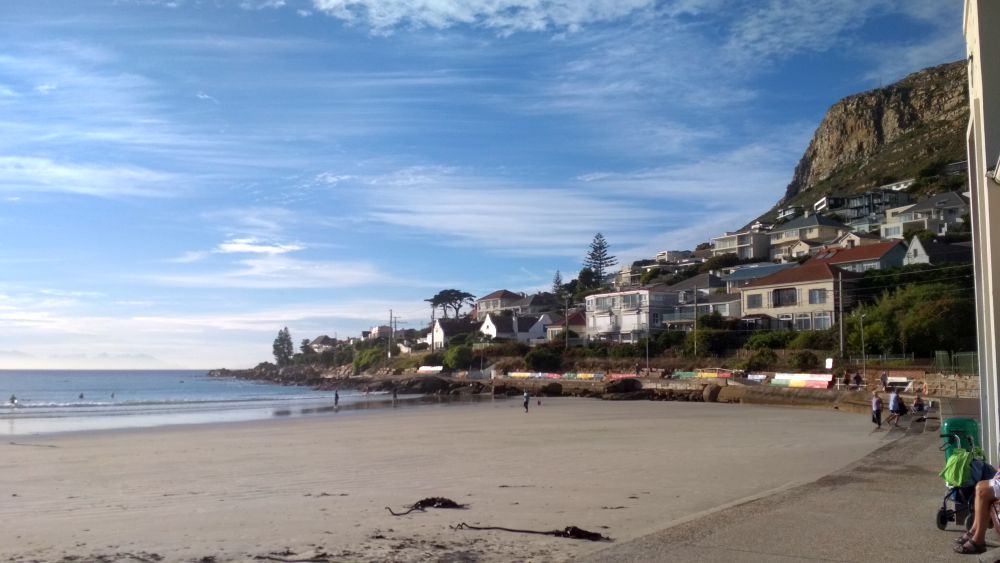 I swam until about 8:25am. I saw another one of  those tiny blue things in the water. When I see the divers again, I must ask what they were and pay more attention. I'm loving swimming.
Today friends came over for tea. It was a spontaneous invite as they were going to meet at the beach, so I suggested they drag themselves up my 83 steps and I'd reward them with tea, cappuccino and croissants. They came! It was great to see them and catch up.
Mike and I walked to the village again this evening for the exercise and salad ingredients. With very little wind, it's easy to appreciate the beauty of this early autumn weather.
Now it's dark and my view is the lights of town with some of them reflecting on the sea across the Hoek towards Kalk Bay. There's a dim light of a fishing boat just off shore and the regular flash every ten seconds of the Hangklip Lighthouse. I can hear the sound of waves rolling up to the coast and the hum of  passing traffic down on Simon's Town road. The neighbour has just arrived home. There is someone staying in the house next door (Simon's Town side). Perhaps tomorrow, I'll go and knock on their door and ask if they've seen the missing cushion. Tomorrow, I may also wash our bedroom windows. It's easier to write it than to do it!
Weekend!!
Philippians 4:4
Always be full of joy in the Lord. I say it again – rejoice!
The best is yet come – we are only passing through.
Keep the smile going.
God bless you.
In His Grip,
Helga xx 🙂