Monday
I keep meaning to add the day. When I look back on my blogs, I see the dates but it doesn't contain the day of the week so I started adding it but have been forgetting!
The best time of the day for me – it is every single evening when I climb into bed and the day is at its end! That's the best time of the day. My days consist of a number of things I do every day. Some of them are in the morning and some in the evening. Every evening I do the blog, I floss and brush, I take magnesium and I am done for the day! Then I can read, surf or watch You Tube.
Today has been a public holiday on the back of yesterday's Youth Day. While I had a couple of hours off this morning, it was really a regular work day for me. I managed to get in 6 and a half hours. I woke early, had coffee and went to gym. Got home, worked and then we met Julian and David for breakfast at 10am. Then it was to the airport to drop Julian.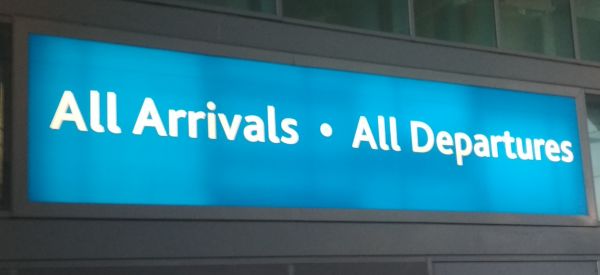 As soon as I arrived home, I got back to work and was pretty busy from just after 12 to about 5-30pm. It's good for the company that I'm busy.
Mike sorted dinner, then we watched a Bull and the end of Bangladesh beating the West Indies in world cup cricket. It was a thumping too. Surprising. And now it's the blog.
A nugget from my journey. My nuggets are all jewels. This is gold.  I was 14 when I came to know the Lord. My parents were separated and I lived with my  Dad who was also a Christian. My Mom and my three siblings didn't have any interest in Christianity. For years,  I prayed for my Mom to come to know the Lord. Some time after Mike and I married, my Mom moved from Harare to Johannesburg with what was then her husband – his name was Abel. They lived in Boksburg and all was not well in their marriage. Abel was emotionally abusive – quite possibly physically too. One day he would not let my Mom go to work. He locked her inside the house. Why, I don't know. I just know they had an altercation and he wouldn't let her out. The backdoor was unlocked, however, so she quietly went outside and alerted the neighbour. When Abel saw her outside talking to the neighbour, he was furious. Eventually, he told her she could go to work, as long as she didn't phone the children (mainly Julian). She promised she wouldn't. Shaken, she arrived at work and phoned Julian's work. She asked the receptionist to please have Julian phone her as soon as possible. Julian phoned back and she told him what had happened. By the end of the day, an air ticket had been bought and very shortly, she was on her way to Cape Town to stay with us. It was 1993. My Mom arrived towards the end of the week. With her marriage in tatters, she was shattered and we were there to comfort her and allow her time to recover. She also had to decide what she was going to do when she went home – whether she would go back to Abel. We were so keen for her not to. If she had to have asked us, we would have said "dump him".
The weekend came and on the Sunday, we went to church. In those days, the Fish Hoek Baptist Church was on 3rd Crescent in Fish Hoek. The children went to Sunday school and Mike & I along with my Mom took our seats for the main service. I remember where we sat. It was on the right side of the church about 4 pews from the front. Pastor John and Avril were the pastoral couple and Pastor John was preaching.  I was really wanting my Mom to come to know the Lord. Preach the Gospel, Pastor John, preach the Gospel. He didn't.
Imagine Mike and my shock and dismay when Pastor John preached on "God hates divorce." I sat stony faced. I cringed internally. This can't be helpful, I thought. Of all the sermon topics, my Mom has to be in church for this one.
The service ended and we all got up and left. Naturally, my Mom looked decidedly uncomfortable. We didn't quite know what to say. We got in the car and she looked at us and then came straight out and asked, "Did he know I was coming today? Did you tell him about me?" "No!" we told her emphatically, "He didn't know! We haven't seen him." "I feel quite shaken," she said, "I felt he was speaking directly to me. I could have been the only person in the church."  Mike and I were silent on the topic. "What is going on?" was all I could think.
God worked in my Mom's life that day. Pastor John preached on God hates divorce and the Holy Spirit spilled his words into my Mom's soul with such impact, she would never be the same again. She knew she needed to change and that change was only possible through one Person. It may not have been a full on Gospel message but the Gospel was there. God's Word is never wasted.
My Mom returned to Johannesburg vowing to not go back to Abel. I had told my family that was her plan.
My siblings went to the airport to pick her up, betting as they went, on how long it will be before she returned to Abel.
She never did.
But neither did she divorce him.
My Mom started going to church after that . She joined a strongly evangelical church, started attending Bible studies, having ladies meetings and going on church camps.  On my 10th wedding anniversary – 9th August 1996 – she phoned to wish us and in doing so she cried, "Oh, if only your father and I had known the Lord when we had been married 10 years, things would have been so different."
My Mom lived another 11 years. Eleven glorious, light-filled years. In her Bible she wrote this on a piece of paper. It is her hand-writing and it is precious to me…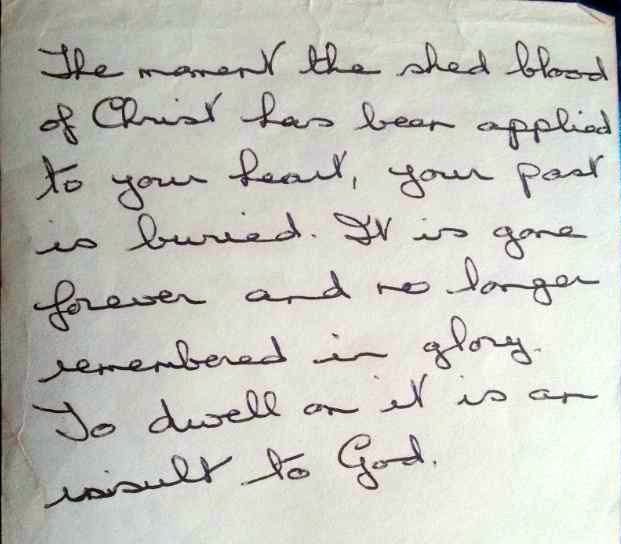 My 15 years of praying for my Mom were answered.  Thank you Jesus for my Mom's life. Thank you that she's in heaven with You now and one day we will meet again.
I just read this account to Mike to see if he agreed with its accuracy. I asked him if he remembers where we sat in the church and he said "on the right side 4 rows from the front."
Proverbs 18:10
The Name of the Lord is a strong tower; the righteous man runs into it and is safe.
Amen!
These are the days.
Keep the smile going.
God bless you.
In His Grip,
Helga xx 🙂
Gym:
Cycled 30km.
Braces:
Day 216