Today has been pretty much a work day. I think it's been a full 8 hours of work. I managed to do laundry as well. A super sunny day – warm and windless – perfect for washing.
Nugget from my journey – As I look back the last 40 years of my life from the day I came to know the Lord (the best thing that ever happened to me), to now, it is not difficult for me to conclude that the second best thing that ever happened to me was meeting Mike!
This happened in 1983 when I was not yet 19. Mike was already in his 30s and was working as the resident secretary in the YMCA. We were introduced by my boyfriend (Philip) at the time. We were introduced so I knew who he was but nothing more.  Then one weekend, many months later – perhaps even in 1984 – Philip was away the weekend and Mike came to my church for the Sunday evening service. After the service, we ended up in the church hall. I went into the kitchen to make coffee and he was standing at the hatch. We started chatting and I remember thinking, 'it's almost a pity that Philip is on the scene because this would be a really nice guy to get to know.' Then I felt terrible because I was being so unfaithful towards Philip. Between Mike and I, that Sunday evening, there was lots of chemistry. The instant attraction was never to be forgotten. God orchestrated that key moment in our lives – we both look back on it with the same degree of mutual attraction.  It was going to be many more months before the Lord would bring us together again.
That happened in about July of 1985.  Philip was off the scene – he had moved back to the UK. I was recovering from a broken heart. By the time winter of 1985 arrived, I was on the mend. Deep in my soul, I knew that the Lord had a plan far greater than I could ever imagine. Events were about to unfold that would start rolling that plan out.
I was walking through Garden Centre one Saturday, when I spotted a lady from my church. Her name was Jean. Not only did she go to my church, but she was also in charge of catering at the YMCA where Mike worked.  I stopped to chat. She said, "Hello Helga, we are having a sing-along at the Y tonight. Why don't you come along?"  I asked, "Is Mike van still there?" "Yes, he is," she replied. "Oh, okay, I might just come!" At the appointed time, I arrived at the Y and sure enough a number of young people had gathered and we had the first of what became known as Fireside Fellowship. Mike showed no interest in me at all. But I carried on going and used to hang around til everyone had left and help him clear up….ha ha…way to a man's heart. It was at the end of one of these evenings, about 3 or 4 weeks in, that he invited me out for coffee afterwards. We went to the Spur on Strand Street!
Somewhere during this time, friends of mine invited me to go to Betty's Bay with them for the weekend. There was plenty of space and they said they would be happy for Mike to join us. I was quite nervous to do so, knowing he may say no. Plucking up the courage, I eventually called and said I knew it was late notice but did he want to join us? He said no. But the way he said it was so kind. He really would loved to have come but he had already made other arrangements and was unable to get out of them.
Off we went to Betty's Bay for the weekend, sans Mike. But it was a significant weekend. For while walking alone along Betty's Bay Beach, I prayed my heart out for my future husband, whoever he was and wherever he may be.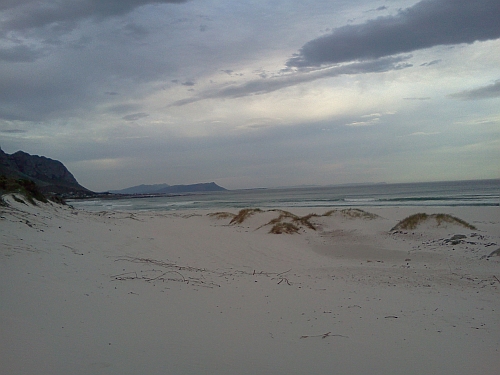 Unbeknownst to me, Mike was having an extremely difficult weekend. I was praying for him.
A few more weeks passed and Mike invited me out on a date. One date led to another and we've been dating ever since. We started officially going out in September 1985 and married 11 months later. God answered so many of my prayers when He sent Mike.

God is faithful and He doesn't make mistakes.
Psalm 57:1
I look to You for protection; I will hide beneath the shadow of Your wings.
These are the days.
Keep the smile going.
God bless you.
In His Grip,
Helga xx 🙂
Gym:
20 minutes walking on the treadmill (trying to give my knees a break)
Super-circuit – 10 minutes + 15 minutes on the stepper
The big 5 machines x 3 minutes each.
Braces:
Day 217