This is ideal for Christmas. It looks fabulous and as Banting goes, is probably as low carb dessert as you can get – watermelon has 8g of carbs per 100g. The rest of the ingredients are Banting friendly. I got the pictures from All Day Chic.
Simply core the watermelon. You can take off as many of the pips are you can see. Then completely cover it in whipped cream. That is your base. What you do next is up to you. You can cover it with berries, put slivered almonds around the sides and decorate it in any way you like.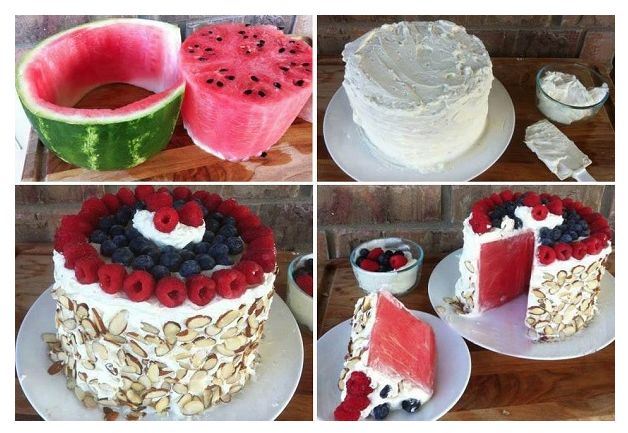 Some people have sliced the watermelon core into thirds and put cream between the layers. The above pictures make up the simplest method. It's one cake that you can pretty much indulge in this Christmas.
What a treat.
I hope to give it a try myself.
Happy Christmas!
Romans 15:13
May the God of hope fill you with all joy and peace as you trust in Him, so that you may overflow with hope by the power of the Holy Spirit.
# 140 of my 1000 thanks is for all the things money can't buy….for family, for friends, for peace and love, for health and strength – for these I am grateful.
These are the days.
Keep the smile going.
God bless you!
In His Grip,
Helga xx 🙂