Wednesday
Today was the day…
We got to explore the dunes of Walvis Bay. They are amazing! We started off with a drive past the pink flamingoes – thousands upon thousands of pink flamingoes. The pinker they are the more vegetarian they are. They feed on algae that has a very red hue – the redder the algae, the pinker the flamingo. The carnivores have less pink feathers because they feed more on shrimps and sea food than algae. Very interesting it was.
Then it was on to the largest salt mine in Sub-Saharan Africa. Most of this is for industrial use and exported to Europe for their icy roads in winter.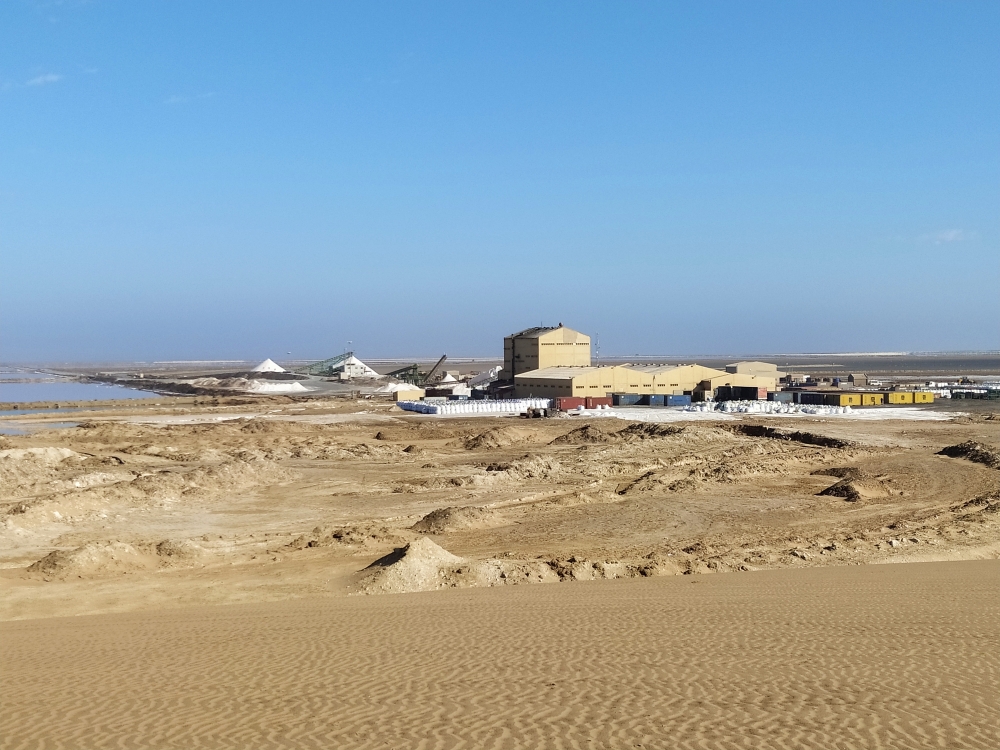 From there, we went over some humungous dunes…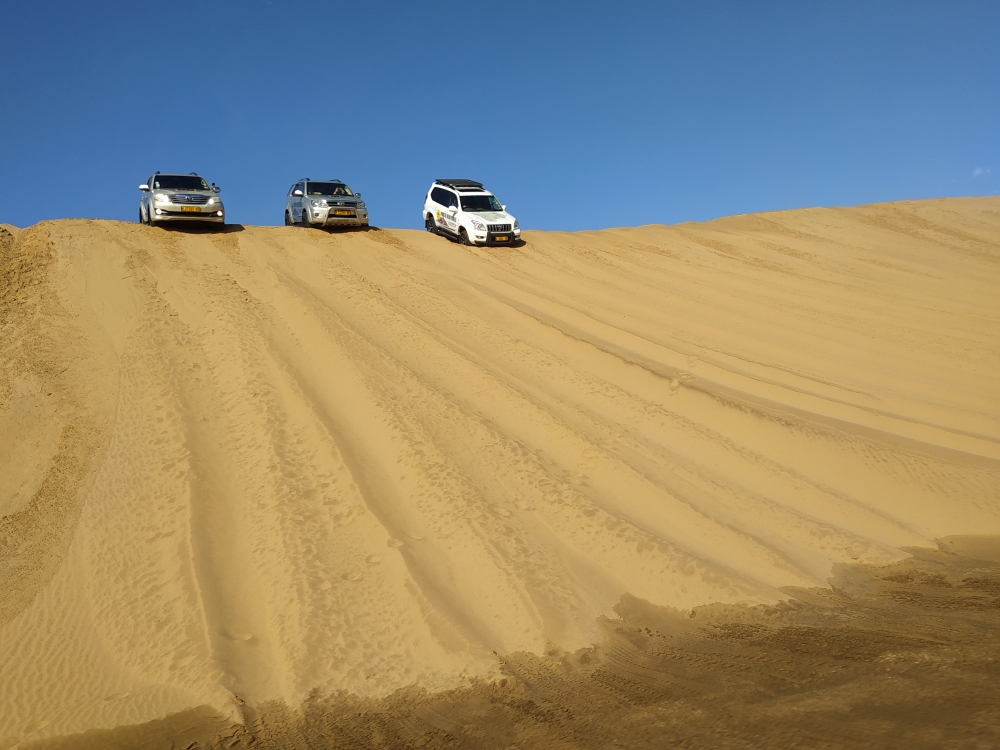 We were on our way to famous Dune 7.  Those are people climbing it. And we decided to join them.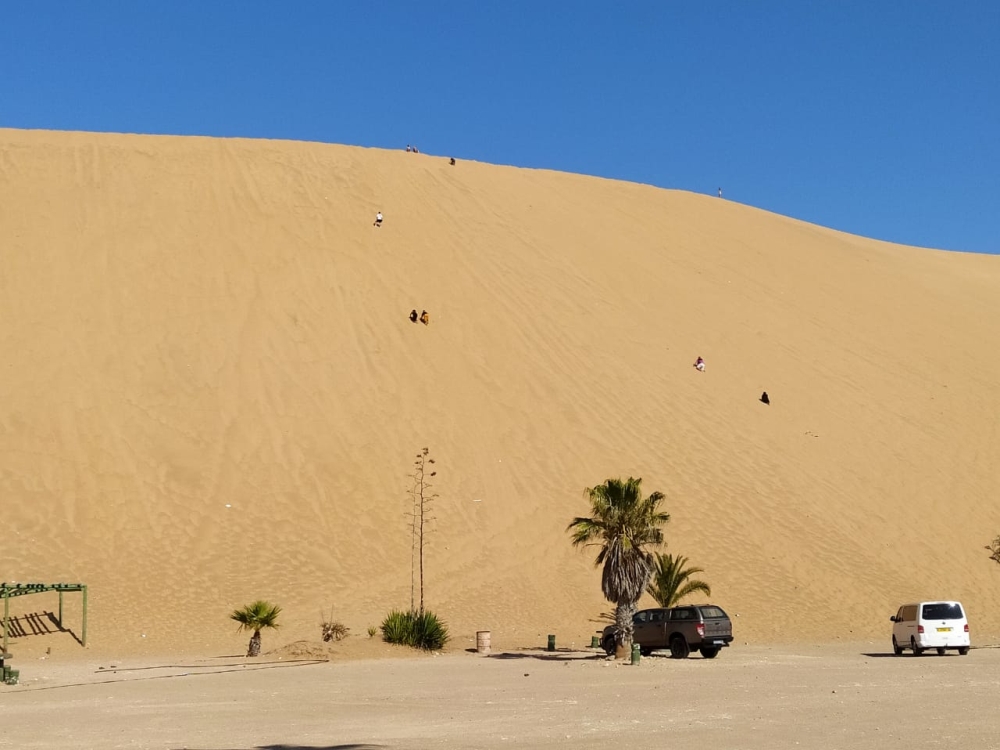 But there is an easier, albeit longer route and that is to go up the side of it…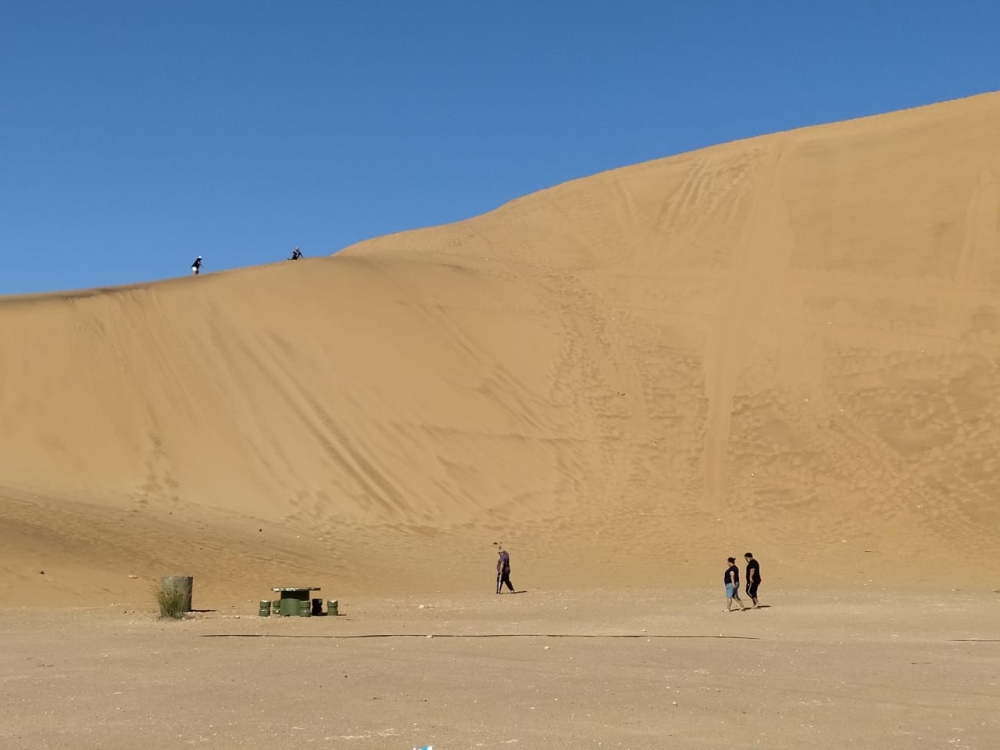 So that was what we did.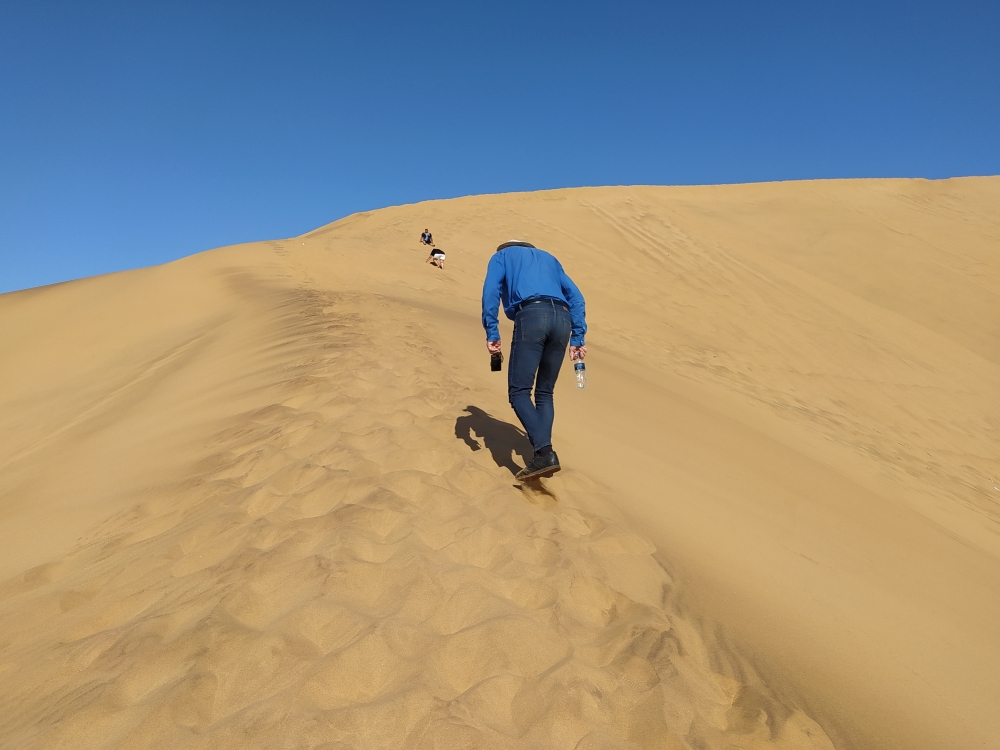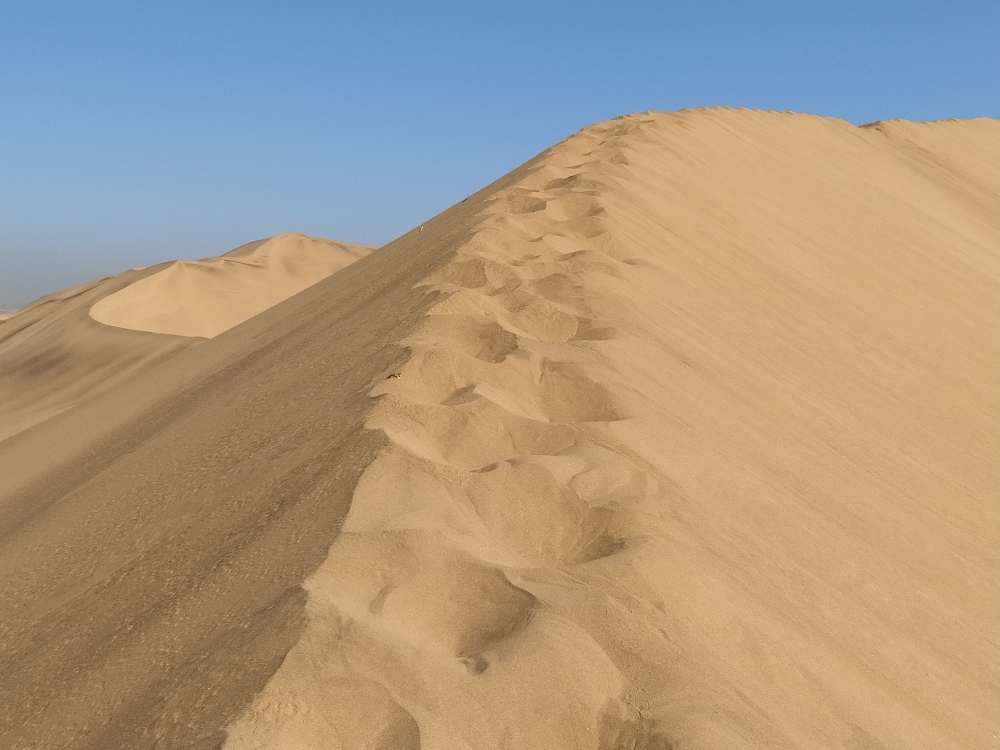 It was quicker than we thought. When we got to this patch (above) – each indentation was like a step – and if we are good at anything, we are good at climbing steps. It took us 20 minutes up.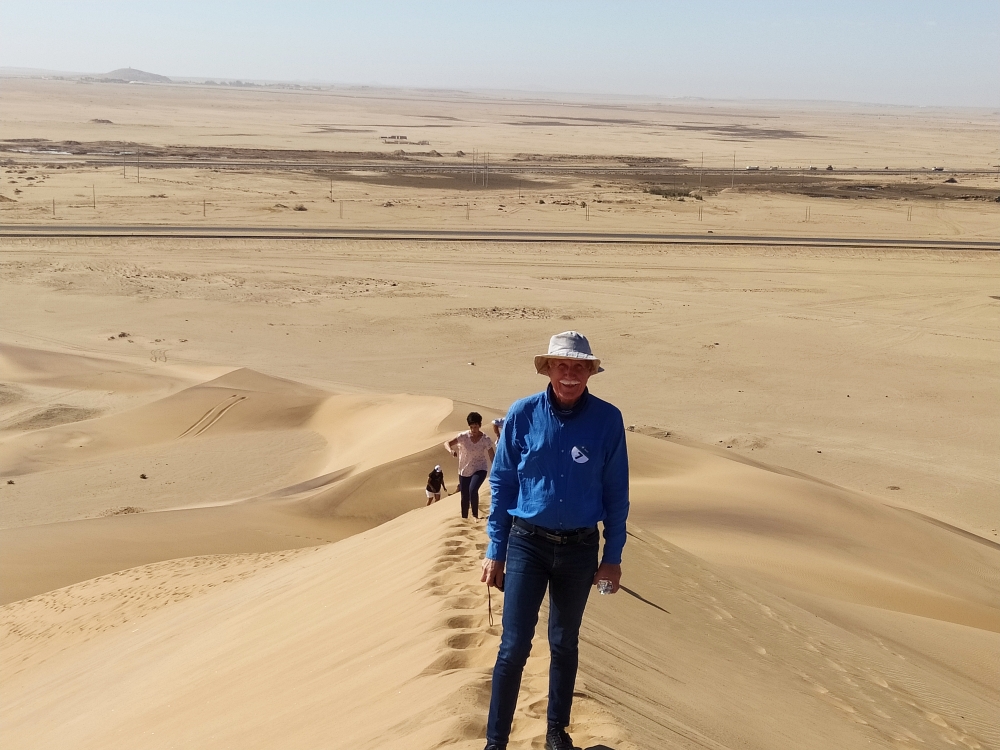 View from the top looking down. Mike decided to walk back the way we came. I decided to go this route…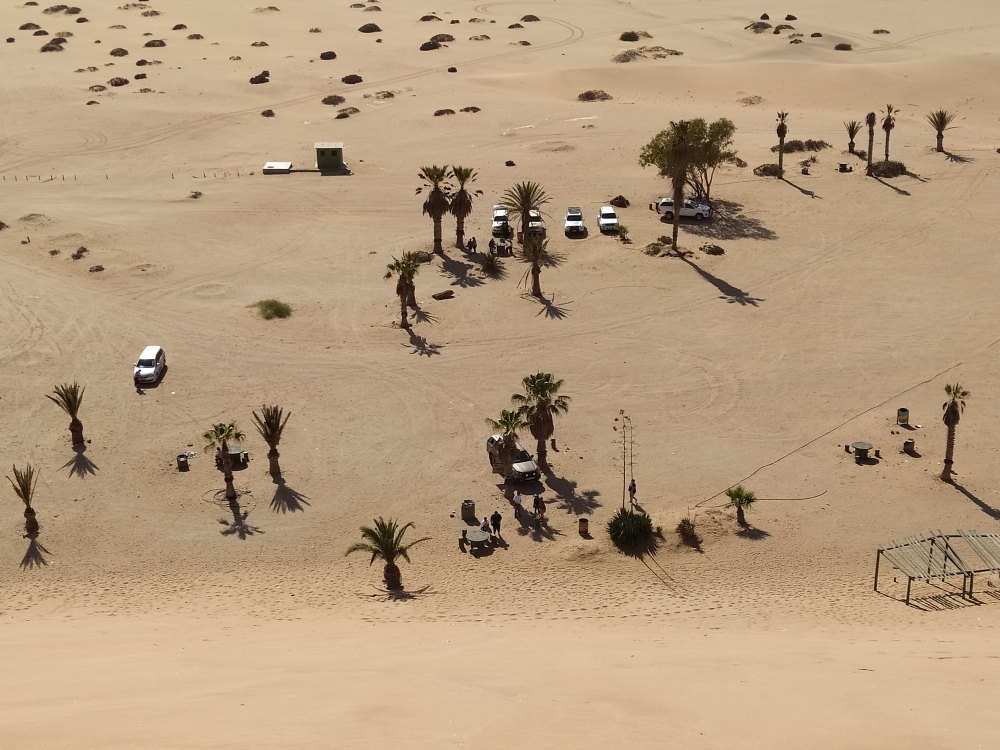 I got down onto my backside and started sort of rowing myself down. You couldn't just slide down. It was like flowing down. I kept getting the sensation I would cause a landslide but it never happened. Half way down, I stopped to take a few photos – looking each side…
And one of Mike coming down the ridge – this gives you a better scale of it…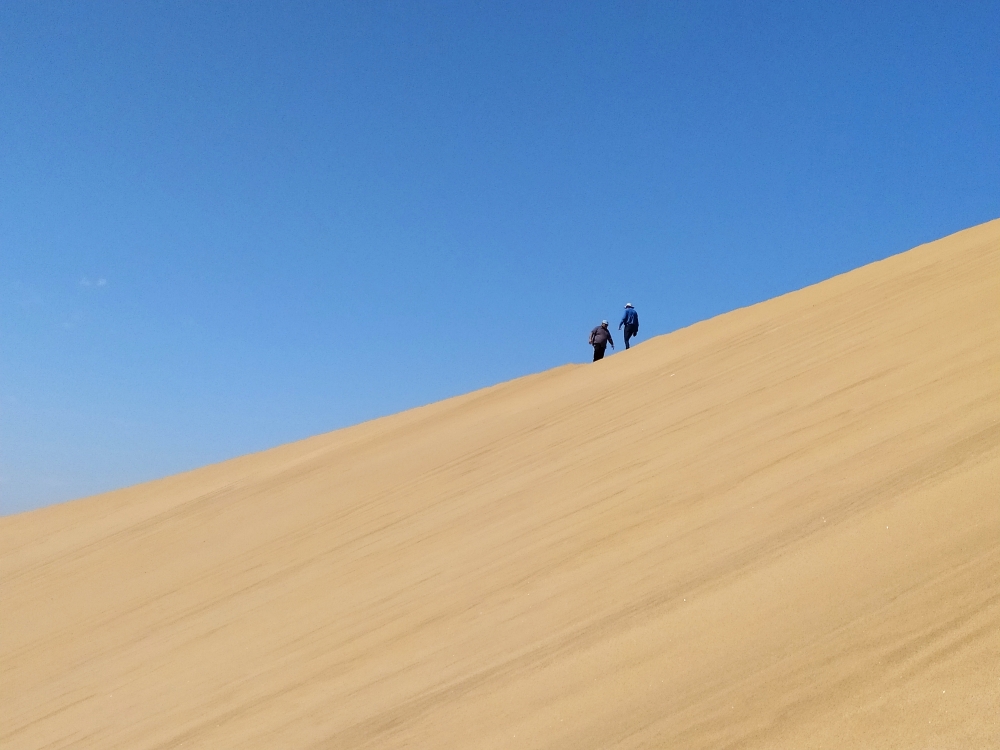 I was just taking my time, but after Mike passed the man coming up, he (Mike) started jogging! What! He was wanting to beat me. I started pushing myself as fast as I could. Mike saw me going faster so he started jogging faster. What the flip. There were a group of people at the bottom of the dune and I started shouting 'that's my husband and he's trying to beat me'.  They laughed and said, "Go go, you must win him!" So I went & went and just won – well sort of – we pretty much arrived at the same time.  We got a round of applause from our group. 20 minutes up, 10 minutes down.  It certainly won us the admiration of those watching!
From there it was over more steep dunes…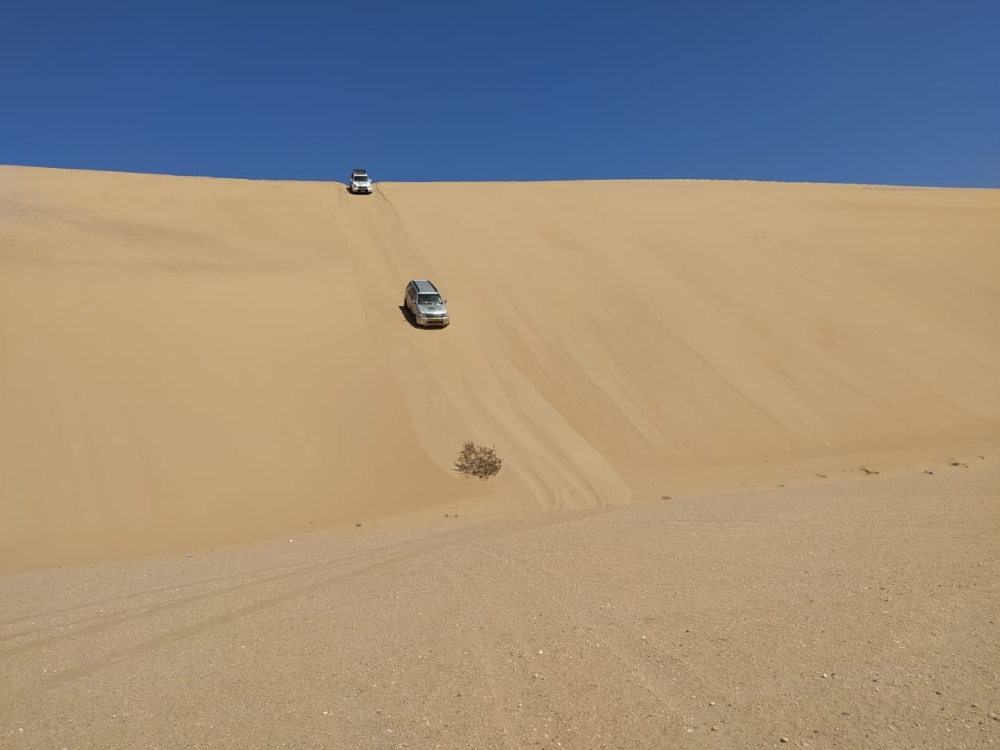 And a few stops for photos…
It was altogether a fabulous morning and well worth the money paid. We got back to the ship early afternoon. I did a couple of hours work and logged off in time for 4pm when the ship set sail.
It was fabulous cruising out of Walvis. The weather has been spectacular and it is only now that the wind has picked up and we are cruising directly into it. It's been a day we won't forget in a hurry.
Homeward bound.
2 Corinthians 8:9
You know the generous grace of our Lord Jesus Christ. Though He was rich, yet for your sakes He became poor, so that by His poverty He could make you rich.
The best is yet to come – we are only passing through.
Keep the smile going.
God bless you.
In His Grip,
Helga xx 🙂