Today, a year ago, our two thieves broke a hole in our back wall. They were so determined to get to Mike's study. Because we knew they were coming, we had moved everything of value out, but they were still determined to break in. This was a done in broad daylight on a Sunday afternoon.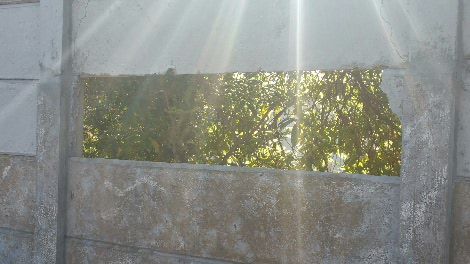 We patched it up, had it properly repaired the next day and then waited for the next time they would come.
I'm a dates person and I have the five crime days of 2017 in my mind. They won't be there for ever but they have hung around for the last year.
We have got through the year anniversary of four of the five. One more to come…. and it was quite a dramatic one.
Mike and I are far more careful. We lock the back door if we are going to be working out the back. We put the alarm on when going out. We keep our garage locked and bolted from the inside. The level of crime in the area has been lower and the one criminal that did this is behind bars. We feel safer, but we are cautious.
Today has been a beautiful spring day. Mike went for a run. I went to gym. I did a load of washing and 5 hours of work.
The very good news from today is that the dam levels are 69.1%. The City of Cape Town has announced that from October it will lower the level of water restrictions. We will be allocated 70 litres of water per person per day, up from 50. What a joy that will be. Having only 50 litres of water has been treacherous living. We have done it with the help of our tanks, but it has been pretty miserable "showering" through the winter months.
So grateful!
#784 of my 1000 thanks is for a combination of eye-sight and a beautiful view. From a certain point at the gym, on a perfect day like today, I could see, Kalk Bay Mountain, Hottentots Holland Mountains across False Bay,  Elsie's Peak, and Fish Hoek's "little Lion's Head". This can really only be seen from the Sun Valley side – the angle is all wrong when you are in Fish Hoek. When you are in FH looking up towards Elsie's Peak there is a little 'koppie' that looks the shape of a little Lion's Head when viewed from the gym. Wonderful sights to enjoy.
And so the sun sets on a majestic Cape Town spring day.
Revelation 22:13
I am the Alpha and Omega, the Beginning and the End, the First and the Last.
These are the days.
Keep the smile going.
God bless you.
In His Grip,
Helga xx 🙂
Gym:
30 minutes fast walk
The Circuit – 15 minutes
20 minutes stepping