This morning I read an article about Nic Vujicic, the Australian who was born with no arms and no legs. It was excellent and can be read in its entirety here. He certainly has a zest for life and is a story of hope.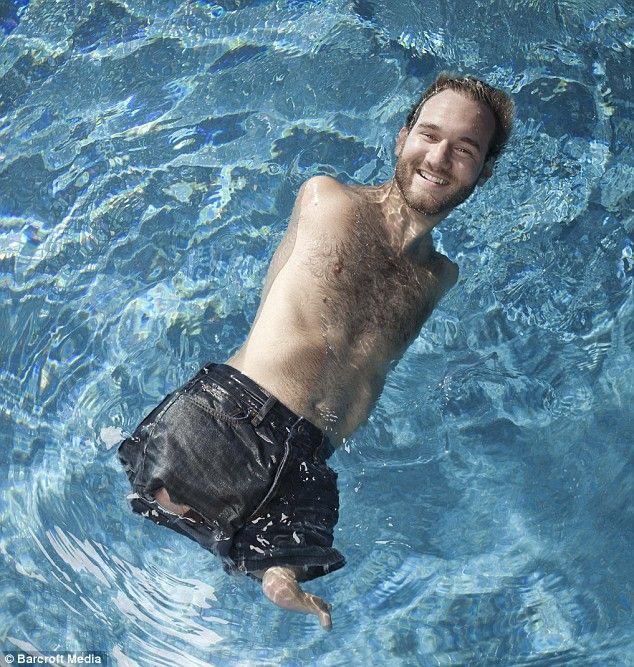 In the article, Nic is quoted, "I was depressed as a child… At age 10, I tried to drown myself in the bathtub because I felt I had no hope… I hated God for years. At 15, I read a chapter in the gospel of John. I realized, if God has a plan for a blind man, I believe He has a plan for me," he told the crowd."
The article continues,
"Nick's career as a motivational speaker started in his own high school. A 61-year-old janitor from India named Arnold told him, "Nick, you're gonna be a speaker. You need to speak to the students at lunch. You have a story to tell."
"I said, 'No, I don't have a story to tell,' and he said, 'Yes, you do.' 'No, I don't.' 'Yes, you do.' This went on for about three months. Finally, I said yes," Nick told the audience.
So he soon found himself speaking before six to eight students at lunchtime, and a girl cried. When he asked why she was crying, the girl said, "I was just touched." "I didn't know that hope could be received," Nick said.
That "speaking engagement" encouraged him to call up schools in Brisbane and offer his services. "I called 53 schools, saying 'Hi, I'm Nick and I'm a speaker and I have no arms and legs. Could I go to your school and speak?' One said I will freak them out. Fifty-two said no. Then on the 53rd one, I got better and better (at pitching myself). They agreed to a $50 fee, which I paid to my brother to take me there. I paid for fuel. The school was two and a half hours away. My brother died of laughter. I decided that day that I won't be a speaker. My family told me, 'Nick, just be an accountant like what your father said.' I went to bed crying," he said.
But the next day, he received a call from another school who heard about his talk at the school two-and-a-half hours away. They invited him to speak at their school, and offered to pick him up and bring him home.
This invitation was followed by other invites to speak to youth groups and churches.
He recounted one time speaking to 300 teenagers and a teenage girl could not stop crying. She asked if she could hug him. She said, "No one told me I'm beautiful, and I am loved." Nick said that was the day he knew he was really going to be a speaker. Today, Nick gets about 100 invitations a week and has received 35,000 invitations to date."
The article was written by Karen Galarpe, GMA News and published on 31/7/2016.
More wise advice from Nic…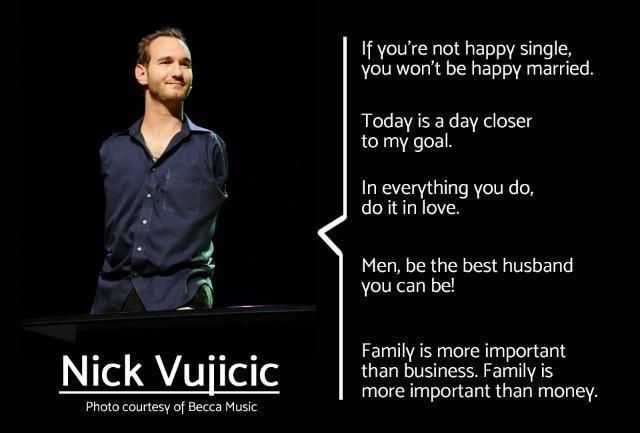 As we say goodbye to 2016 and soon will welcome in 2017, it's time to dig deep in following God, to strive to trust Him in all circumstances, to know He has a plan for us and that He will guide us to success.
The psalm I read this morning was Psalm 145.
Psalm 145: 13b,14
The Lord is faithful to all His promises and loving toward all He has made. The Lord upholds all those who fall and lifts up all who are bowed down.
He promises to take care of you. Trust Him in that.
I'm grateful today for many things, but in my journey to 1000 thanks, I lay in bed last night and smiled to myself.
#142 of my 1000 thanks is for my pillow. It is so comfortable and as I lay in the dark, I thanked the Lord for this pleasure!
These are the days.
Keep the smile going.
God bless you.
In His Grip,
Helga xx 🙂