I'm so blessed. What usually happens is that I leave home at about 7-52am and am on the treadmill by 8am. At 8-30, it's the Grid. At just after 9am, I cycle for a bit. By 9-20ish, I'm home. If the curtains are open upstairs, I hoot & Mike will open the garage door for me. If the curtains are closed, I don't hoot, but open the garage myself.  Most mornings they are open. Mike has got up as I leave and he gets into his running kit and does many laps around the block. Then he comes in, does the dishes to warm up the geyser, showers, dresses and then is ready for the day. By the time I drive up, the bed is made, the kitchen is clean. What a treasure.
But this morning, it was raining and on my return, the curtains were closed.
Mike was as snug as a bug in a rug!
I climbed into the shower as he got out of bed and on a cold, damp, windy day, Mike went for his run. We swapped roles. I finished showering, got dressed, made the bed and hurried down to clean the kitchen. By the time he arrived home, it was all done!
It definitely works having a time limit. Got to get it done before Mike gets home!
The rest of the day has unfolded with a deluge of work.  I've already done 6 hours of work and I've got a Skype call in a short while. I really thought with the conference on this week, it would be quiet and peaceful. Ha ha! Not so fast. My colleagues are throwing stuff my way in various measures. Some just need a few minutes….others several hours. I still have about 20 emails to send, but my eyes are shot, so I'll have to take it up tomorrow.
What a wonderful day of rain…it has resulted in Truffles spending most of the day on my lap. This morning though, she looked like she wanted to go up on the cupboard, so I put her up there. She wandered around a bit and then this happened…
Afterwards she looked a bit uncertain…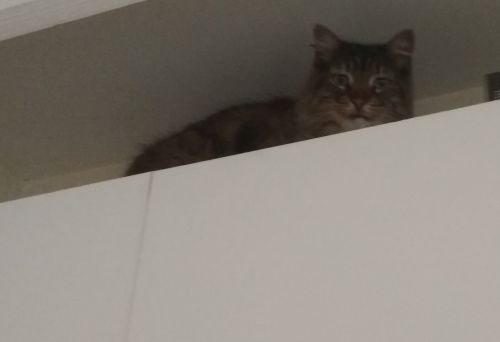 I dragged her down and she curled up on my lap.
#900 of my 1000 thanks – that parking spot right outside the gym on a cold, wet rainy day! Yes!
Psalm 39:4-5
Lord, make me to know my end, and what is the measure of my days, that I may know how frail I am. Indeed, You have made my days as handbreaths, certainly every man at his best state is but vapor.
These are the days.
Keep the smile going.
God bless you.
In His Grip,
Helga xx 🙂
Gym:
30 minute fast walk – I walk at 6.2km/hour for 2 minutes, then ramp it up to 6.5km/hour. I walk at that speed on the flat until 10 minutes, then put 1% hill on and walk that until 20 minutes, then up it to 2% and walk that until 30 minutes = 258 calories. (Average pace is 9:17 per kilometre). I'm running any more to protect my knees.
30 minute Grid with a 1 minute warm up. Heart rate at the end was 166.
10 minute cycle.