This morning I zipped into Cape Town for this city's interviews. I left home at just before 5-30am and with very little traffic Ou Kaapse Weg was a breeze. What struck me was the fantastic view from the top. I've driven over Ou Kaaps thousands of times but nothing beats dawn with the first sign of the sun glowing beyond the Hottentots Holland mountains. Inky False Bay stretching out framed by the sparkling lights of the Cape Flats. And then the City lights. The spectacular glow of a million light bulbs illuminating our city. What a sight.
Along the freeway, over De Waal Drive and then suddenly, there she is.
Table Mountain majestically welcoming the new day.
If I didn't say it out loud, I thought it as clear as a bell, "Thank you Jesus for giving me the gift of Cape Town."
What a privilege to live here.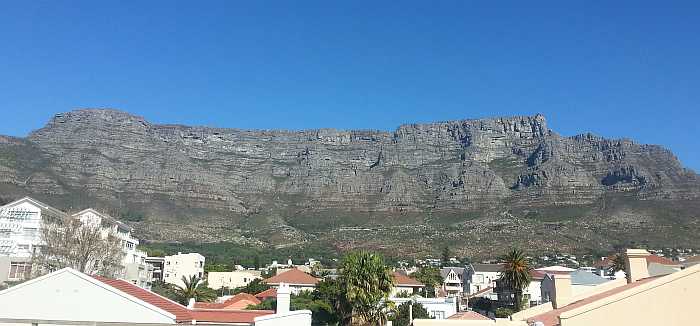 And so I thought of the need to catch the spectacular moments. The first light of dawn. The first sight of Cape Town's iconic landmark. Two spectacular moments snapped by my memory, filling me with appreciation for the fact that this is where I live.
I love it.
It's also what I love about travelling. When you travel, you get these little unexpected surprises. When we were coming into land in Johannesburg, the vast farmlands below were unexpectedly beautiful.  Amazing shades of green, flourishing crops and manicured lawns with sparkling blue swimming pools twinkling up at me. It made me say, "wow, look at this." You can see signs of all the rain they've had.
The other surprise was on my return trip. My flight took off from Johannesburg at twilight. We flew into and through darkness before suddenly about 45 minutes out of Cape Town, there was the southern part of South Africa's last glimpse of day. A splendid glow of red ribbon along the western horizon.
Home.
It's what I call Cape Town and I couldn't be happier.
Psalm 113:3
From the rising of the sun to the place where it sets, the name of the LORD is to be praised.
With my 1000 thanks I've been trying to remember the ones that I think of during the day – there is a whole stack of little things I have been thankful for, but by the time I get to writing the blog I can't remember them! I remember today's though!
#205 of my 1000 thanks is FREE parking at the interview hotel today. That was unexpected, specially for the City Centre weekday! 🙂
#206 of my 1000 thanks is tomorrow I'm off to Durban.
These are the days!
Keep the smile going.
God bless you!
In His Grip,
Helga xx 🙂