Last night Mike climbed into the roof (attic if you like) and passed down to me a number of boxes that moved into the house with us in 1989!  Yes, they moved in in 1989, were never dealt with and moved out last night! I always knew they were there and sometimes I would wake up in the night and wish they weren't!
As we sorted through the very dusty contents, I came across some history that took me back. On 4th January 1985, when I was still single, several of us from the nurses' home went to the drive-in. (Remember those!?) We were in my car which was a 1979 Ford Escort. On the way home, close to midnight, we came down Oswald Pirow (from the city side) with the Good Hope Centre on our right and entered the Sir Lowry Road traffic lights which were green. I could not go very fast because, truth be told, I had too many people in my car. I think there were 3 in the front and maybe even up to 4 in the back (Gasp!). A man jumped the red light from the right and, at speed connected with us. Our car stopped. His car spun and rolled. The driver got out of the car, walked around, helped his wife out and together they walked off. My friend, Beryl, came running up to me, "Helga, they are leaving…" I ran after them, saying, "please can we just talk about this?" The man kept repeating to his wife, "Just walk, just walk" and they disappeared into the darkness of Woodstock.
Meanwhile, at the accident scene, two men who witnessed the incident asked if they could help. One drove with me to the police station, while the other conveniently offered to "take care of my friends!" We went and reported the accident and I managed to drive my car home afterwards. There was damage but it was still driveable.
Then began the great car accident insurance claim. I was 20. I just couldn't get any money paid out for the car. Eventually one of the insurance companies paid for a tiny bit of repair but it was just a fraction of the R1200 needed for a proper job. Time passed and Mike came on the scene. When he heard about the accident and the feeble attempts I had made to try and get a payout, he jumped into action. I was instructed to write letters, to register them and not to take no for an answer. And so I began…reams of handwritten letters, all from another era…another address…even another name…I wrote and wrote and wrote.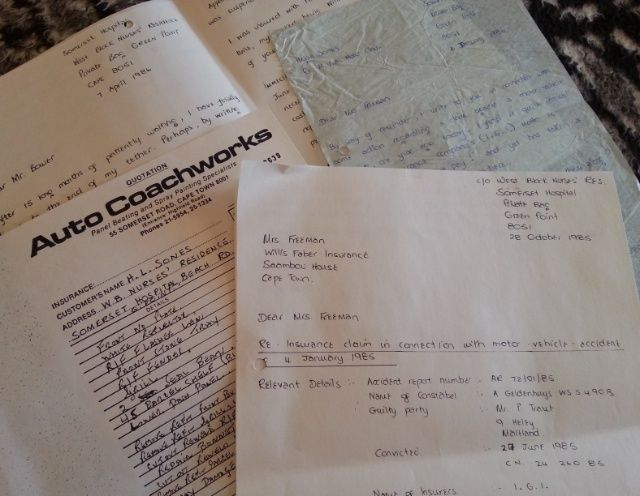 Last night while clearing out, I found them all. I was so interested to read what I had hand-written 30 years ago, particularly one or two of them…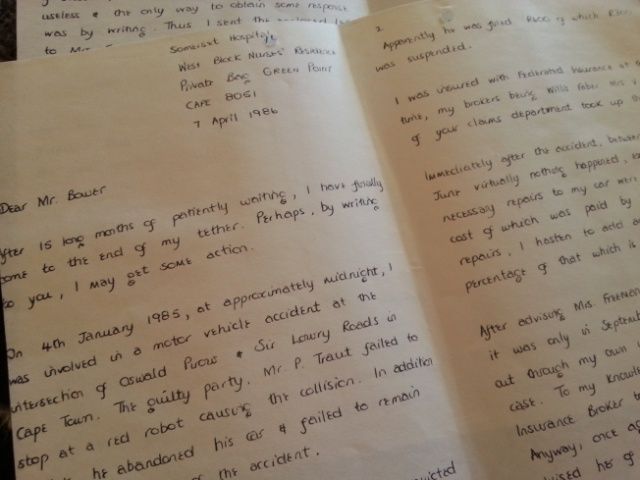 In one of the letters, I quoted the motto of the insurance company, "we don't hassle, we pay!" I told them of the irony that I had nothing but hassles and no payment.
Believe it or not, more than 18 months after the accident, just weeks before Mike & I married, I got a cheque in the mail for R1200. It worked!  Our perseverance paid off. 🙂 By then the car had been repaired. The R1200 enabled me to pay off the balance of the car and Mike and I married debt-free.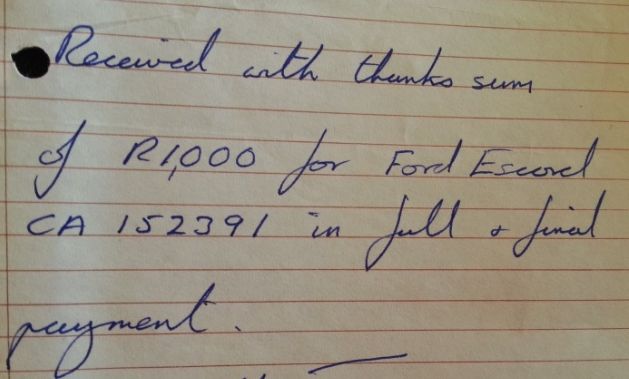 About a year after we married Mike and I traded the car in for a new Ford. We were so excited about that purchase.
But it was really a walk down memory lane finding all these letters in the box last night. I kept a few of them. I remember being so unhappy when that accident happened. It was just days into the new year and didn't give me much joy for what 1985 would hold. 1985 turned out to be a beautiful year. Mike & I started dating. We fell in love.
One year after the accident, I was full of hope for a wonderful life ahead.
And it was so.
Sometimes our circumstances are really, really vrot, but it's not the end of the road, just a bend in the road. Life will normalise and then improve. The best is yet to come.
Psalm 139:16
"Your eyes saw my unformed body;  all the days ordained for me were written in your book before one of them came to be."
God knows it all. Trust in Him.
Keep the smile going.
God bless you!
In His Grip,
Helga xx 🙂