So a couple of weeks ago Mike & I went and bought a few fruit trees which he planted in pots. There's orange, lemon, fig and guava. They are baby trees and are going to take some years to bear fruit. The day after he planted them, I asked, 'any fruit yet?' A little later in the day,  I took an orange and put it between the leaves of the orange tree, waiting for Mike to find it. He finally did! Lots of laughter as he tossed it to me.
Today at gym, Melanie had a whole stack of lemons and eagerly offered for us to take some. I took two and while Mike wasn't looking, I put them in between the leaves of the lemon tree.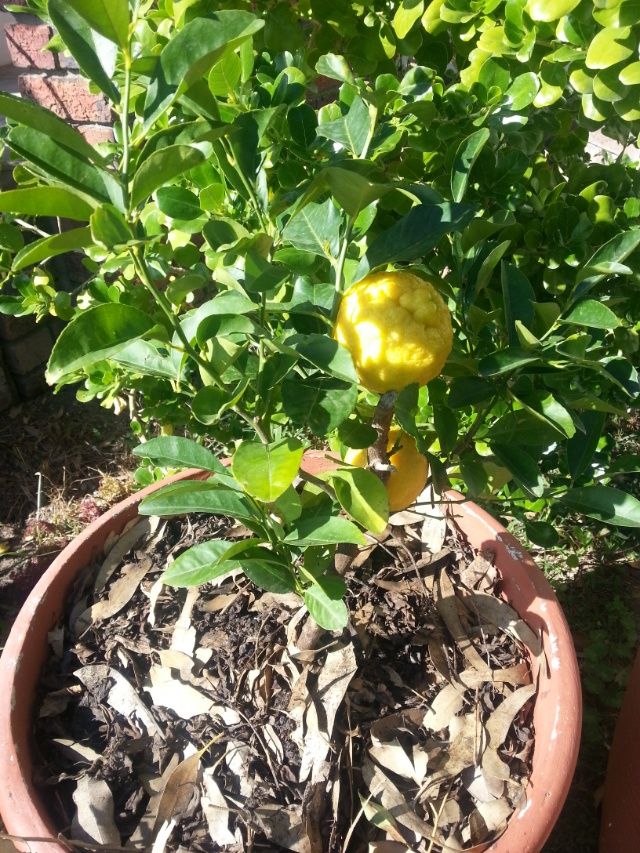 Every now and again, he takes a break from his computer programming and goes outside and hits a few golf balls. I'm waiting to see how long it takes for him to see that his tree has miraculously grown a couple of lemons!! I'll probably want to use them before he sees them! I hope they don't get blown off in the coming rain.
There is also a sequel to my recent choice of picnic food. I don't know if you read the blog I wrote about when we went up Chapman's Peak. It is a gruelling walk from the Noordhoek side and if we ever are brave enough to venture to do it again, I will ensure we go with a decent picnic. When we did it, on the spur of the moment, I took a half empty jar of peanut butter, some fruit and lots of water. I also took two teaspoons so we could scoop the peanut butter out. Mike was very unimpressed with my picnic. I was very much mocked, but he didn't hesitate in eating the peanut butter. Yesterday, we took another mountain walk and Mike took it upon himself to pack the padkos. I was expecting a three course meal, he had gone on so much about my peanut butter! When we arrived at a beautiful look out spot, we settled down, and having missed breakfast, I waited with mouth-watering anticipation for the scrumptious picnic to be served. To my  utter chagrin, he offered me a chocolate breakfast bar! I could not believe it. This was worse than peanut butter. The only other thing he had was a banana and after all the sugar in the breakfast bar, the last thing I wanted as a 'nana!
And so now we are square when it comes to completely underwhelming hiking food. Next time, I will ensure I am well prepared and put together something worthy of a first date! 🙂
All in good humour.
Proverbs 17:22
A cheerful heart is good medicine…
These are the days!
Keep the smile going.
God bless you!
In His Grip,
Helga xx 🙂