Saturday
Today was the day…
Sue and I hiked to above the Glencairn Quarry. Mike and I had gone about half way one drizzly Sunday. Today I got to go the whole way. It was Sue's 10th time and it's quite the adventure! It was just Sue and I and her two dogs Chino and Tazz. We left home at just before 7am and got to the Shark spotter's hut in time to see the sun rising over the distant mountains. What a sight…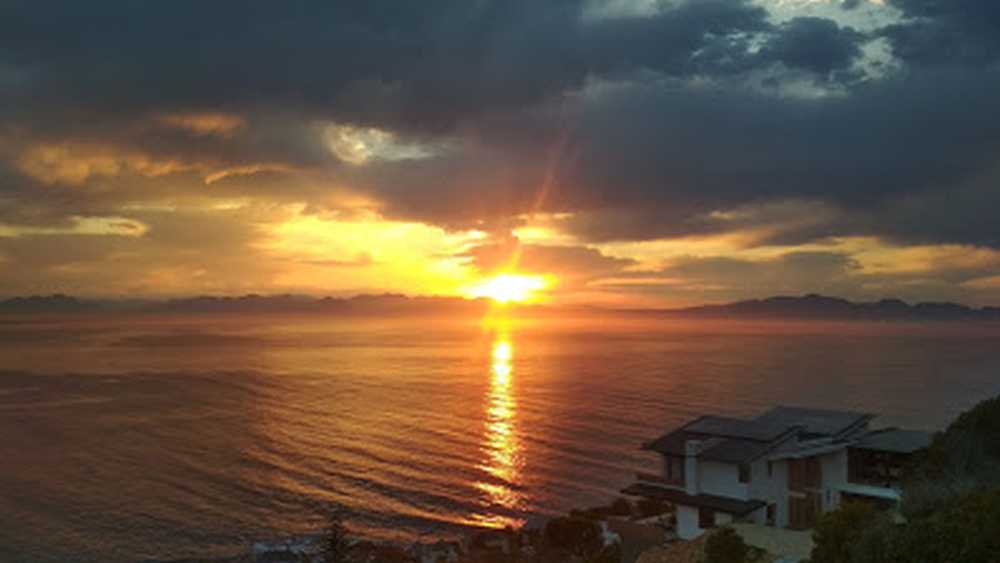 We walked away from Fish Hoek and beneath the Elsie's Peak cliff…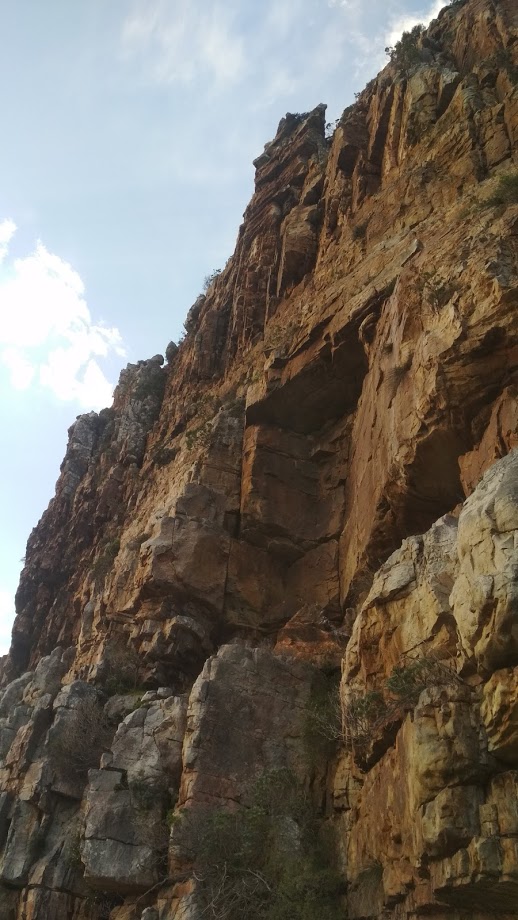 We passed under the ledge Mike and I got to and progressed around the mountain. The rising sun shone brightly in anticipation of a lovely warm day. No wind. Sue heard news last night of her Dad's passing. It was expected, but death is so final and the loss always hard.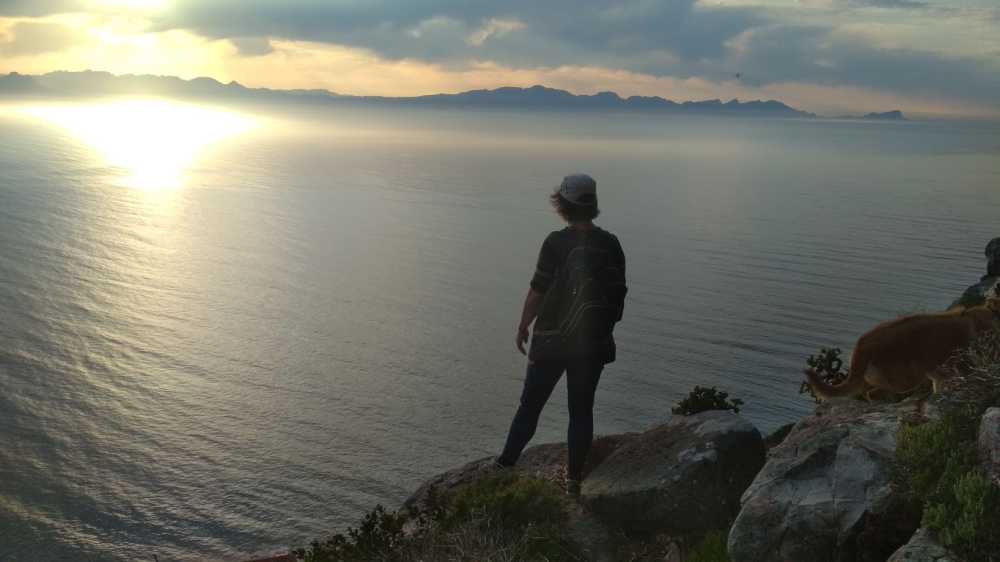 After a bit of ducking and a little scrambling, we soon arrived at a perfect spot for a break…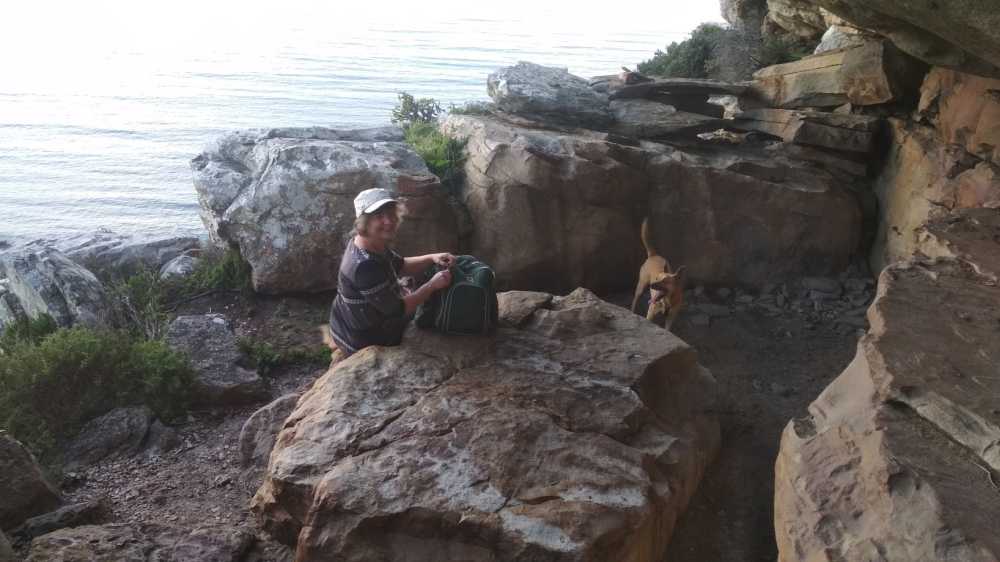 Just after this stop, we left our bags under a ledge and made our final assault towards our Quarry-side destination…..the squiggle roughly shows the path to the cliff edge.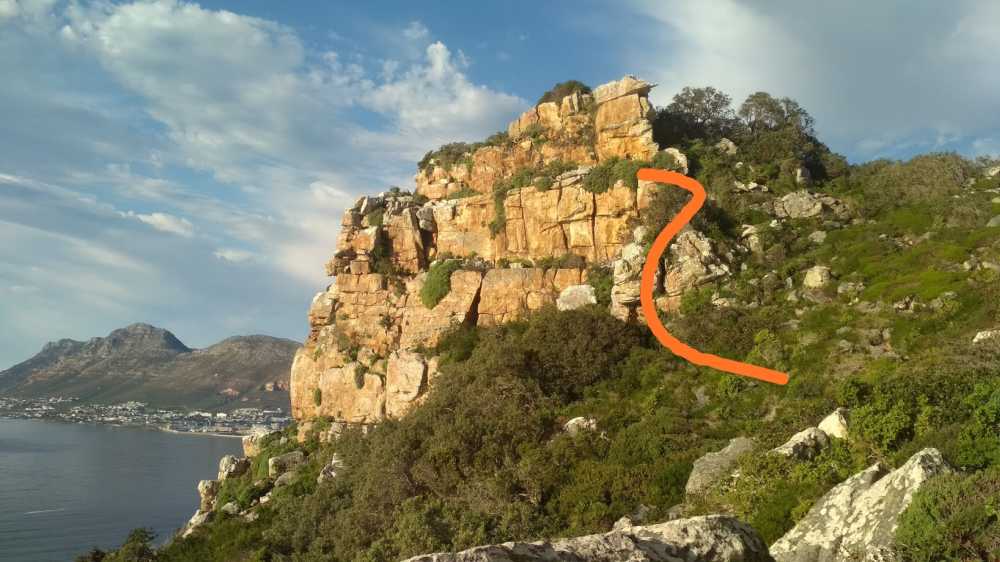 More clambering up big rocks and the ledge lay before us. It looks dangerous but it is safe. Sue at the end of it…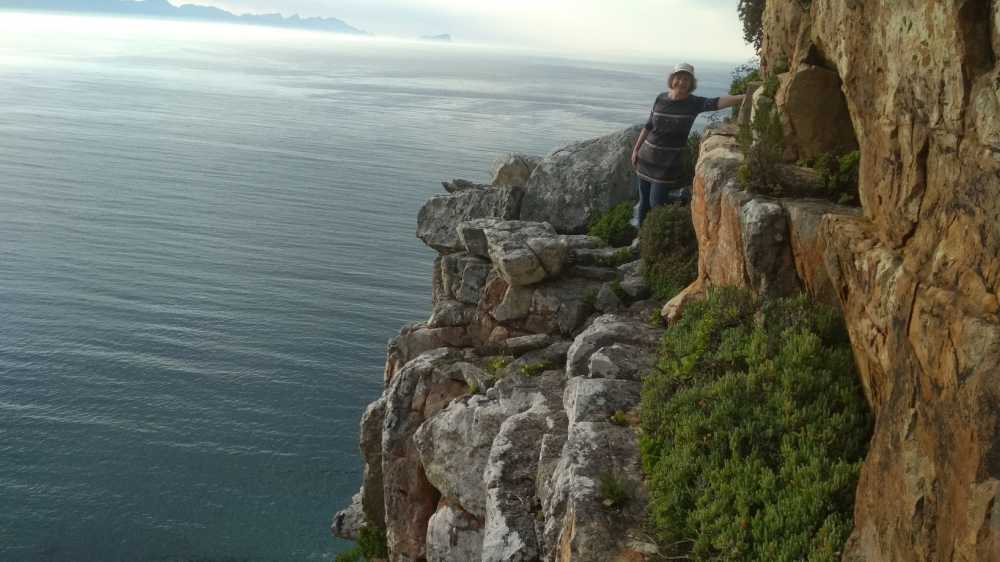 I promise there is more space than there appears. Round the bend and we arrived at an outcrop of rocks that overlooks the Glencairn Quarry which is home to the False Bay Sport Shooting Club.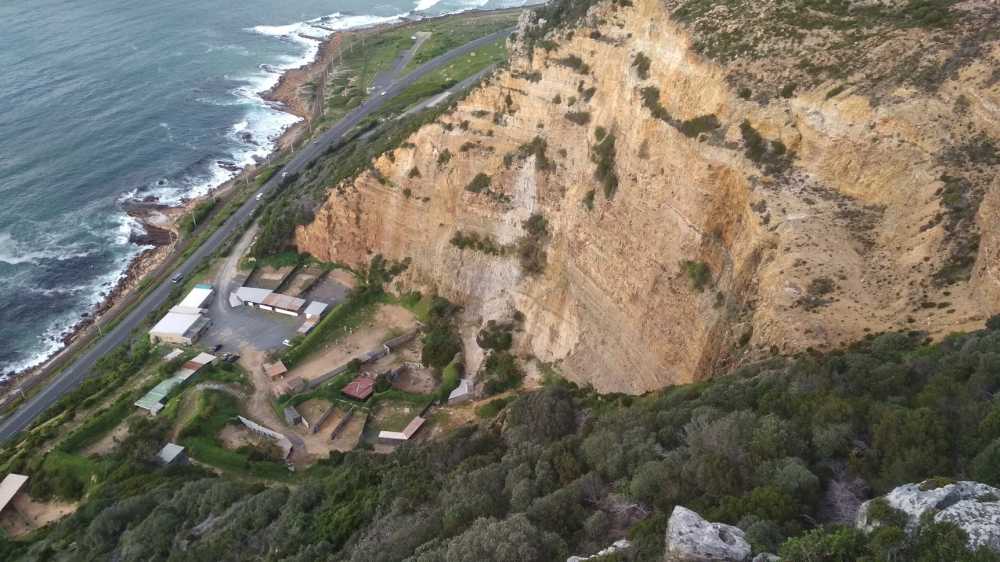 Quite a spectacular view of Simon's Town…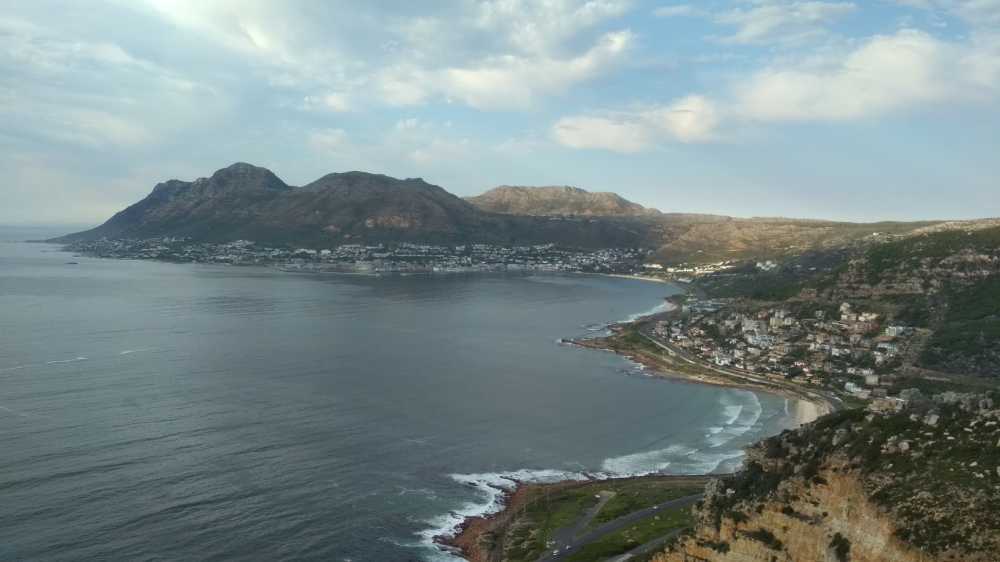 My cell phone has a timer, so I decided to put the timer on and take a selfie, but the timer didn't seem to work so I ended up taking a series of shots of me pressing the button, squinting at the phone! They were hilariously bad, so with those at the forefront of our minds, I snapped this shot of us on the mountain…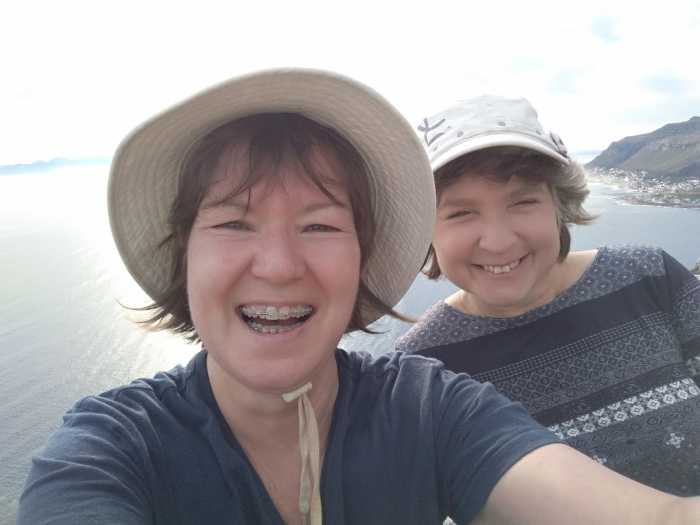 We headed home back along the cliff edge….this is looking over it…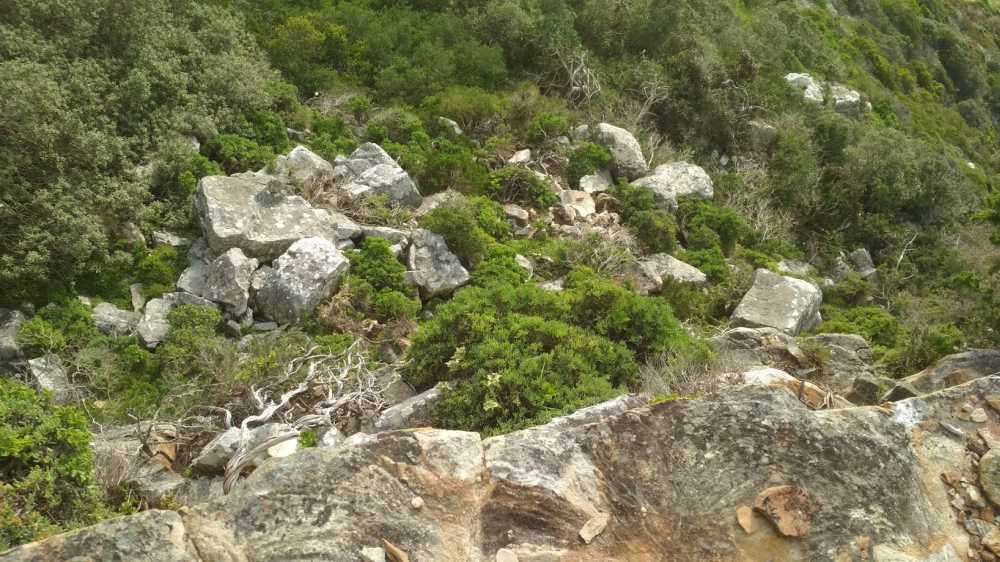 Walking along it…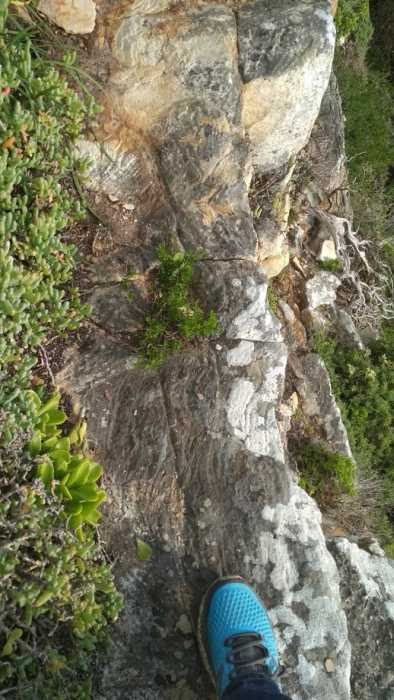 More crevices…Sue is so sure fitted…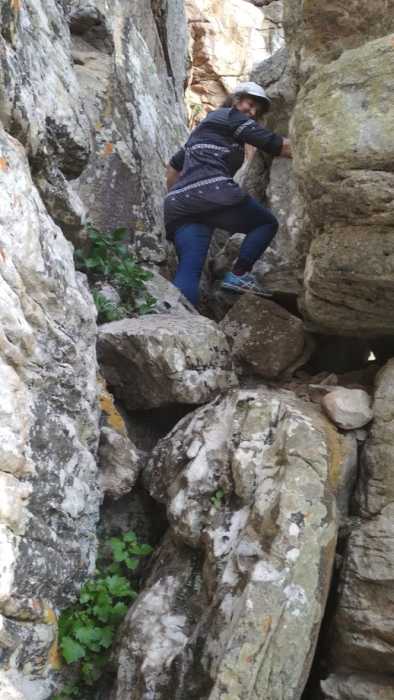 And me not so much….looking decidedly red-faced…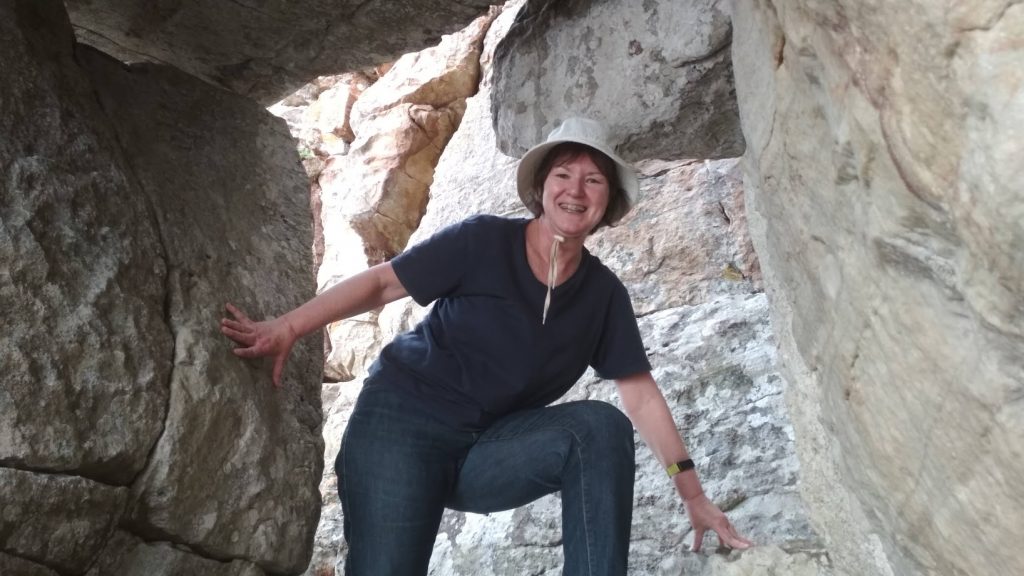 The view from the crevice…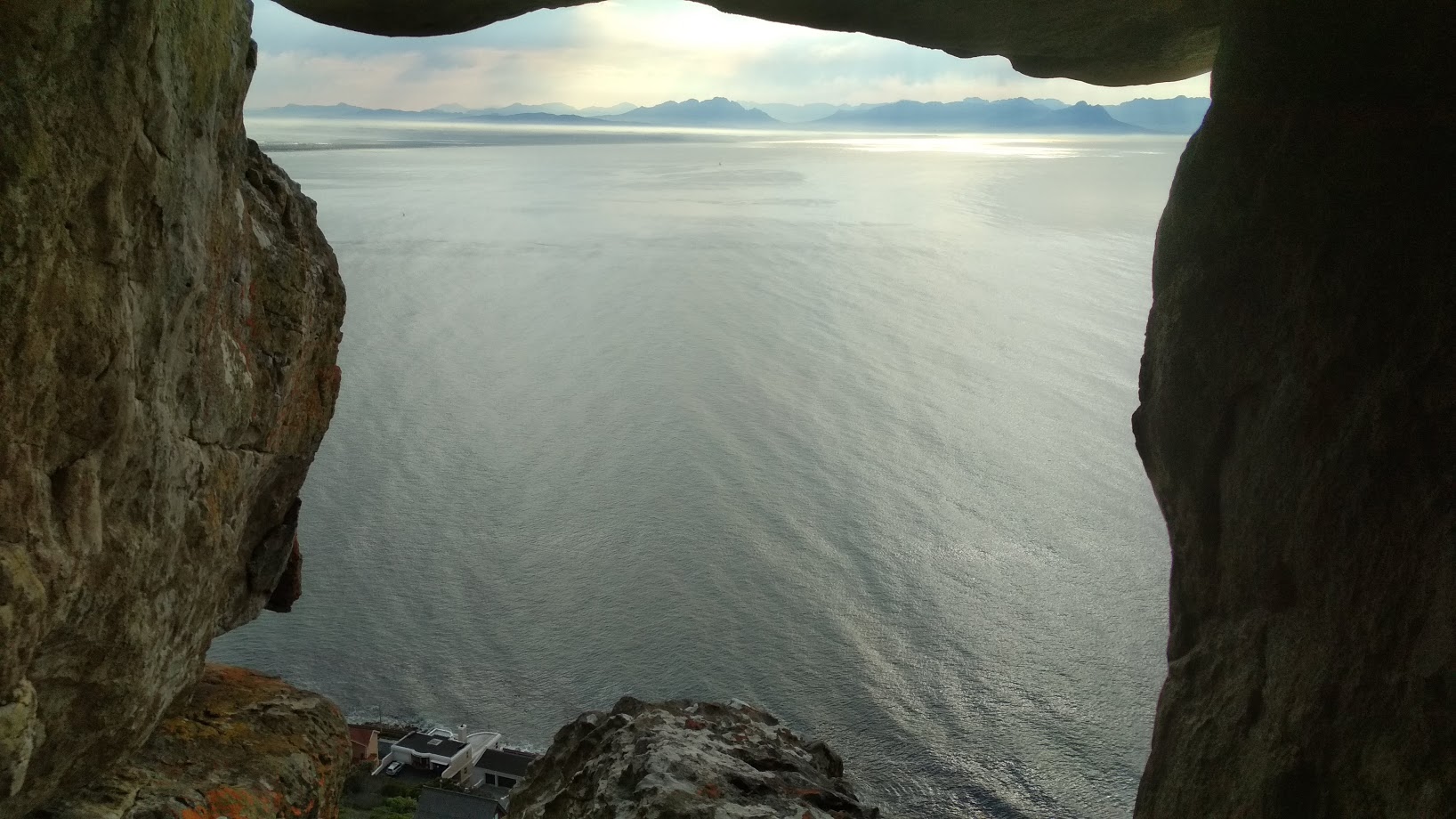 Sue on the homeward track..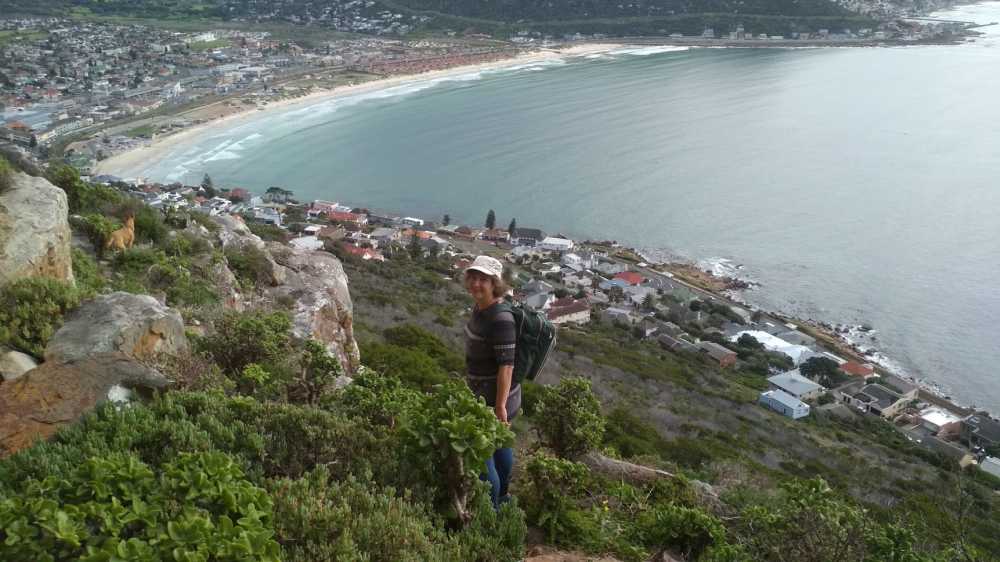 We left at 7am and were back at 9:30am. I hope to do it again some day. Quite a hike. I have to admit, I have a few bruises, but absolutely worth it.
At lunchtime, I went to pick up the tile Wayne was working on. I had a wonderful little visit with Wayne and Rene. Their garden is amazing. Rene sure does have green-fingers. The tile: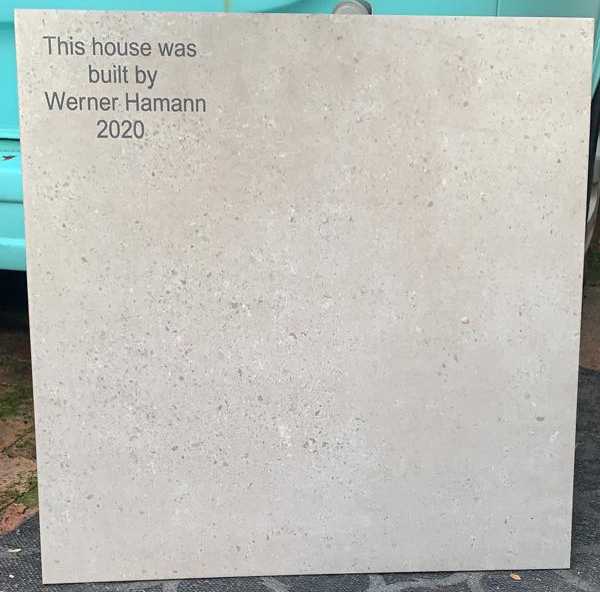 I took it back to Echo and put it in a cupboard. Werner arrived a short time later and I told him I had the 'modified' tile. He did not know what to expect. I took it out and turned it around for him to see. He was very touched. The wording is cut with a laser so that's permanent – can't wipe it off ever.
I had a nice afternoon chat with Stacey followed by a quick Whatsapp video call with Elsie and Stacey. Elsie is too cute. She wants to see Blam-pa. She figures if Granny is around Blam-pa must be somewhere too and we seem to go together so when she sees me, she asks for him as well. Glorious smile when we appear. It's too adorable! ❤
Covid numbers in the Western Cape – 211 new cases in the last 24 hours.
Covid 19 stats – South Africa – country-wide…
Friday 24th July – 13944 new cases (maximum we had in a day)– 250 deaths (245 771 recoveries/169 882 active)
Sat 5th Sept – 1806 new cases – 101 deaths (561204 recoveries/60901 active)
Sun 6th Sept – 1633 new cases – 110 deaths (563891 recoveries/59737 active)
Mon 7th Sept – 845 new cases – 115 deaths (566555 recoveries/57803 active)
Tues 8th Sept – 1079 new cases – 82 deaths (567729 recoveries/ 57626 active)
Wed 9th Sept – 1990 new cases – 82 deaths (569935 recoveries/57328 active)
Thur 10 Sept – 2007 new cases – 97 deaths (573003 recoveries/ 56170 active)
Frid 11 Sept – 1960 new cases – 113 deaths (574587 recoveries/56433 active)
Total cases: 646398  Total deaths: 15378
Psalm 94:19
When doubts filled my mind, Your comfort ave me renewed hope and cheer.
The best is yet to come.
Keep the smile going.
God bless you.
In His Grip,
Helga xx 🙂
Braces:
1 year and 304 days