Wednesday
Today was the day…
I tried to swim to the lighthouse this morning but it was hard work. The tide was high. There were not too many waves and swimming beyond the breakers was easy enough, except…. it was deep out there. I swam along and was soon out of my depth. I began to think how easy it would be for a shark to be at this depth. I reminded myself that sharks had left the bay because of their natural enemy the Orca!
But, I counter-argued, that when Tyna Webb went swimming on 15th November 2004, she would have been confident of not encountering anything as harmful as a great white shark. After all, there had never been a shark attach at Fish Hoek beach. She did what she had done almost daily for years, only that morning, she became the first shark attack fatality at our little beach. I did read that great white sharks had been sighted and swimmers were being warned to take care.
In January 2010 on a very windy day, Lloyd Skinner was just off the cat walk in chest deep water when a great white shark bit him. He did not survive.
Then in September 2011, a great white shark was spotted off Fish Hoek. The alarm was sounded and the sea cleared, but Michael Cohen, an open water swimmer who was fully aware of the danger entered the water on the Clovelly side  and got on with his swim. It was at that time that two local residents of Fish Hoek were driving from Kalk Bay towards Fish Hoek. One of them saw a shark and then the swimmer. They rushed to the closest car park and ran across the beach to try to warn Michael. It was too late. The shark had bitten him. With no thought of their own safety, these two good Samaritans (one being Hugh Till) rushed into the surf and dragged him to safety. As a result of their rapid response, Michael's life was saved.
That was the last shark attack at Fish Hoek beach, but these three events float through my mind when I'm out there in the surf.  I'm like swimming to the sound of the Fish Hoek Jaws theme music!
https://www.wavescape.co.za/surf-news/breaking-news/fish-hoek-shark-attack.html
Just reading that makes me nervous. Imagine me out of depth off Fish Hoek beach swimming towards the lighthouse. No wonder I headed towards the beach and decided I need not swim all the way to the lighthouse today! It was a good swim none the less. The one big difference is that great white sharks have not been seen in False Bay for a number of years. From 300-500 sharks a few years ago to none? They say it's due to the presence of the Orcas. Still the shark spotters keep an eye out and if any kind of shark is spotted, they sound the alarm. I'm swimming at 7am which is before the shark protection nets get put in place. If I want to feel safe, swimming later in the day will put me more at ease.
As I swam along, I suddenly saw a movement and there was a double surf-ski with a man and woman aboard cruising into the beach. They were not far away and the lady was as surprised to see me as I to see them. A few moments later a Mallard duck landed about a foot away from me. I greeted and it chirped back. I didn't like the sound of the chirp. I said, "do you think I'm food?"  It chirped again, looking at me hungrily. I was unsure of its motive. At that moment a wave swept in and we both got washed away. By the time the wave had passed, the duck was gone. Mike said he saw it on the beach when he was running back to our bench.
The five or ten minutes after the swim are the best. We sit in the sunshine and dry off. Then we walk home…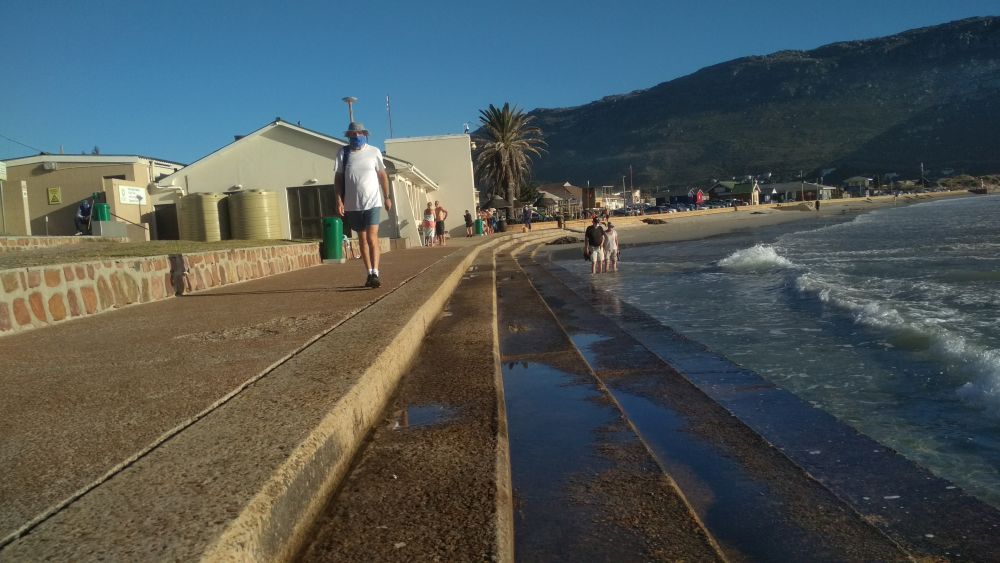 Meanwhile back home, Courage arrived and the cottage is being prepared for painting. It has been cleaned and is almost ready for the first coat. The original cottage in the front with the new build looming behind it.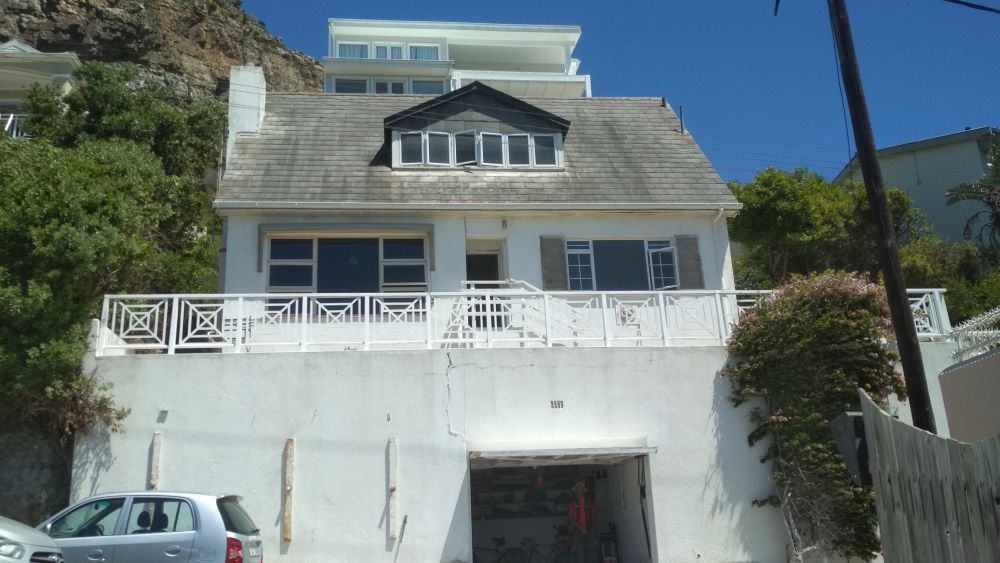 It's been a productive day. I'll wrap this up with gratitude that 8 months ago today, I had my jaw surgery. I was talking to Mike this evening and saying a year ago when I was disappointed that the surgeon wanted me to wait a few months before operating, I could never had foreseen where we would be 12 months later.
Jeremiah 31:3
I have loved you with an everlasting love; I have drawn you with unfailing kindness.
The best is yet to come – we are only passing through.
Keep the smile going.
God bless you.
In  His Grip,
Helga xx 🙂