Sunday
Today has been a crazy sport-filled day. What with Wimbledon Men's final and the final of the cricket world cup, it was always going to be busy. Both of them went down to the wire and to extra time, finishing within about half an hour of each other resulting in a lot of frantic channel changing. Cricket-tennis-cricket-tennis-cricket-tennis.
We were so keen to see Roger Federer win Wimbledon and he nearly did but when it came down to 2 sets each, 12 games each and a final tie break, he couldn't match Novak Djokovic's tie break wizardry.
The cricket was between England and New Zealand. I felt New Zealand deserved to win. They were the stronger team for most of the English innings. England batted second striving to beat the NZ innings of 241. It looked more and more likely it would be a doddle for the visiting side. Playing at Lord's in front of a hugely patriotic jam-packed stadium, England didn't give up. They were helped along by a random unexpected stroke of luck… literally. In the last over, they ran 2 and when the fielder threw the ball in, it seemed to hit the running batsman and deflected off him running off to the boundary.  As a result, they scored 6 runs. It put them in a position to advance their total to almost a winning score. Not quite though and the match was drawn. As a result it went to a super over. England batted first, scoring 15. NZ followed but could not beat that total. They also ended on 15, but because England had scored more boundaries in their innings, England won the 2019 Cricket World Cup at home.
Talk about nail-biting stuff. I'm so pleased it didn't matter to me. If South Africa had been in New Zealand's shoes, we would have been devastated.
So focused were we on the tennis and cricket, we completely overlooked the Tour de France where something very unexpected happened…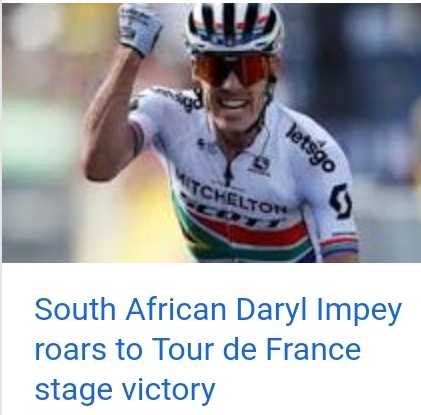 That's what we should have been watching!
Apart from all the sport, this morning we took Julian to the airport and after we got home, David arrived. Mike had tested the output of solar panels and they weren't yielding any electricity, so he and David got up onto the roof to do some trouble shooting….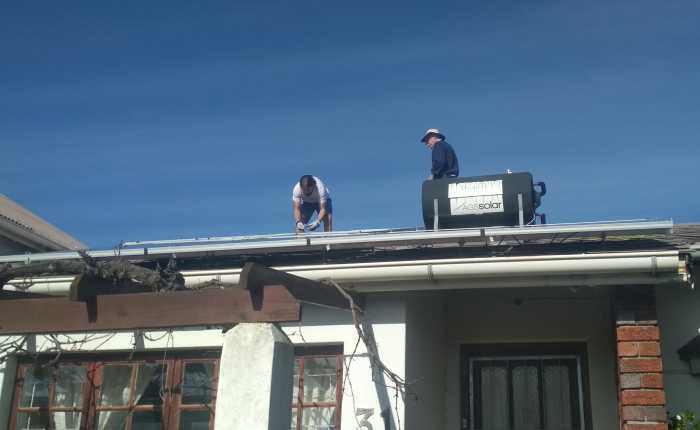 Success! This is 348 volts from all 9 panels producing a total amount of  3132 watts of power.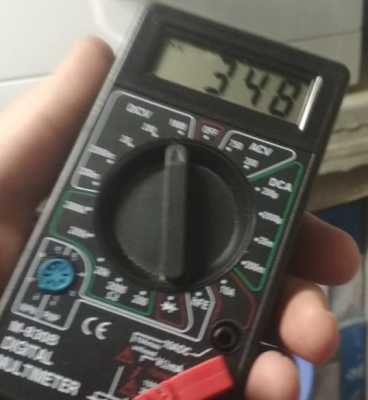 What it all  means I do not know, but Mike and David were very excited by it. Mike still has some tweaking to do before he calls in the electrician to check his work, turn it on and give him a certificate of compliance. A good weekend.
Nugget from my journey: This is another one I have written about before. How grateful I am that it turned out as it did.
It was just a few days before Christmas 2011. The exact date was Tuesday 20th December and the day began like any other. I got up early and went off to work. Mike woke a little later and began his getting-up routine. He went to the bathroom and noticed that there was blood in his urine. He was quite taken aback. A little later in the day, he called me and said that he had seen blood in his urine and so he had made an appointment to see our GP at 6pm that evening. The GP looked at his urine sample and it looked okay, until he put a testing stick in it. It had a lot of blood in it, but no pus. This was not an infection. He did a few more tests and everything was normal. He suggested Mike go for an ultrasound. Mike asked if it was urgent. The doctor said, "go within the next week." The next day I made an appointment for Mike to go and have a scan. They had an opening the next day which was Thursday 22nd December. I went to the hospital with Mike and so began a number of unexpected "God-incidences" in this story.
I knew the lady doing the ultrasound. She goes to the Methodist Church in Fish Hoek and we had met before. She allowed me into the room and I stood next to her as she did the scan. As she looked over Mike's bladder, she noticed something. To me it was just a small white spot. She said, "oh he has what looks like a polyp. It's very small – only 9mm, but he should probably see a urologist."
Just a polyp.
All sorts of organs have polyps….nasal polyps, bowel polyps, cervical polyps. Polyps seem to abound. It didn't sound too serious.
On leaving the treatment room, we were told to wait for the results. We immediately got onto our phones and started googling 'bladder polyp.' Immediately, to our shock, we discovered there is no such thing as a benign bladder polyp. All polyps that appear in the bladder are malignant!
It was a horrible discovery.
Immediately, I left Mike and hurried to the urologist rooms in another part of the hospital. I explained to the receptionist what had happened. She answered that the urologist was going away for a number of weeks (after all it was three days before Christmas), but he did have an appointment for us the next day at 12 noon. I made the appointment and went back to Mike. We left for home, somewhat stunned by what we had discovered. It was very small. Surely that must count for something?
The next day we were at the urologist promptly at 12 noon. He was crazy busy, but eventually we went in at about 12-45.
His first words were to explain that on the bladder cancer spectrum, what Mike had was on the "benign side". He told us what happens. This little polyp develops and within it is a blood vessel. As the polyp grows, eventually the blood vessel pops and there's blood in the urine. What can happen is that the man will see the blood and be a bit concerned. He will keep an eye on it and when it goes away, he will forget about it. Unbeknown to him, the blood vessel heals, the polyp continues to grow and eventually the blood vessel pops again and there is more blood than before. Hopefully, the man will do something about it. If he doesn't, the process recurs with the polyp getting bigger until eventually it is about 4cm in size. The blood vessel is substantial and when it ruptures, the man is horrified at the huge amount of blood he passes. The bigger this malignant polyp grows, the greater the chance it has of penetrating the bladder wall and spreading the cancer into another part of the body.
He went onto say that the patient he had seen just before Mike had a 4cm polyp and that it just so happened that he would be operating on him on Tuesday 27th December. If Mike wanted to, he could go into theatre right after that patient. We immediately said yes, and on that day, one week after Mike first saw the blood in his urine, he was operated on and the 9mm polyp was removed. It had not penetrated the bladder muscle. No further treatment was required.
Zephaniah 3:17
The Lord your God is in your midst, a mighty one who will save; He will rejoice over you with gladness; He will quiet you by His love; He will exult over you with loud singing.
These are the days.
Keep the smile going.
God bless you.
In His Grip,
Helga xx 🙂
Gym:
Rest day!
Braces:
Day 243