Wednesday
Today was the day…
We got to swim in the sea nice and early. It was lovely down on the beach. Mike and I went down together, had a dip and then went and did a bit of shopping.
After getting home, having a shower and breakfast, I went to the Mall. I have to write about this because this month it's impacting my life each day and Mike is loving it. It's his birthday on 28th and it's a big one. 70! On 1st Feb, his new sports watch arrived, so he got his birthday gift on the 1st of the month and will get his big one on his birthday. Then I figured it would be fun to buy him a gift each day of the month running up to this new mile stone. So today I went off shopping. He is annoying because he keeps giving me his gift desires which are already on my list – so he mentioned t-shirts and swimming goggles. I need 23 more gifts as I have one for 27th and his big one. 23 gifts that aren't all edible is quite a challenge, so then I hit on a plan. I bought him 4 t-shirts. I bought the goggles and a new beach towel (he bought one for each of us for Christmas). Then I bought a set of 6 more things which were on a special. So that's 12 of the 23 I can spread out over the month. I came home and gave him one of the t-shirts. Tomorrow, I'll give him the towel and the next day the swimming goggles.  It's like every day is Mike's birthday and he is loving it! I am too!
Courage and Schoolboy arrived and started constructing the wall.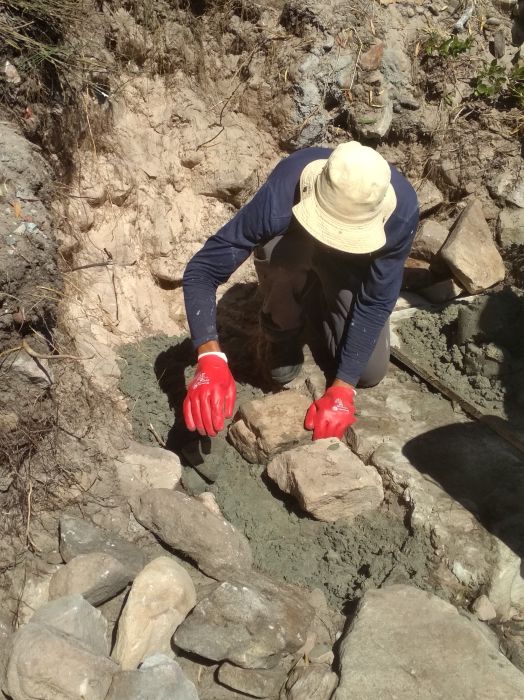 Later in the morning, Mike discovered that our composting bin had been mauled. He thought it may have been a baboon, but apart from Kataza who was in the area before being rehomed, there have been no baboon sightings. Also baboons have long arms and they could just put their hand in the regular hole and pull out the fruit peelings. We figured it must be something with sharp teeth. Caracal perhaps? They are known to leave claw and teeth marks. There may have been a bone or two in the bin, which lured them to it. They left the stale bread that was in there.  Photos of their teeth make them look pretty capable of doing this to our bin…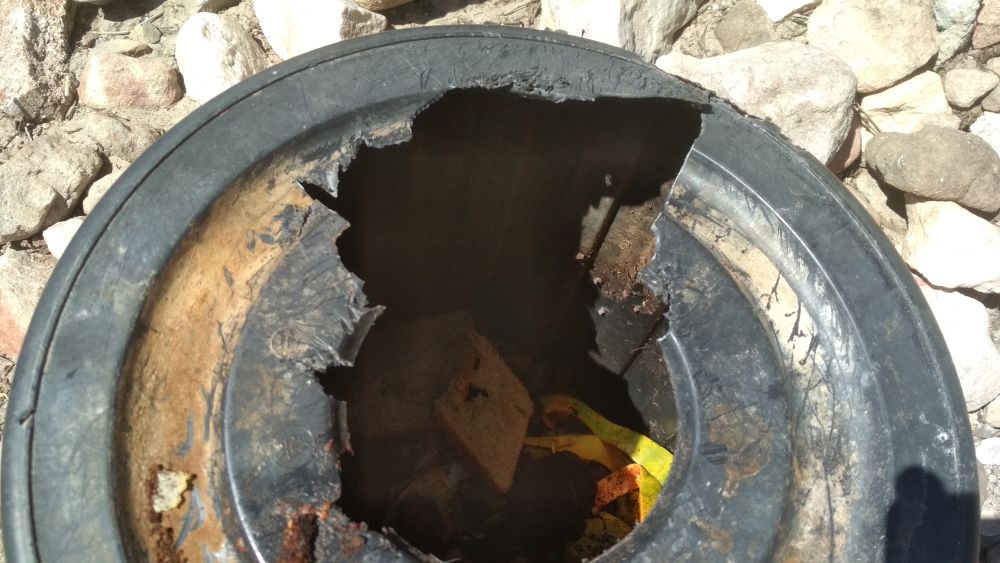 Another thing that happened today is Gareth came.
Who is Gareth? Good question! Gareth owns the plot behind us and his plans are on the brink of approval. He has no road access so has to use the steps to our house of which he has legitimate use. It is going to be a monumental exercise for him to build up there and if I were him, I'd scrap the idea and buy a plot with road access, for sure! Anyway, when he walked up the stairs and saw our finished house for the first time, he was in awe! It was quite fun to see. If he does build behind us, he will organise the funicular and parking, which will be helpful for us, but it will be messy for the duration of the build. He says he won't live there all the time, but will use it as a holiday house. We'll see what happens.
I did 5 hours and 44 minutes of work.
Now I'm going to have a quick walk.
John 15:9
I have loved you even as the Father has loved Me. Remain in my love.
The best is yet to come – we are only passing through.
Keep the smile going.
God bless you.
In His Grip,
Helga xx 🙂