Today the people came from the solar panel company to do a site inspection for the installation of solar panels.  They went up on the roof and there was much discussion.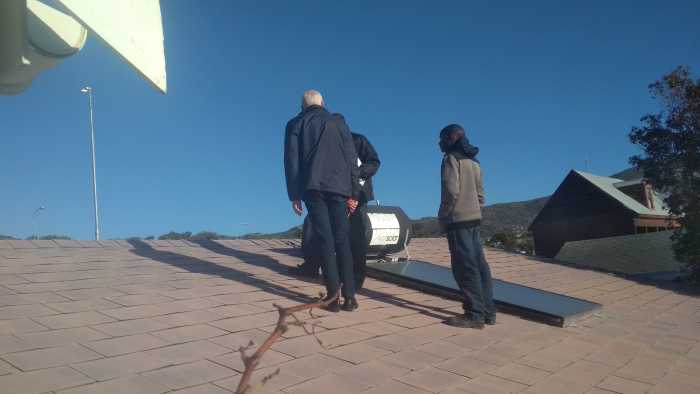 We will wait for the quote. It will take us partially off the grid but more importantly, when load shedding comes around again, we can continue working.
I made good use of today. I woke early, did my Bible reading, made coffee and did about 25 minutes of work. Then I went to gym. Got home just before 8am, had a shower and then we met Julian and David for breakfast.
Home for more work, but it wasn't too busy and I've done just short of 5 hours today.
Nugget on my journey. I have an inkling I've written about this before, but can't find it on my blog, so I'll relate it again. I think I was in my last year of school. I had a few circles of friends who went to different churches. Some were very conservative, others mainstream evangelical and then there was the charismatic crowd. This final group was made up of a bunch of people who were really on fire for the Lord. I remember once going to a birthday party at one of their homes and for entertainment they would try slaying in the Spirit! It was all a bit too much for me, but I didn't want to miss out on any of God's blessings. My Dad and I used to go to the Assembly of God church on a Saturday night. As a silent observer, I always wondered about the gifts of the Spirit. One friend, Ashley was particularly persuasive on how much I was missing out on not being 'filled with the Spirit.' She invited me to go and listen to a lady who was coming to town. I went with her. I can't remember the content of the talk but I do remember meeting the speaker afterwards and asking her if she believed a person had to speak in tongues to be a Christian. I knew the answer but I wanted to hear if she was misled. She thought for a few moments about the question and then she answered, "I don't believe you have to speak in tongues to be a Christian, but I do believe you have to in order to stay a Christian."
I didn't agree but I've never forgotten the conversation. I didn't like all the hype around being filled with the Spirit. Going to the front of the church, all emotional, and having hands laid on you and emphatic prayers shouted over you was not for me.  But I also didn't want to miss out. So one Saturday morning on the way to an extra Afrikaans lesson, driving on my own across Harare, I prayed, 'Lord if you want me to speak in tongues, you can allow me to do it.' And with that I opened my mouth and started speaking in tongues. God is never absent. Always present.  Always hearing. That gift came and never left.
Psalm 27:5
For in the day of trouble He will keep me safe in His dwelling. He will hide me in the shelter of His sacred tent and set me high upon a rock. 
These are the days.
Keep the smile going.
God bless you.
In His Grip,
Helga xx 🙂
Gym:
5km in 37:28 (7.29 mins/km)
4 minute cool down.
Some weight machines.
Braces:
Day 212