NO DOUGH PIZZA!
This one is a WINNER! Gluten Free, Low Carb, Diabetic Friendly!
For when you absolutely want pizza but not all the carbs!
Crust
1 (8 oz/250g) container full fat cream cheese at room temperature
2 eggs
1/4 tsp ground black pepper
1 tsp garlic powder
1/4 cup grated parmesan cheese
Topping
1/2 cup pizza sauce or else you can use chopped tomatoes
1 1/2 cups shredded mozzarella cheese
Toppings of your choice – salami, ham, sausage, mushrooms, peppers
Seasoning
Pre-heat oven to 180C
Lightly spray a large rectangular baking dish with spray and cook. With a handheld mixer, mix cream cheese, eggs, pepper, garlic powder and parmesan cheese until combined. Spread into baking dish. Bake for 12-15 minutes, our until golden brown. Allow crust to cool for 10 minutes.
Spread pizza sauce on crust. Top with cheese and toppings. Sprinkle pizza with garlic powder. Bake 8-10 minutes, until cheese is melted.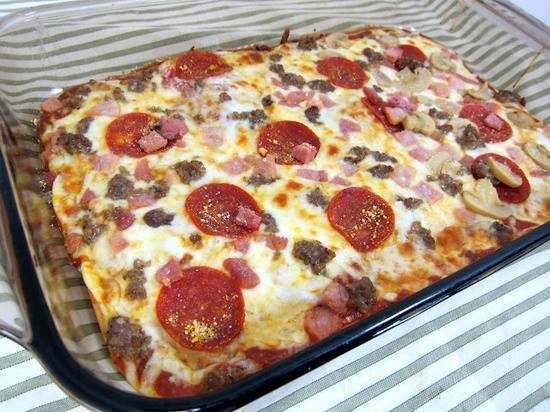 This recipe came from www.plainchicken.com.
Philippians 4:8
"Finally, brothers, whatever is true, whatever is honorable, whatever is just, whatever is pure, whatever is lovely, whatever is commendable, if there is any excellence, if there is anything worthy of praise, think about these things."
Good and wholesome!
Have a fabulous weekend and keep the smile going.
God bless you!
In His Grip,
Helga xx 🙂