We always get voices or maybe rather persuasive thoughts inside our heads. I know I do. And generally, these voices/ thoughts are either good or bad.  It takes quite a lot of persistence to push away those that are negative and replace them with whatever is good,  true, admirable, excellent, positive etc. Take out those negative thoughts and put back in a good thought.
The negative voices tend to tell us of our flaws. They don't stop at physical. They beat us up with social inabilities and remind us of all the failures of the past.
Don't trip over what is behind you!
The best is yet to come!
Today I read in Isaiah 26:3 "You will keep in perfect peace him whose mind is steadfast, because he trust in your. Trust in the Lord forever, for the Lord, the Lord, is the Rock eternal."
A steadfast mind is one that is resolute or unwavering. That's how I have to be with the voices inside my head that try to ruin my day! I think the solution is to be prepared. Sometimes, negativity strikes when you least expect it. If you have a strategy that you can immediately call upon and implement, the misery can be cut off before it takes hold. Refuse to believe the rubbish.
Today has been a great day. Spring has sprung and with it has come some growth on the vine…need to get that gutter fixed!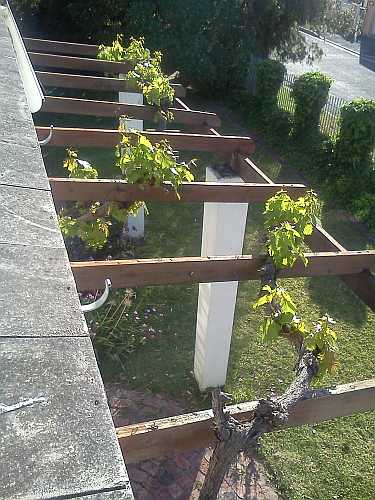 Today spring rains also came. Wonderful showers that are contributing to the 70% full dams.  We had a good day. I worked for close to 4.5 hours. I'm going to do some more shortly. I also had a haircut!
#891 of my 1000 thanks is for praying friends.
Elsie is much better and we are so grateful.
My diary verse is also from Isaiah: 46:9-10
"I alone am God! I am God, and there is none like Me. Only I can tell you the future it even happens. Everything I plan will come to pass, for I do whatever I wish."
These are the days.
Keep the smile going.
God bless you.
In His Grip,
Helga xx 🙂
Gym
30 minute fast walk
30 minute on the Grid
10 minute bike ride
5 minute stepper