Saturday
Today was the day…
We went back to the tile stores in Paarden Eiland. A batch of our tiles had arrived and we took our sample out to check they were the right ones. They weren't. It ended up us spending ages deciding what would work. Eventually, we found a tile we are happy with and we swapped out the wrong ones for the new one. While driving there, I spotted something and said to Mike, "I want to go up those steps!" So when he went to one of the other tile stores to pick up a few of a pre-ordered boxes of tiles, I did the steps. I always see  pedestrian bridges over the N1 but never have had the opportunity to go up them. Today, I could.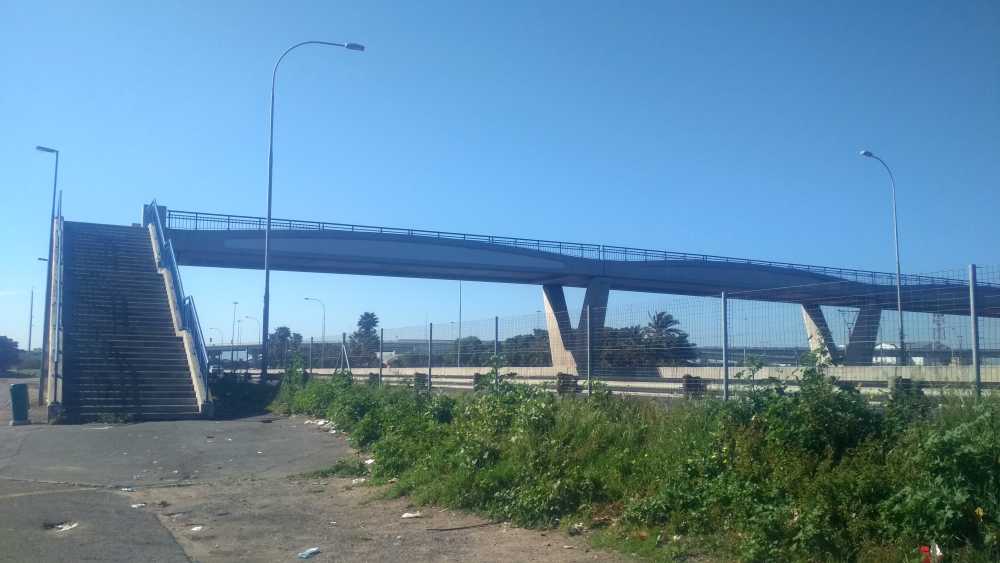 Forty steps to go…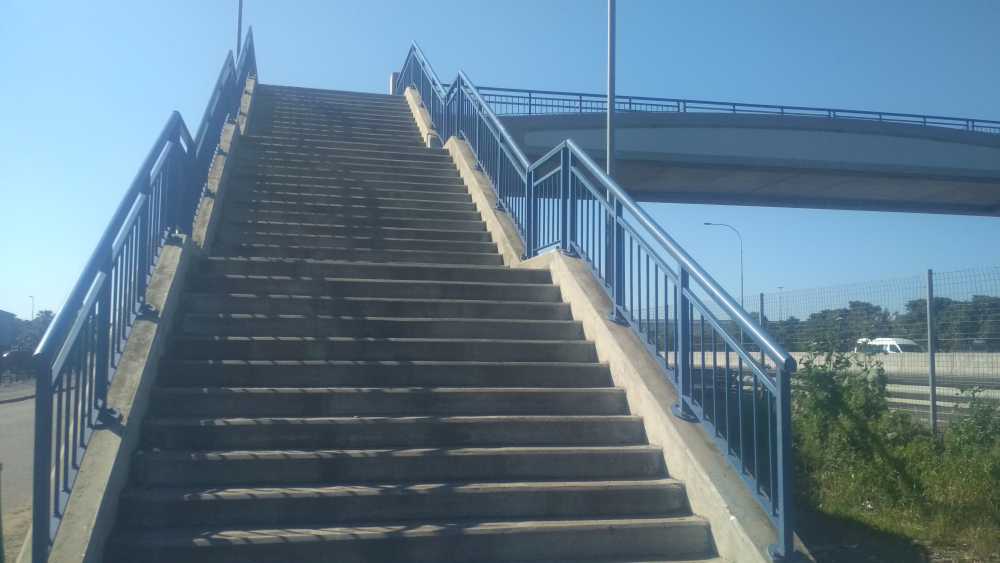 Worth the walk…view from the middle of the bridge…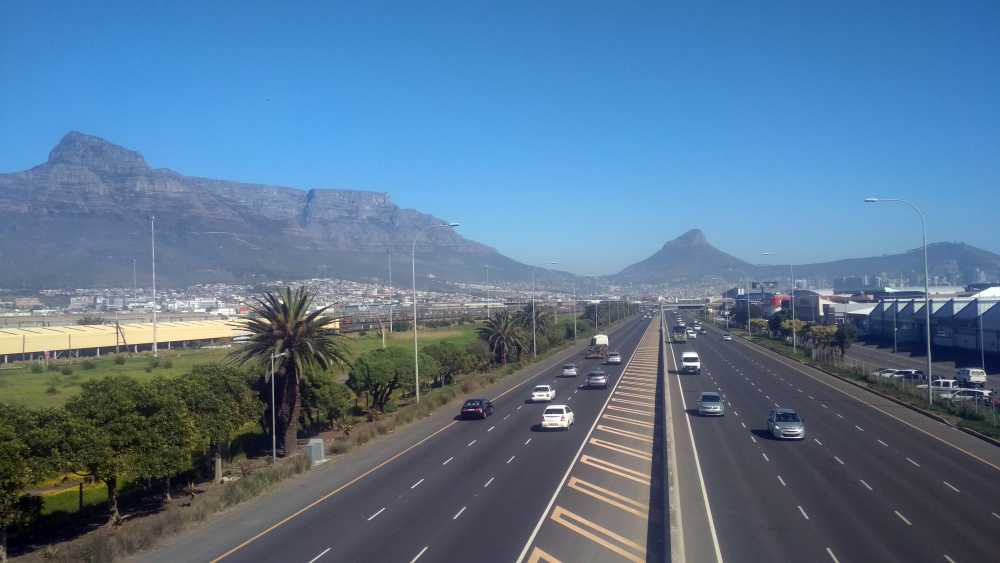 We returned to Echo and there found the truck being loaded with rocks and rubble…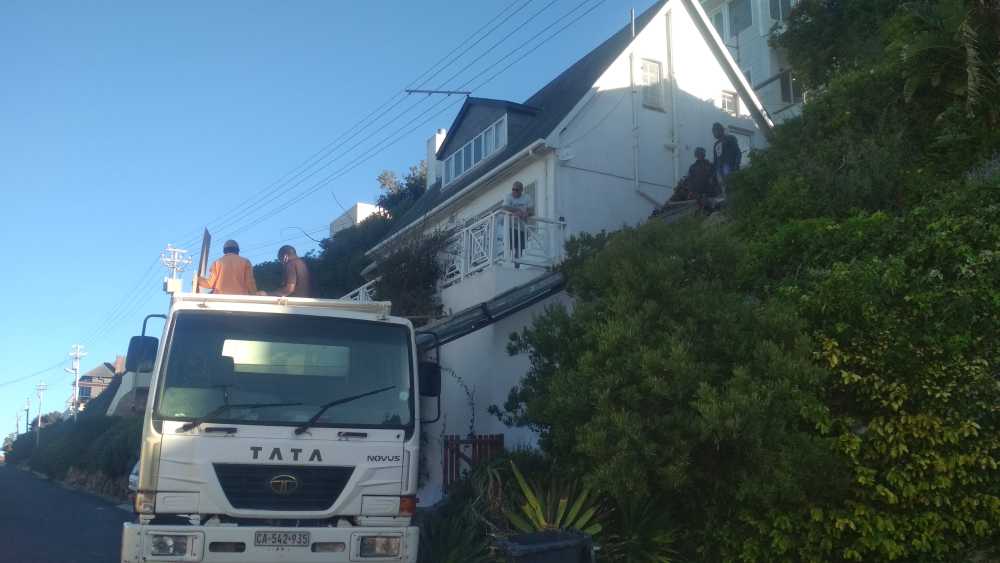 They managed to get about half done. From the top…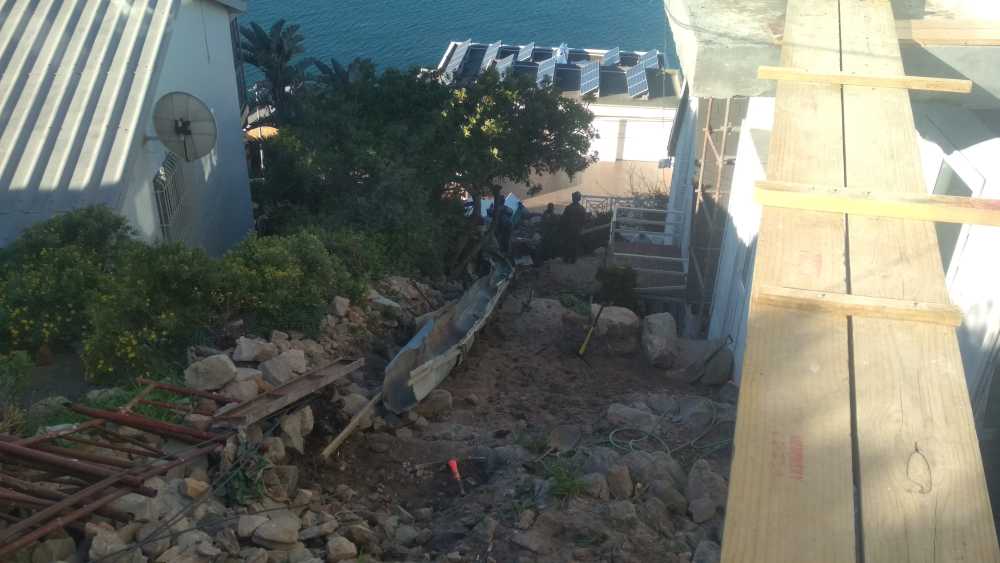 Meanwhile, inside Echo, painting and cornices had been done…this is Julian's floor. They do mine tomorrow. Suddenly the place looks so close to finished!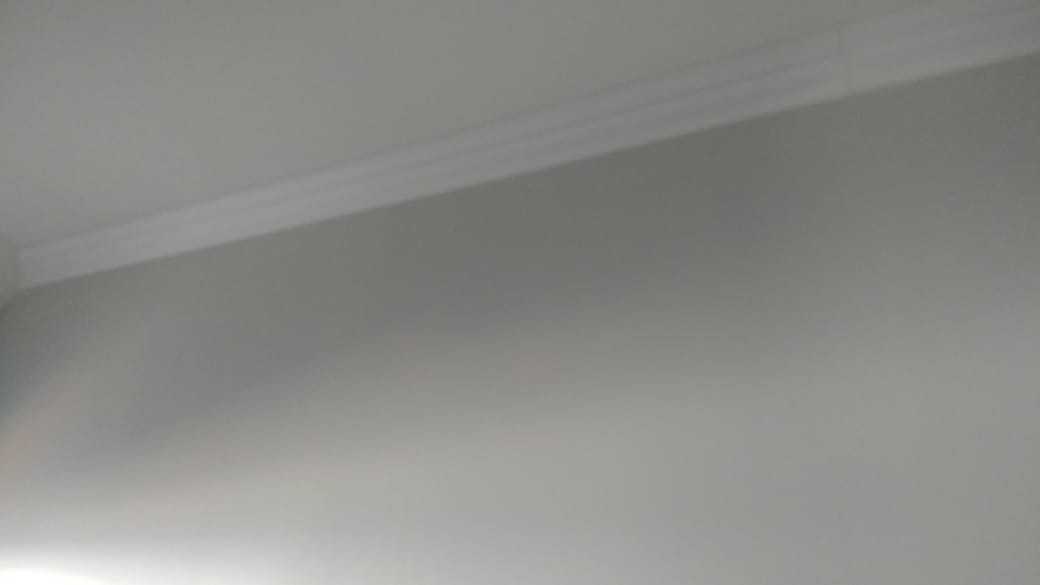 Mike, Julian and I went for a walk behind Echo, walking behind the highest houses all the way to the end of the road. I went up to see if there was a path higher up the mountain. Julian took a photo. I took a photo of him taking the photo…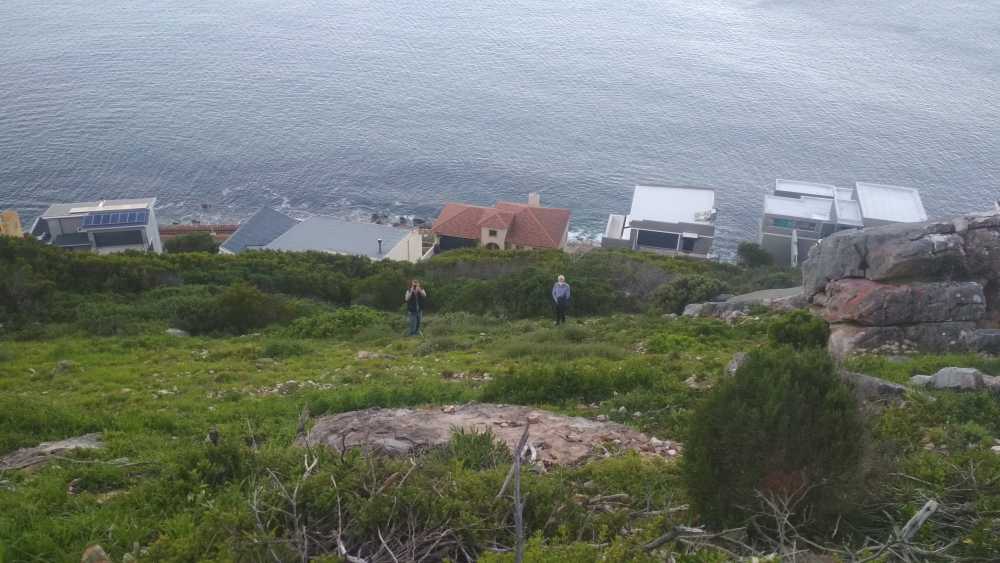 This is the photo he took…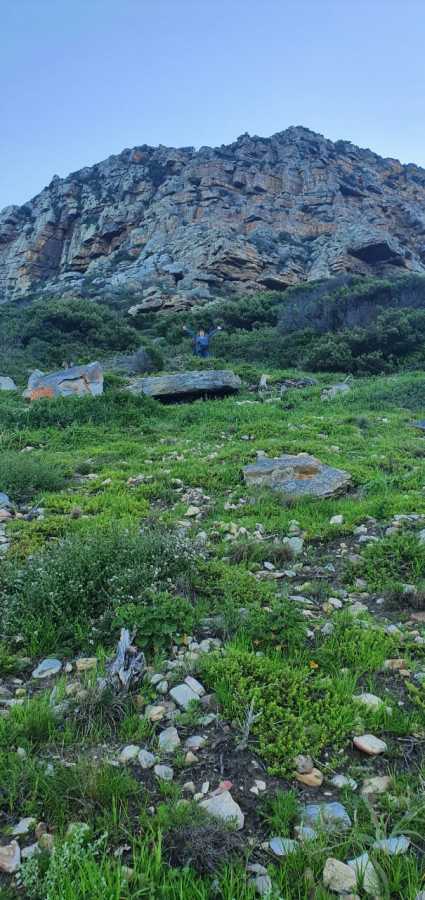 Mike enjoying the view of Simon's Town…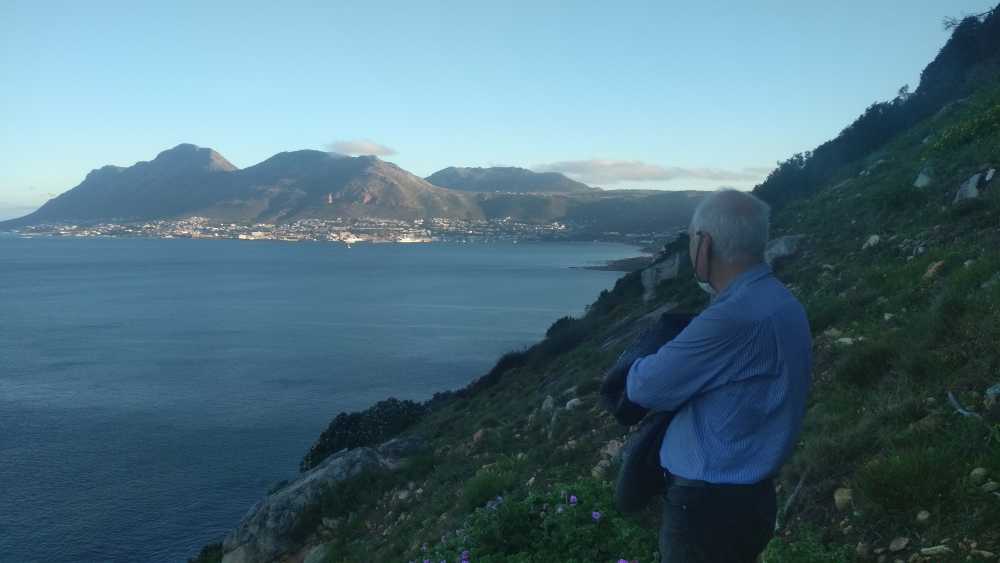 It's so beautiful and green after all the rain, we felt we could have been in England…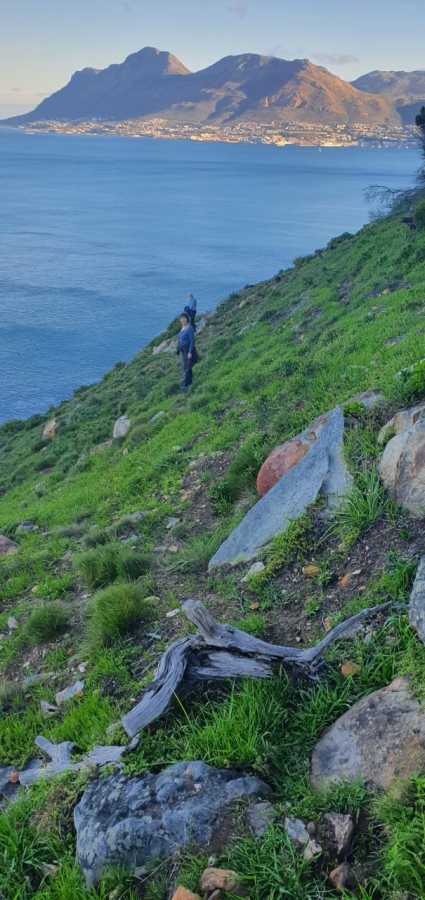 My beautiful Cape Town! In the evening we enjoyed dinner at Saveur…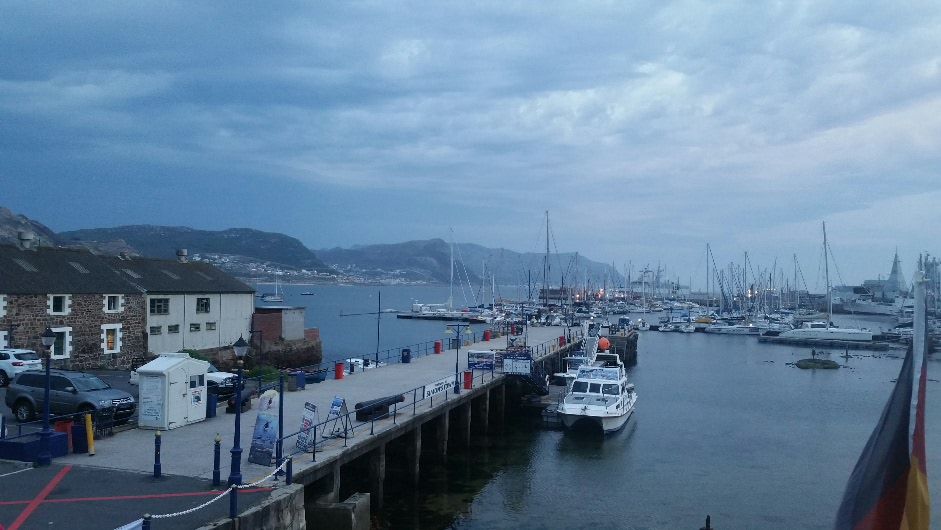 A good day, made even better by hearing from Anne directly. She is making progress and may move out of ICU tomorrow to a regular ward.
Corona stats – South Africa – country-wide…
Friday 24th July – 13944 new cases (maximum we had in a day)– 250 deaths (245 771 recoveries/169 882 active) It's now three weeks since we had the day with the highest number of new cases.
Sat 15th August – 4513 new cases – 121 deaths (466941 recoveries/105035 active)
Sun 16th August – 3692 new cases – 162 deaths (472377 recoveries/103129 active)
Mon 17th August – 2541 new cases – 143 deaths (477671 recoveries/100233 active)
Tuesd 18th August – 2258 new cases (a new low) – 282 deaths (485468 recoveries/ 94412 active)
Wed 19th August – 3916 new cases – 159 deaths (491441 recoveries/ 92916 active)
Thurs 20th August – 3880 new cases – 195 deaths (497165 recoveries/90153 active)
Friday 21st August – 3398 new cases – 212 deaths (500102  recoveries/90393 active)
Total cases: 603338  Total deaths: 12843
Psalm 90:12
Teach us to number our days, that we may gain a heart of wisdom.
The best is yet to come.
Keep the smile going.
God bless you.
In His Grip,
Helga xx 🙂
Braces:
1 year and 283 days