It didn't cost too much. Today Mike announced he was going down to the hardware store to buy some shade-cloth. At the Clovelly Golf Club's driving range, where he practices a lot, they don't have nets at which to practice his drive. So today, he made a plan.
He came home with metres and metres of shade-cloth and set about making nets for himself.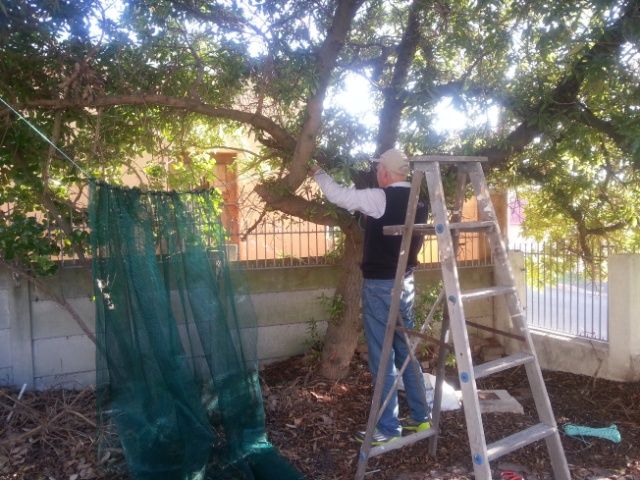 He put roping through the top and hoisted it up between two trees…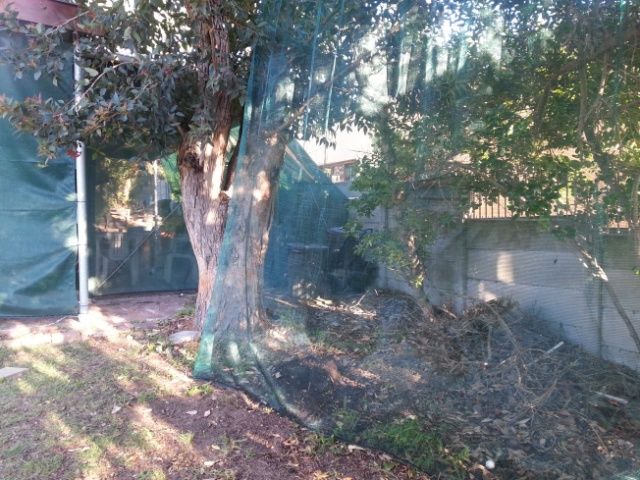 In front of it, he put two more strips. He then teed up and let rip…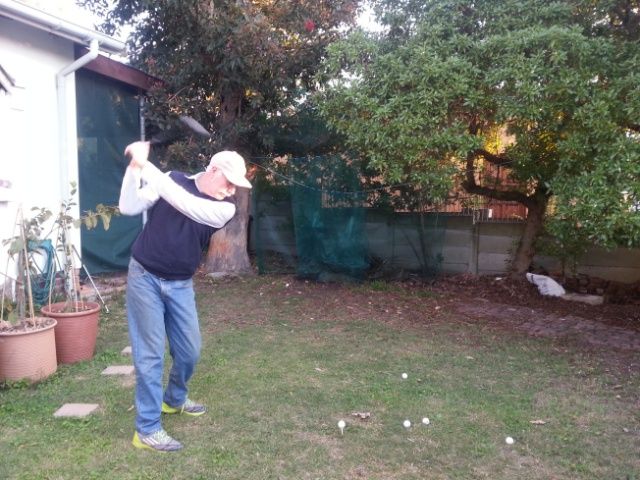 He really enjoyed that. He often goes out into the garden and practises his swing. Now he can practise his drive as well.
This week has not been as hectic as last week. I've worked just under 35 hours compared to last week's 45! This weekend, I hope to get in a bit of walking. Julian bought down a new book for me to read. I've started it and hope to have more time to read this weekend. It's going to be a fascinating insight into the Cape long ago. The book is The Cape Journals of Lady Anne Barnard (1797 to 1798). She says she spent the happiest years of her life here. What I have found very interesting is that she wrote the journals knowing that they may be published one day, so she wrote a preface. Her intention for keeping her journals was to let people know, especially her family and friends back home in England, what Africa was like. In the preface she writes, of her and her husband going to 'an untried World, resolving to find good wherever they could….to do good, wherever they could to fulfil every wish of their Sovereign to the best of their power….'
What a noble intention.
And one to learn from as we journey our path of life 219 years after she did, because I'm sure you will agree, though times have certainly changed, we march forward "to an untried World." We do not know what the future holds. But as we go, let us resolve, as Lady Anne Barnard and her husband did to find good wherever we can and to do good wherever we can.
The notion surely must originate in the words of the Bible.
Philippians 2:3-4
Do nothing out of selfish ambition or empty pride, but in humility consider others more important than yourselves. Each of you should look not only to your own interests, but also to the interests of others.
While Lady Anne may have had the King of England in mind in saying they wanted to fulfil every wish of their Sovereign to the best of their power, let our Sovereign King be the Lord Jesus Christ. Let us strive to fulfil every wish of His to the best of our power.
It's going to be an interesting book. It looks as if it contains a lot more than meets the eye.
These are the days!
Keep the smile going.
God bless you!
In His Grip,
Helga xx 🙂