When I married Mike, I knew he was handy, but I never really understood the extent of his skills until I started living with him. There are very few things Mike hasn't attempted. Servicing the car, building, brick-laying, electric wiring, plumbing, woodwork, water tank installation, upholstery, painting, varnishing, paving, tiling, grouting  – the list goes on. Mike has skills.
Yet there is always a first! I've mentioned that Courage has come to paint. Mike wanted our bedroom windows varnished and renovated but didn't want Courage upstairs in our bedroom. No sweat – he took the right window off and Courage worked on it outside on the patio. Tonight I go to sleep with no window on that side. I took photos of both the left and the right and put them side by side in one pic…the one on the left has still got the window – the one on the right no window.  I only thought to take a photo now so the lighting is pretty bad…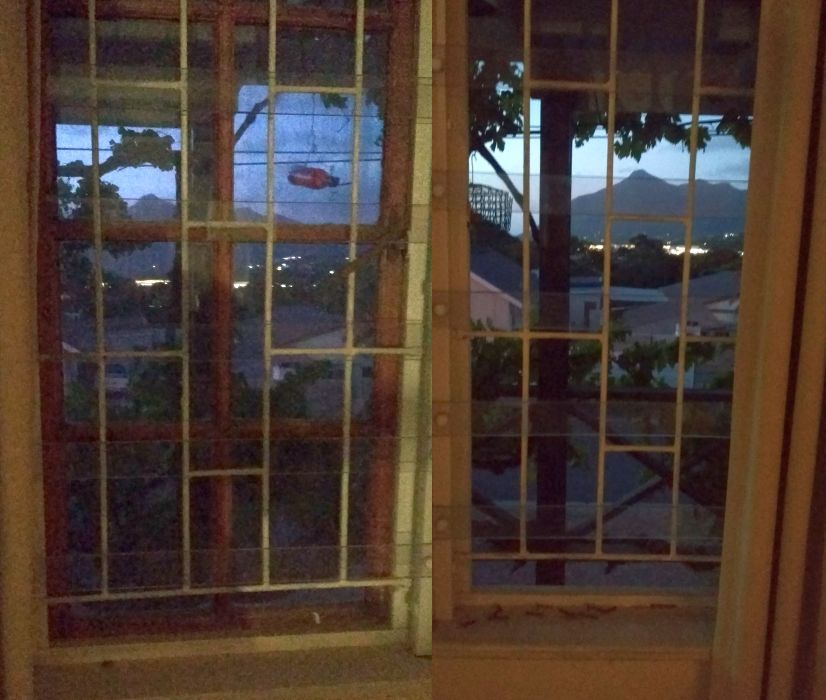 Slowly but surely all the maintenance outside is getting down. It won't be long before we will take the next big step and start inside.
Today we woke up super early and I was drinking coffee before 6am. By 7ish I was in front of my computer in time for a 7-30am Skype call with someone in New Zealand. At 8am I was at gym. Then I shopped. Also stopped by the vet shop to pick up deworming muti for Truffles. I had parked outside the gym (a bit of a walk away) and left the vet shop laden with shopping.
#958 of my 1000 thanks is that I looked for my car keys as I was walking out the door. They were on the counter! If I had trekked back to the gym car park and only looked for the keys when I needed them, I would have been so irritated! Yay for that prompting!
I have worked just under 6 hours today.  Also had a meeting with Riana to set up a spreadsheet for her to use.
Lamentations 3:25
The Lord is good to those whose hope is in Him, to the one who seeks Him.
I love these Bible verses. Each one is from my diary. I had better find the same diary for 2019.
These are the days.
Keep the smile going.
God bless you.
Helga xx 🙂
Gym:
30 minutes on the treadmill
Grid Lean which is about 40 minutes. It was e-x-h-a-u-s-t-i-n-g!
2 minutes on the bike.
My watch said I'd done an hour and 15 minutes.
Braces:
Day 7 – yip one week.