We definitely made memories today. The massive storm that swept over Cape Town arrived in Caledon. The hot springs are still hot in the rain and they are just as fun to experience in the rain as without it. So this morning we went off to swim and it began to rain just as we arrived. The main Victorian Spa is about 250m from the hotel, much of it is not under cover, so getting back was a bit on the damp side! We made a very short video…Mike pointed to the tall pencil palm tree behind and asked if the camera was picking up how windy it is…I said it can't see the top of it.  You can see we are amateurs!
By the time we got back to the room, we had to rush to shower and dress in order to get to the dining room in time for breakfast. The rain poured down. This little rock pigeon took shelter on a nearby ledge…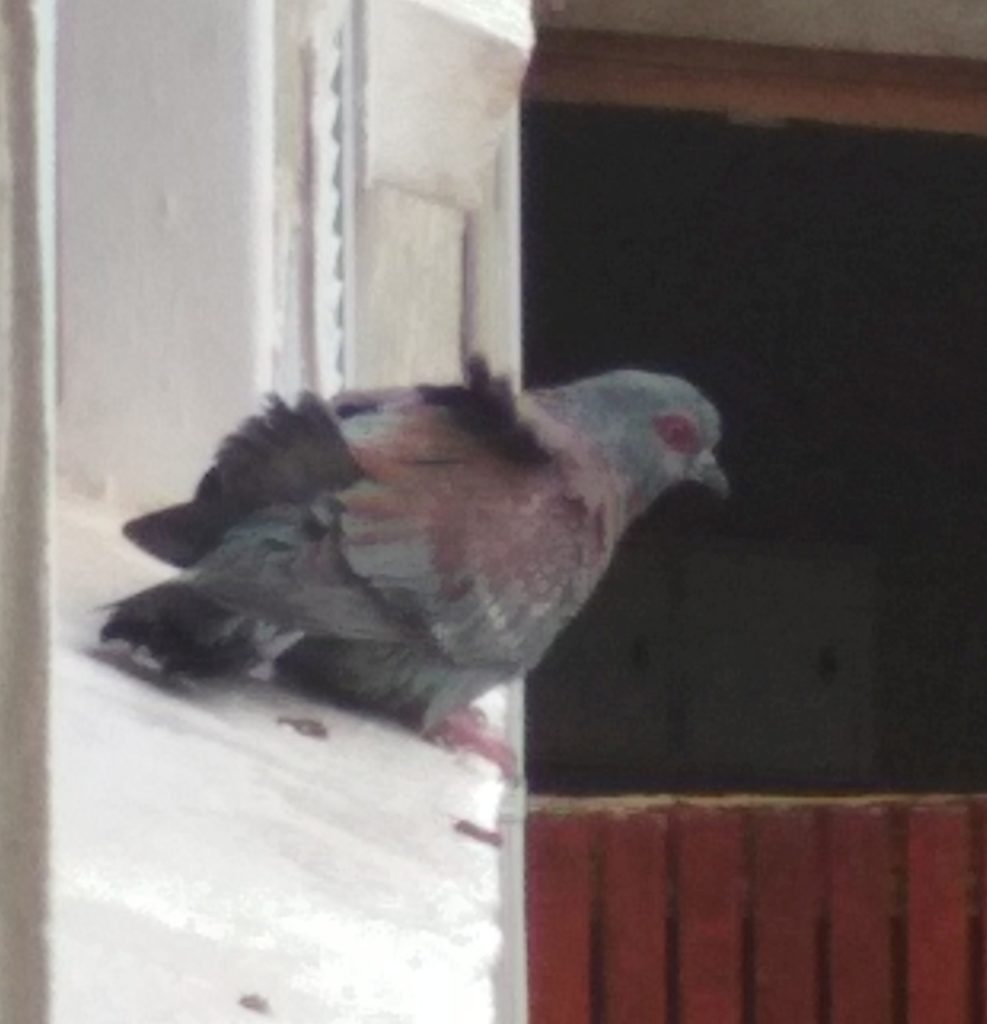 View from our room…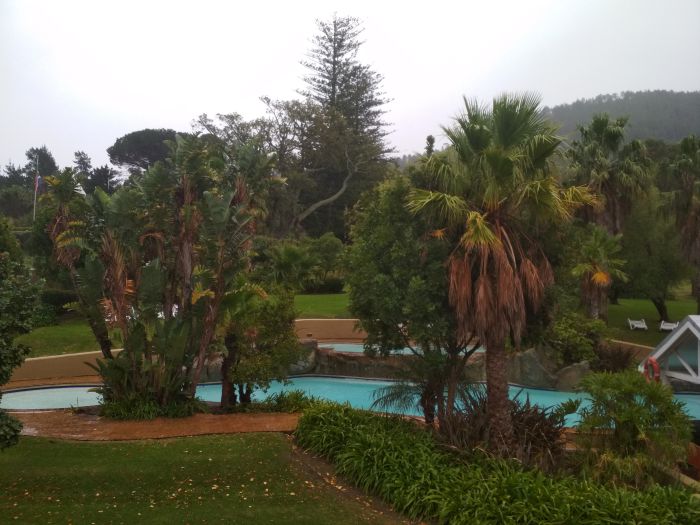 After breakfast we returned to our room, climbed into bed and spent the rest of the morning working. Once the work was done, I read a bit. I'll tell you more about the book's adventures another time. Suddenly, I realised it was already 2-30pm. I got up, got into my costume and headed up to the spa again. Mike joined me and we spent a leisurely hour in the hot springs and then rotating from the sauna to the ice pool to the steam bath. The ice pool was soooo cold. It was bracing. I swam up and down a couple of times but couldn't manage more as my hands and feet were completely numb!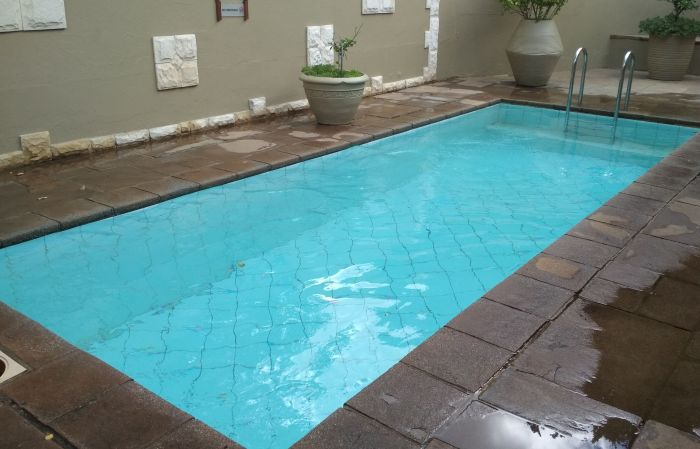 We got back relaxed and hungry. I had a bit more work to do, so I knocked that off and then we went off to find some food. By now it was after 4pm and it was pouring with rain. I have always wanted to go to Dassiesfontein, 14km outside of Caledon on the way back to Cape Town. I googled it and found they closed at 5-30pm, so in the driving rain, we headed there.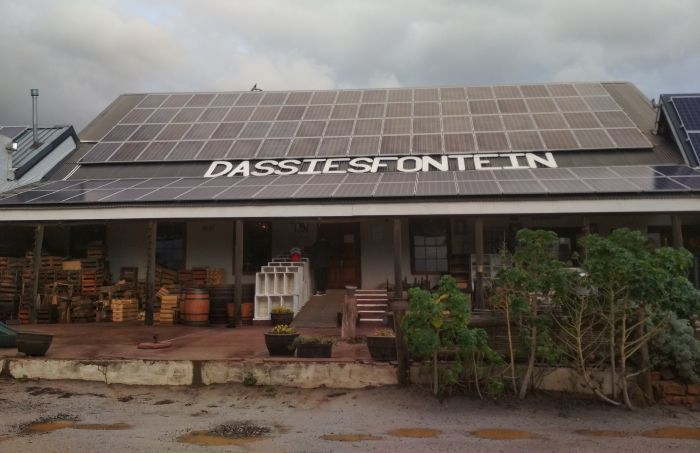 Mike walking across the car park…N2 and rolling farmlands behind…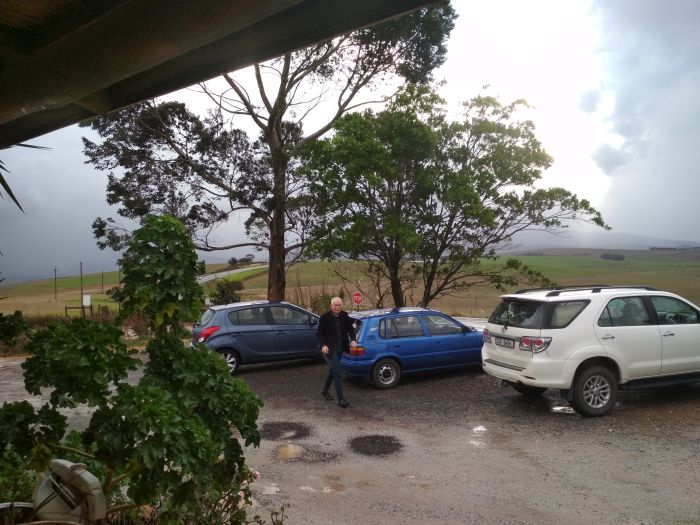 Inside it was warm and cosy with a fire in a wheelbarrow…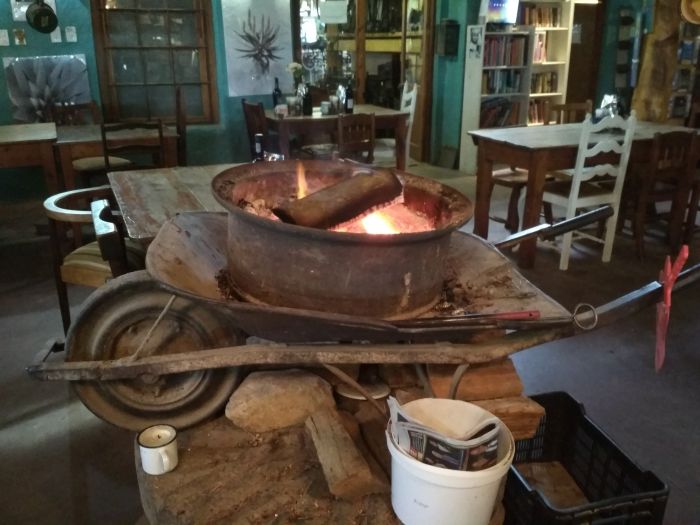 This place is legendary. It has so much stuff. We bought a white enamel jug for frothing milk when we make cappuccino. We ordered lunch: Waterblommetjiebredie. I have never had it before. It was served in an enamel plate. A huge farmer size portion that I couldn't finish. It was made with lamb and was delicious.We imagined that this is what the typical fare was for farmers on a winter's day 100 years ago…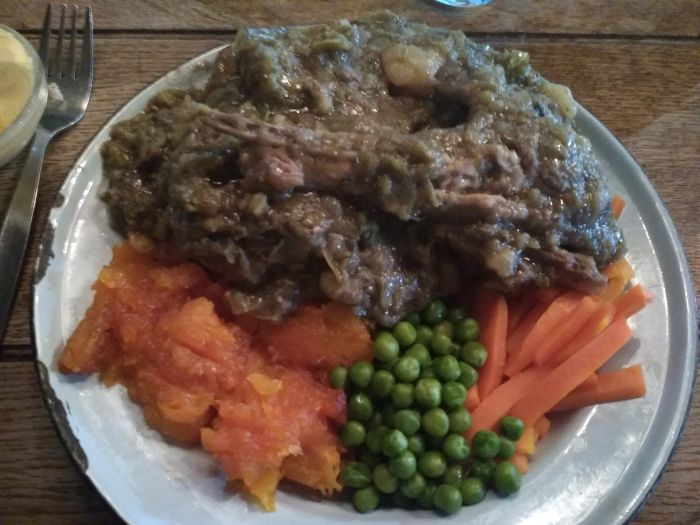 We'll never forget going here.
As I write, I am back snug in bed after yet another dip in the hot springs. We did the sauna/ice pool/steam room thing.  It was invigorating. The worst part was getting there. My swimming costume was cold and wet from earlier, as was my gown, so that made me freezing cold  and miserably uncomfortable while walking up to the pools. I clearly was making my displeasure heard. Eventually, Mike barked "stop complaining!" So I did! On the way back down afterwards, relaxed and warmed up and in far better humour, I told him that he can't declare that I complained "the whole way" without justifying it. Next time if it happens, he has to count how many times I complain!  It reminds me of the deal I have with David, who has a habit, when driving,  of giving other drivers a piece of his mind, even though they can't hear him. It drives me nuts so when we drove to Swellendam together, I told him he could complain 5 times and then I would drive. Worked perfectly. He only got to about 3.
#691 of my 1000 thanks is for Dassiesfontein. I've often wanted to go there and today I did!
What a nice day. Tomorrow I get to see my granddaughter! Elsie, here I come!
Proverbs 19:20
Listen to counsel and receive instruction, that you may be wise in your latter days.
These are the days.
Keep the smile going.
God bless you.
In His Grip,
Helga xx 🙂
Gym: Rest week