9-37am
As I woke this morning, the main pleasure I felt was the wonderful realisation that I didn't need to get up early! Working the Easter holidays meant that I have had to get up with the alarm clock 6 days out of 7. It's been like this:
Sunday 24th March – sleep in!
Monday 25th  – alarm – 3-35am
Tuesday 26th – alarm – 3-35am
Wednesday 27th – alarm – 3-35am
Thursday 28th – alarm – 3-35am
Good Friday 29th – alarm – 5am
Saturday 30th – alarm 4-05am
The regular working days I get up with the alarm at 3-35am. I get dressed and go downstairs for an hour of prayer and Bible reading before leaving for CCFm. I get to CCFm early so that I can download and listen to programming material that Wayne has produced the night before. On Good Friday, I had produced the programming material and listened to it in advance, so I had a short time of prayer and did my Bible reading later.  On Saturday, I was up to make breakfast for David and Mike & I drove him and his friend through to Rondebosch for the Two Oceans Marathon.
So today, I'm lying in bed when I should be at the Easter Sunday service. Living up to others expectations is tough on the conscience! Ultimately what others think of us is not important as long as we are trying to be obedient to God and meeting His expectations for out lives.  I'm trying to meet the expectations of some of CCFm advertisers, attending their functions, but I also have to live up to the expectations of my Mike who spends hours on the road each week and I don't want to drag him over the mountain AGAIN over the weekend.
Then there's Granny! I have to visit her today. It's Easter Sunday. David and I will go.  I don't think Granny has expectations. She is the frail and weak of this world. I cannot phone her. She doesn't hear too well and can hardly speak. I go to see Granny because I want to.
A prayer: "Thank you Jesus, that You accept me as I am. You love me unconditionally. You nuture me gently, You discipline me patiently. You restore me kindly. You keep me in Your Grip."
As for my husband, he always goes above beyond my expectations. I made him coffee in bed today. He made me breakfast! Yum!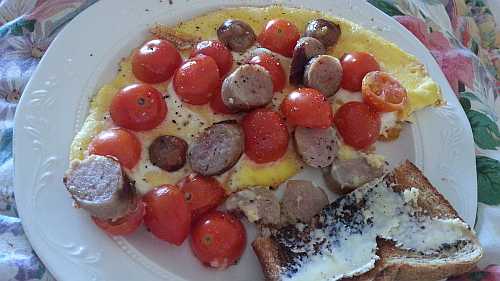 He just can't help giving me just a little toast…half a slice!
And exciting stuff, Stacey and Adrian have arrived in Ho Chi Minh City, Vietnam. It took a while, she tells me, for them to get through customs (1 hour), including getting their visa. They are now settled in their very basic 'guesthouse', where their expectations of a good internet connection and AIRCON have been fully met. They have a week to find alternative accommodation. Temperature in Ho Chi Minh 34-36 C. Minimum 27C. Time zone: 5 hours ahead of Cape Town.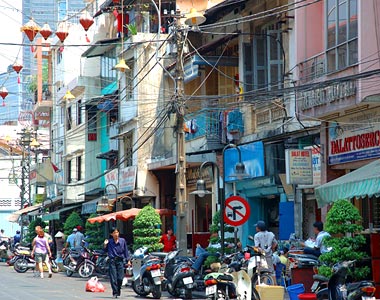 A new adventure begins for my children!
And now, your expectations of my blog for today have been fulfilled!
Christ is Risen! He is Risen indeed.
Mark 16:9 When Jesus rose early on the first day of the week, He appeared first to Mary Magdalene, out of whom He had driven seven demons. 10 She went and told those who had been with Him and who were mourning and weeping. 11 When they heard that Jesus was alive and that she had seen Him, they did not believe it.
 Each of us have the choice to believe.
Up from the grave He arose;
    with a mighty triumph o'er His foes;   He arose a victor from the dark domain,  and He lives forever, with His saints to reign.
    He arose! He arose! Hallelujah! Christ arose!

Robert Lowry, 1826-1899
Happy Easter!
God bless you loads!
In His Grip,
Helga xx 🙂