Stuart came across yesterday evening. He had nipped home (cottage in our back garden) only to find that the battery in his alarm remote was flat and he couldn't turn the alarm off. We have a spare so we gave him that. I took his and put it on the tray in the kitchen.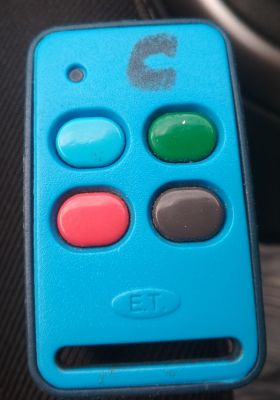 This morning we decided to go to the mall and do some shopping. I was still finishing getting ready, so by the time I got downstairs, Mike was reversing the car. I locked up and put the alarm on and then suddenly thought it would be a good idea to grab the dead battery remote and while were out get the battery replaced. I turned the alarm off, unlocked and went to the kitchen. There was no remote where I left it. Darn. Mike was now waiting outside, so I retraced my steps, locked the garage and as I put on the alarm, I called, "Mike?" He replied, "I've got it." He knew exactly what I was thinking. "Oh, okay, good," I replied, smiling to myself. We didn't mention what we were talking about. He knew and I just knew that he knew that this was the alarm remote he had.
He read my mind.
#665  of my 1000 thanks – battery got replaced. It's all done. 🙂
Then I watched the Royal wedding and enjoyed it. It certainly was a different flavour having a whole American twist. I think it really made it more fun.
I think you can only watch so much of the festivities though. My prayer is that they will have a long and happy marriage. It seemed to me that the Minister who proceeded over the vows, really seemed to stress this was forever. I guess there are so many divorced royals, they need to know that you need to take your vows seriously. If you think about it, three of the Queen's four children are divorced – Anne, Charles and Andrew. Edward still seems very happily married. William and Kate seem to be very happy as well. It will good to see how this couple are doing in 25 years time. I'll be 78. 🙂
Stacey is 40 weeks and 1 day pregnant. Perhaps tomorrow.
My diary Bible verses for May are all on the Lord's comfort.
Isaiah 49:13
The Lord comforts His people and will have compassion on His afflicted ones.
These are the days.
Keep the smile going.
God bless you.
In His Grip,
Helga xx 🙂
Gym:
5km run – 33:27 – Average pace 6:41
20km cycle – 50 minutes
42 lengths swim – 40 minutes I was in the pool.