Today I took the day off! Completely! Slack attack! It was great. We woke up just after 7am, but managed to make the 8am church service. Good solid teaching.
#666 of my 1000 thanks is for breakfast with friends after church. That was spontaneous and fun. Good cooked breakfast.
David came for lunch – leftover spaghetti bolognaise. Good to spend time with my son.
And after that, I did very little for the rest of the day. Mike went to the driving range and while he was out, I was in the kitchen and decided to wash the drying up cloths. I gave them what I thought was a good wash, but they still didn't look that great, so I decided to do what really does work – I boiled them! Yip, I filled up a pot with non drinking water and boiled them for at least 15 minutes…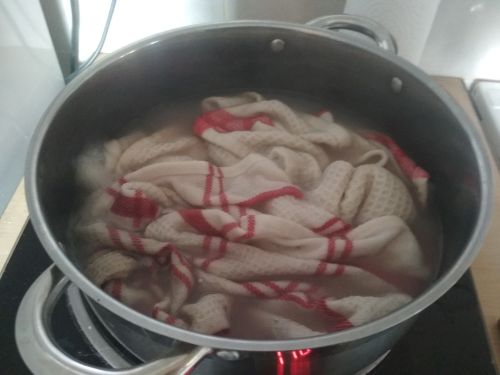 That took a lot out a lot of the grime, but they still weren't perfect, so I soaked them in a jik solution. But some drying up cloths are stained for life, so once they had been in the jik a while, I rinsed them and stuck them on the line. Maybe they should be relegated to rag status. That was the one useful household chore I did today. Good clean drying up cloths.
For most of the afternoon, after David left, I stayed in bed reading and relaxing.
And that's where you find me now. Good relaxing slack attack!
No baby today. We are grateful that Stacey has had a very healthy pregnancy and we anticipate an uncomplicated delivery.
My Mom used to refer to herself as having "good childbearing hips". Her first pregnancy was an ectopic pregnancy, during which she lost one tube. It must have been devastating for her and come with a lot of uncertainty about her chances of future pregnancies. All these years later, it is just a story, but the situation at the time must have been intensely painful and potentially life threatening.  My Mom couldn't see the future then.  She would have identified with the Psalmist.
Psalm 71:20-21
Though You have made me see troubles, many and bitter, You will restore my life again; from the depths of the earth You will again bring me up. You will increase my honour and comfort me once more.
She went onto fall pregnant and delivery normally in 1958, 1960, 1962 & me in 1964. Those "good childbearing hips" have certainly been passed on!
These are the days.
Keep the smile going.
God bless you.
In His Grip,
Helga xx 🙂